If you are hosting an event where you would like to identify prospective attendees, and potentially track attendance at the event, you can capture this with a special question type on the Sporty Registration forms. You can add a single event to a form, or multiple events based on your requirements.
To get started, create a new registration form, or edit an existing registration form.
Click Add question.
Select Custom field, and then Attendance, and click Save.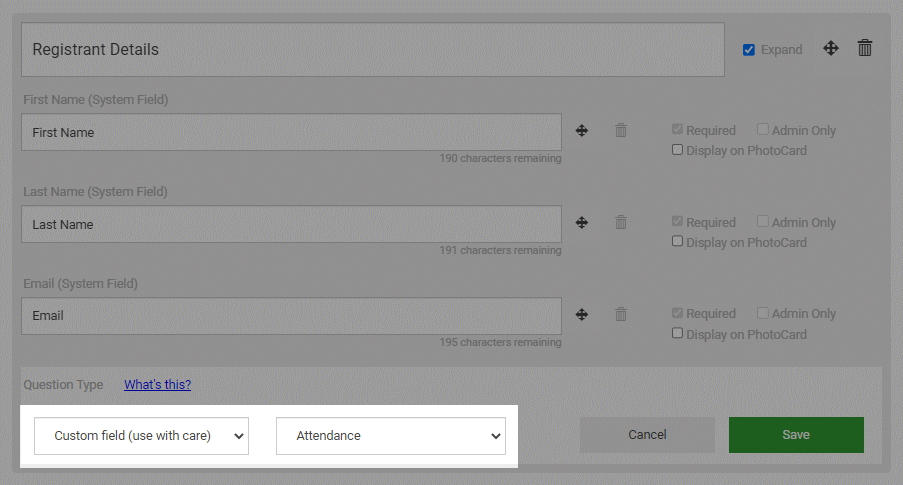 Now, update the name of the attendance event, and provide a date and time.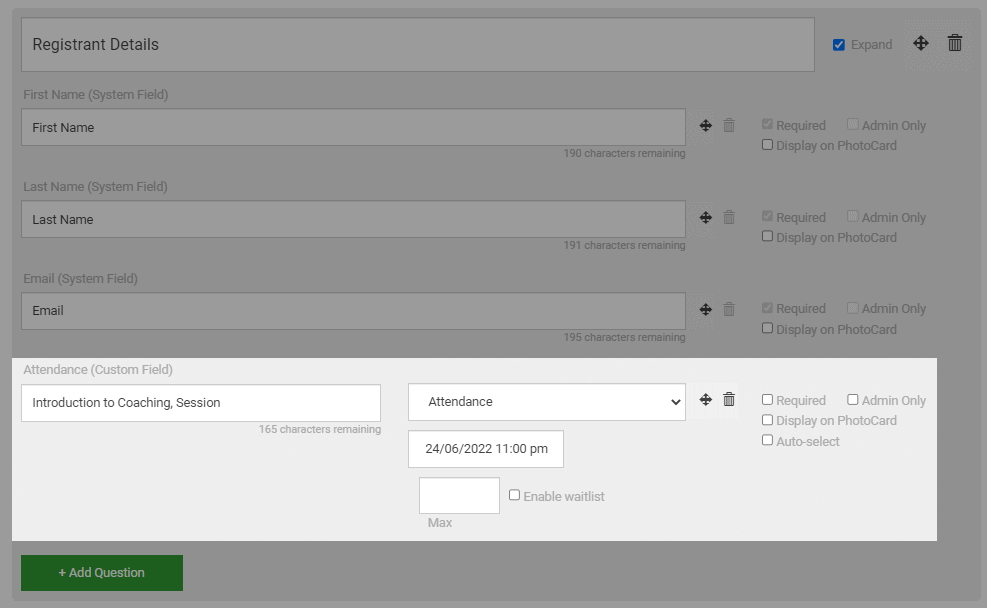 If you are only including one attendance event on this registration form, you can click Save Form. Alternatively, repeat this step to add additional events.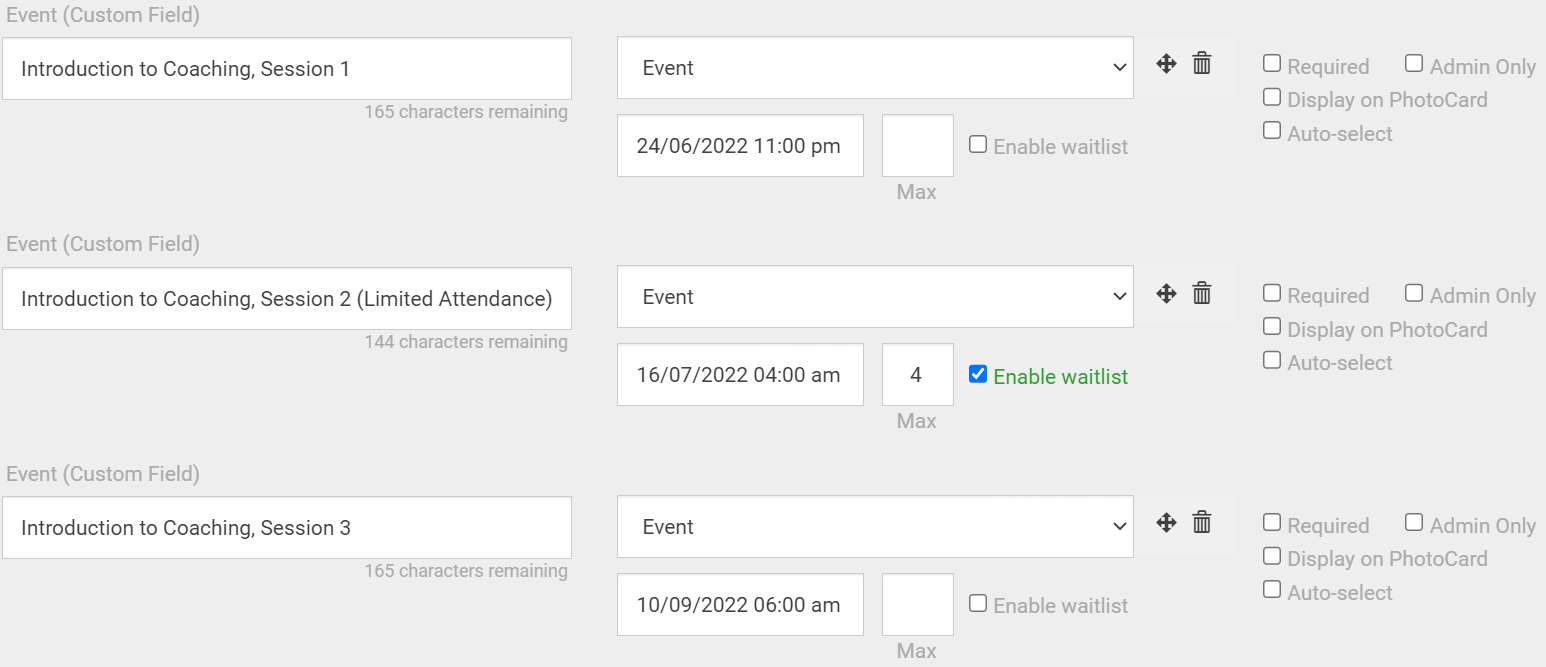 When people view your form, they will be able to select which event/s they wish to attend.

If you want people to automatically register for an event, you can check the 'Auto-select' option for the field. This ensures everyone who registers is set to attend by default. Those who still do not wish to attend can still uncheck the checkbox.
You can also set both 'Auto-select' and 'Admin Only'. In this situation people are automatically registered for the event and do not have the option to untick the checkbox.

Maximum attendees
Should you wish to restrict the number of attendees to an event, a Max attendees can be set. This will allow the first X registrations to attend the event. The field will be locked for all subsequent registrations and the message displayed "Unavailable - maximum number of attendees has been reached"

Waitlist
A waitlist can be enabled when applying attendee limitations. Simply check the box next to where you set the max attendees & all registrants who want to attend a filled event will be added to the waitlist. Registration confirmation emails will state Waitlisted beside the event they are waitlisted for. A suggestion would be to add info to the introductory text area of the form explaining if wait listing is enabled.

As people register to your event, their registration record will appear in the form database. People that have selected an event to attend can be viewed by clicking the checkbox icon on the form.

This opens an Event Attendees modal displaying attendees expected. The screenshots below show the mobile view.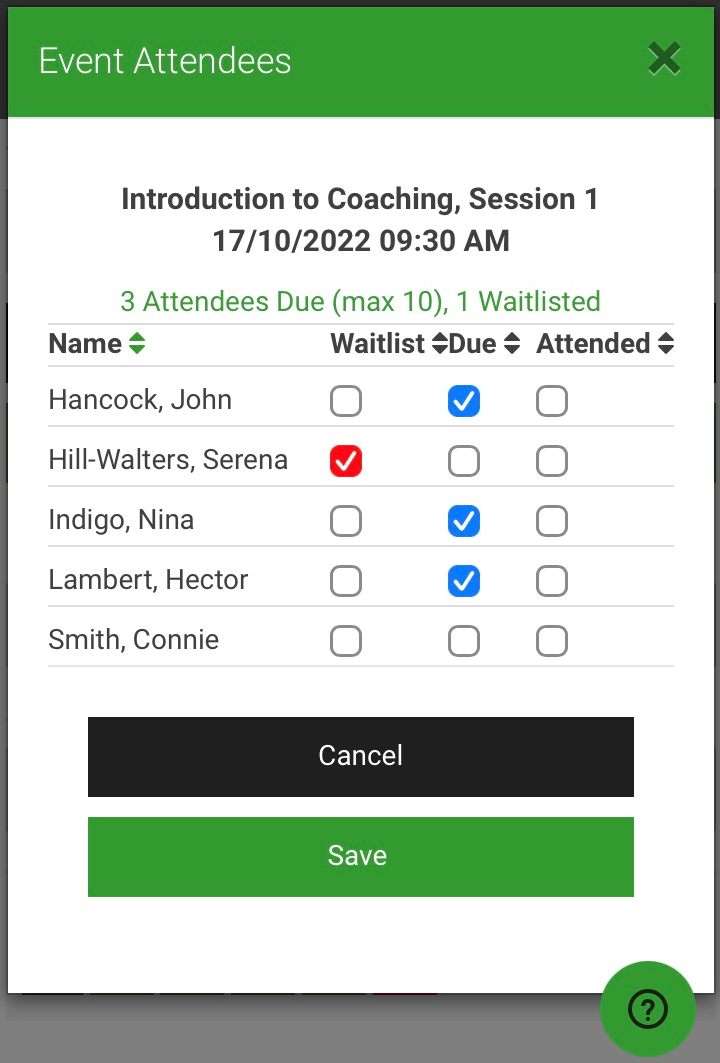 It is then easy to tick the checkbox to record attendees. This makes it quick and easy to record attendance on the go, for example, when at a training session out on the pitch.
Attendees' names will appear as a hyperlink, with green font and an underline appearing when hovering the mouse over the name, giving users the ability to access details such as medical details, emergency contact details, and parent contacts.
At any stage, the database of people can be exported into excel to filter/sort.