Each competition has a relationship to a form or SuperForm™ (see section relating to adding a competition). All teams that are added into TeamBuilder™ for that same form or SuperForm™ will automatically appear in SKED™. For example, if a club adds a team in TeamBuilder™ relating to the NZ Rugby Junior Player Registration form, then that team will automatically appear as an icon in that grade within SKED™ relating to that same form.
Note: If your competition is built using a local form that you created in the Online Registration area of Sporty instead of a SuperForm™ created by Sportsground, then the teams will appear with your own organisations logo. If your competition is built using a SuperForm™, then the team icons will appear as the logo associated with that organisation. This lets you visually identify them which will help to avoid having multiple teams from a club/school within the same grade. When hovering your mouse over a team icon you can see the organisation and team name it represents.
Adding a team to a competition from within SKED™
As well as teams coming into SKED™ from TeamBuilder™, you can also manually add them if you wish. This is useful if a club notifies you of a late team entry after your closing date for team entries.
Click +Add Team. If your competition is based upon a Superform™ you will be prompted to select which club/school the team belongs to, then enter the team name. The team will also automatically appear within Teambuilder™ for the club/school you select. Note that if the competition is based upon a local form you will simply enter the team name.
Adding a team to your competition from another region (NZ Rugby only)
Click the link Select team from another region.
Select the region, organisation, grade then team filters to locate the team you wish to add to your competition. Click Add to bring the team into your competition for inclusion in your draw.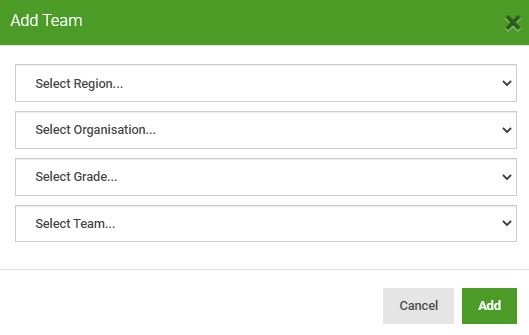 Separating teams into sections or grades
The first step of generating a draw is to ensure that the number of teams is not too large, if you want each team to play all other teams at least once within the period of the draw. For example, if there are six teams in a draw and games are played weekly, then it will take five weeks for each team to play every other team once. If that competition ran 15 weeks, then every team can play each other team three times total.
If there are many teams entered within a grade, then they can be split into different sections (pools) in the same grade. SKED™ will automatically create the correct number of sections, based upon the number of teams you have set to include in each draw (as set in the grade settings area).
To put teams into sections, you have three options:
1. Click GO to distribute all the teams on the left into the sections on the right.
2. Drag & drop teams into sections or between sections.
3. Apply a seeding to a team to predetermine which section they will compete within. Refer to Seeding Teams
Related articles:
Adding, deleting and renaming sections
Adding more venues or times to a draw
Setting a fixture to an unallocated time/venue