The Sporty platform includes a Form Builder utility that lets you create and update web input forms. You can add your own question fields to your web form, so that when someone completes your form online, you get all the information you need.
Each form has its own unique address (URL) so it's easy for you to link to your form from your website, Facebook or email. Whenever someone completes your form, their record is automatically added to your online database associated with that form. It will also email you if you wish.
Major sports codes such as NZ Rugby and Netball NZ use Sporty for their official web forms to register all participants nationally. Every club and school is able to login to their own area on the Sporty platform to see their own version of the official registration form for their sport.
This is important, because Sporty also enables clubs & schools to add their own question fields to their local version of the official form. This allows clubs/schools use the official registration form as their own sign-up method, accept payments and capture all the information they need.
If you are responsible for administering the registration of players for your club/school into a sport that uses Sporty, there are a few steps to follow each season:
Go to the place on Sporty for your club/school (use the club/school search if you need to find it).
Use the Admin login link at the bottom of your page to Login (instructions here).
Go to your Dashboard, then click the Online Registrations tile/button.
Locate the official form provided by your regional or national sports organisation for the current season. For example, for rugby this may be called Rugby Player Registration 2023 or for netball it may be called Netball Registration 2023.
Edit your form if you wish to add your own question fields or payment options (optional).
Use the link to your form on your website or Facebook so people can register online.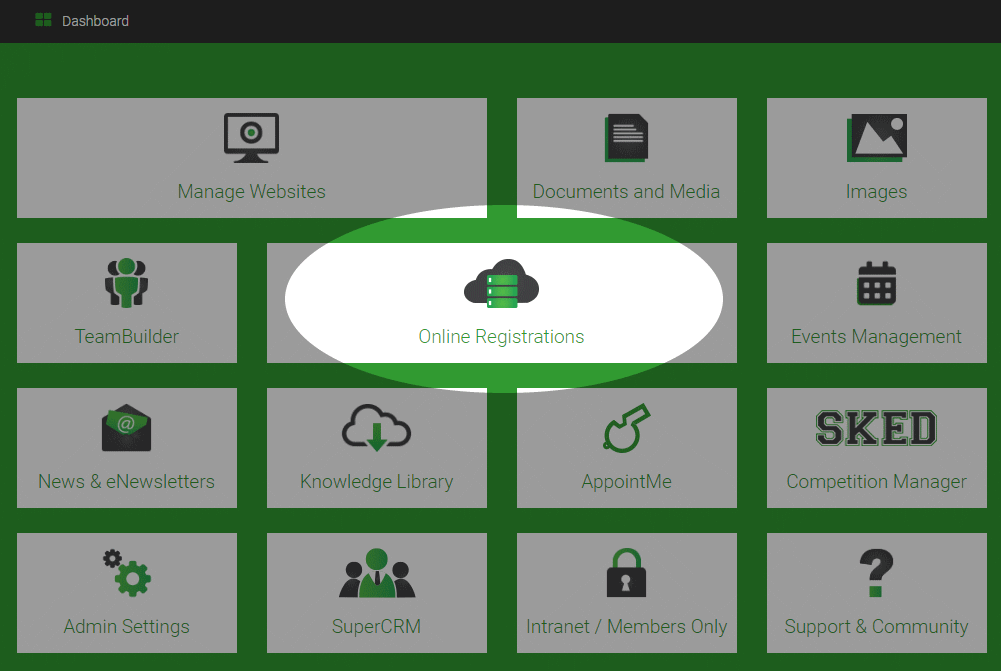 You can view the database of people that complete your web form. If the form is the official registration form that was shared from your national or regional sports organisation, then the records are automatically shared to meet the reporting requirements of your governing body. This allows clubs/schools to avoid the duplication associated with running separate processes. Note that question fields added by clubs/schools locally will remain private and are not shared upwards.
The same database of people also automatically appears for each club/school within:
TeamBuilder - a utility for entering teams into competitions and for putting players into teams
SuperCRM - a member management system for reporting and communicating with all people
IMPORTANT: Although you can let people complete your blank online registration form to sign-up or renew with your organisation, Sporty also provides easier methods for people to complete your form if they have already registered with your organisation in the past, without the hassle of logging in:
Magic Link - email people a link that automatically prefills the form with their know details
Autofill Wizard - lets people use their reference ID and Date of Birth to autofill their form