Most of the functionality provided by the Sporty platform is reached through the buttons/tiles on the Dashboard. You can reach the Dashboard for your organisation by logging in and clicking the Dashboard link at the top left of your screen.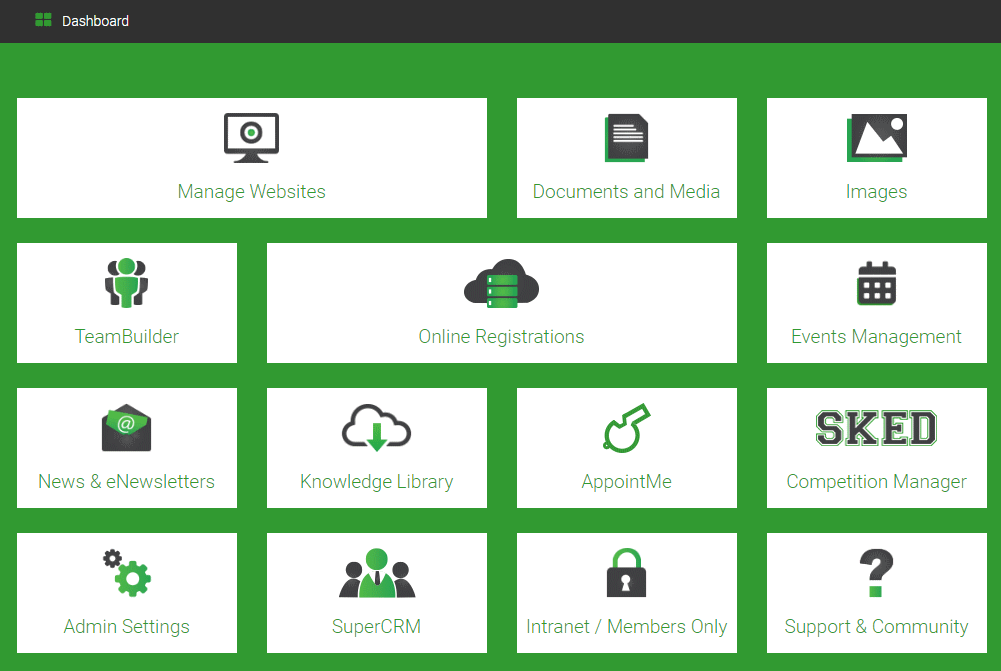 Some of these tiles/buttons may not be accessible to you if they are not enabled for your login. If you are unable to access a tile/button that you believe you should be able to, please contact your organisation administrator or contact the Sporty Helpdesk by emailing support@sportsground.com
A summary of the tiles/buttons on the Dashboard is as follows:
Manage Websites
This is the website builder where you can update the content and page layout for your website and any subsites.
Documents and Media
This is where you can upload, store and manage documents and media files such as Word Docs, Excel Spreadsheets, PDF docs and MP3 files. You can also create folders to organise them into groups.
Images
This is where you can upload and store images for use in your website page content and within eNewsletters. You can also create folders to organise your images into groups.
TeamBuilder
TeamBuilder allows you to see people registered through your Online Registration forms, then drag & drop them into teams/groups within Grades.
Online Registrations
This is where you can manage Online Registration forms and the databases of people that have been entered into those forms. You can create, update and delete forms and perform data management tasks.
Events Management
This is where you can create Event Entry forms that can display on an event calendar and accept entries into events.
News & eNewsletters
This area lets you create and manage news articles, manage exclusions from your mailing lists, build eNewsletters and save Newsletter templates.
Knowledge Library
The is an area where governing organisations can store and share folders of document templates and resources for their affiliated clubs and schools.
AppointMe
This button launches 'AppointMe' - a solution that manages the appointment of referees and umpires to game fixtures. AppointMe is an optional module for sports using SKED competition management system.
SKED competition management system
SKED is the most popular competition management system in New Zealand, used by all major sports to create and manage schedules of game fixtures at your allocated times and venues.
Admin Settings
This area lets you manage your organisational settings, control who has a login for your organisation (User Access Control) and also lets you connect to integration partners such as Xero.
SuperCRM
SuperCRM provides a 360° view of your members and stakeholders over the life of their association with your organisation. It lets you manage all contacts, notes, history and information in one place.
Internet/Members Only
This is an optional premium feature that lets you have unlimited extra pages and website content that is hidden behind a password, so only visible to whoever you share access to.
Support & Community
This takes you to this Online Support Centre where you can find User Guides, video tutorials, tips & tricks and all the resources you need. If you can't find what you're looking for, don't hesitate to get in touch with us:
For New Zealand Clubs and Schools:
Give us a call on 0900 777 876 (note calls cost), or email support@sporty.co.nz.
For Australian Clubs and Schools:
Give us a call on 1902 287 780 (note calls cost), or email support@sporty.com.au.