If you manually modify your draw, you may inadvertently create a clash. For example, if you change a venue to one that is already in use at that time. If your changes result in a clash, SKED™ will display an error message when you click + Add to Calendar. SKED™ will highlight the clash for you. If you hover your mouse over the clash SKED™ will display a pop-up message that provides detail for you.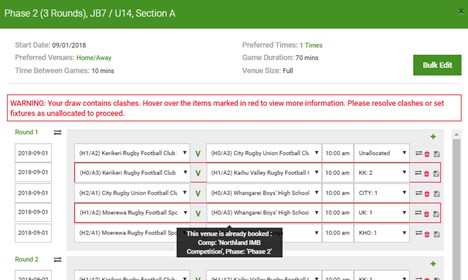 You will be unable to add the draw to your calendar while clashes exist. If you are unable to resolve the clash but still wish to add the draw to your fixtures calendar, then set the venue to Unallocated. This will resolve the clash and you can allocate a venue later.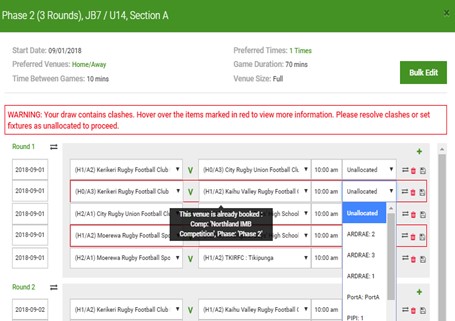 Once the draw is added to your fixtures calendar, any games set with an Unallocated venue will be visible on the Venue View for the date of that game. You can then drag & drop these unallocated fixtures to a venue that is available. This change will also appear in your draw.

Related article: