Display (People and Organisations tabs)
Tags (People and Organisations tabs)
Click on Settings at the top right to manage your display options, manage the tags, set your organisation's Xero details, access the eNewsletter area and configure the Custom Tab.
Note: These settings are user specific, so any change you will make won't reflect on other users that have access to your organisation's SuperCRM.



Display (People and Organisations tabs)
Manage the information that is displayed and exported when you view groups of people or organisations using the filter tools in the People tab or the Organisations tabs of SuperCRM.

Click Display, then tick on which fields you want to see or export and change the order of how the fields display to suit your needs.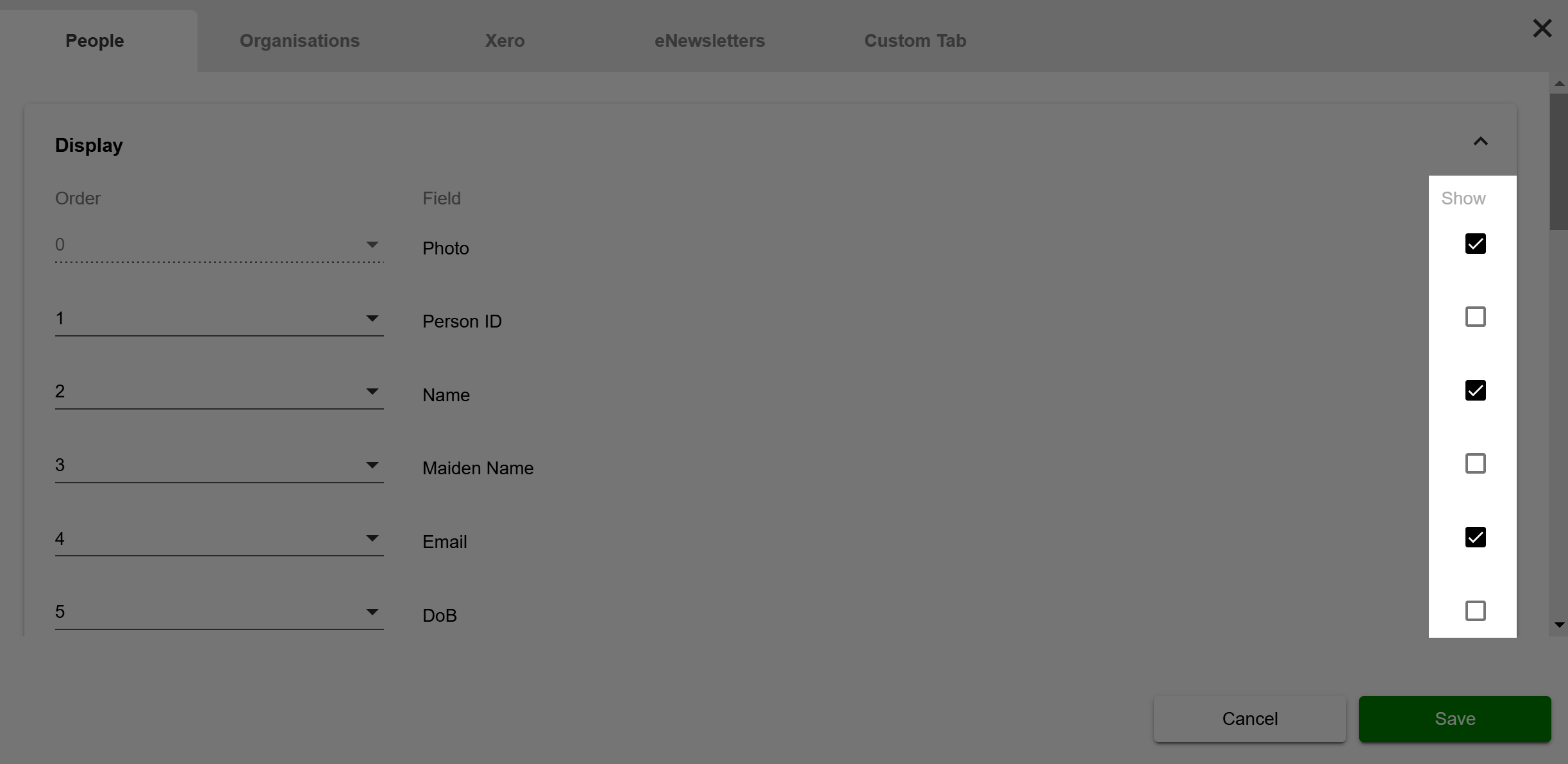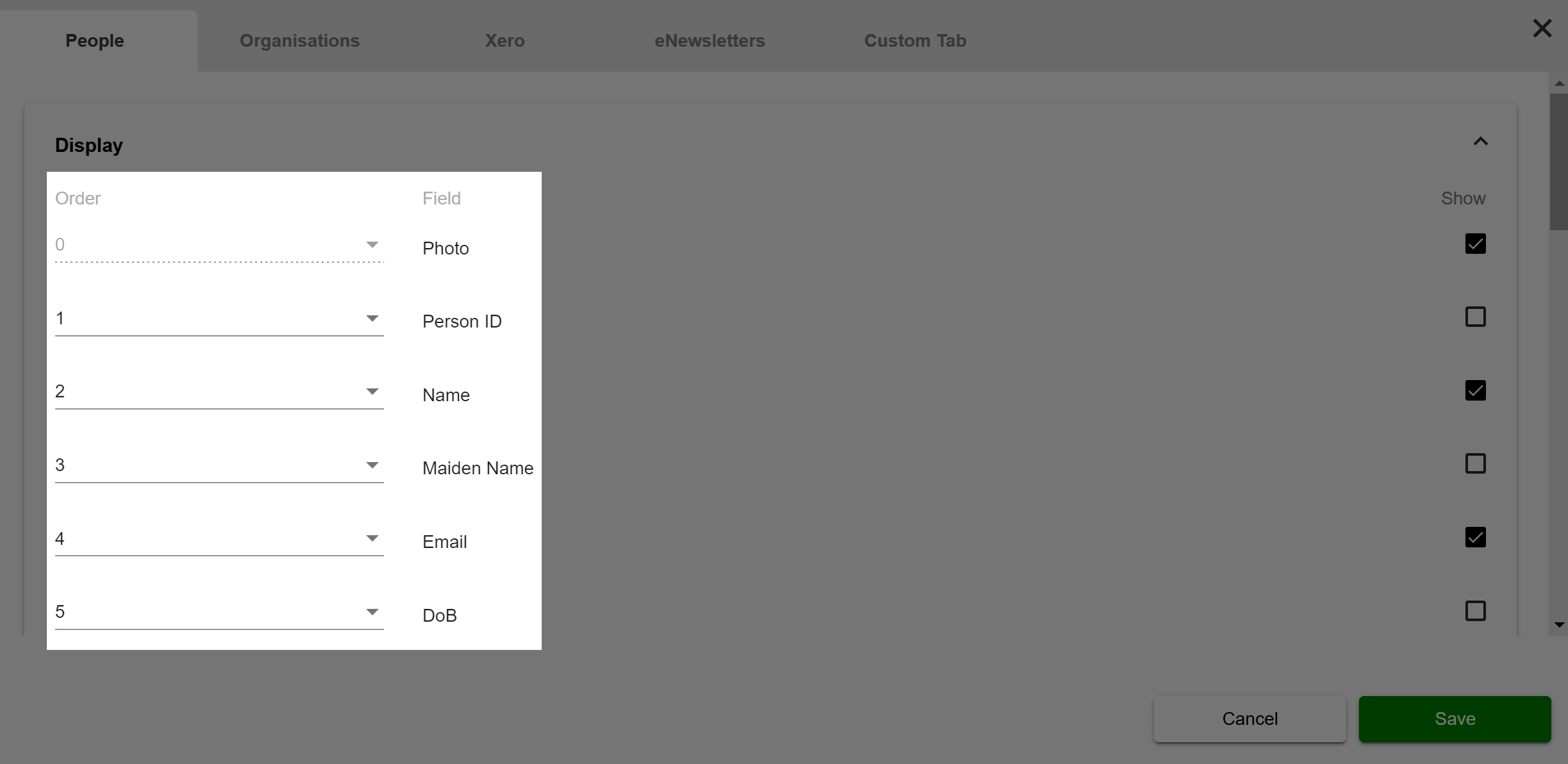 Custom Fields
If the question/field you were looking to display is not listed, you can specifically set it to be displayed by ticking on any of the fields named Custom Field.

To customise it, click on the pencil icon.

A pop up will display where you can select the form and the question/field within the form that you want to display. You can also modify the Display Name of the field and tick on Only show latest value (this option is useful for fields in recurring forms where the information is constantly updated). Click on Apply when done.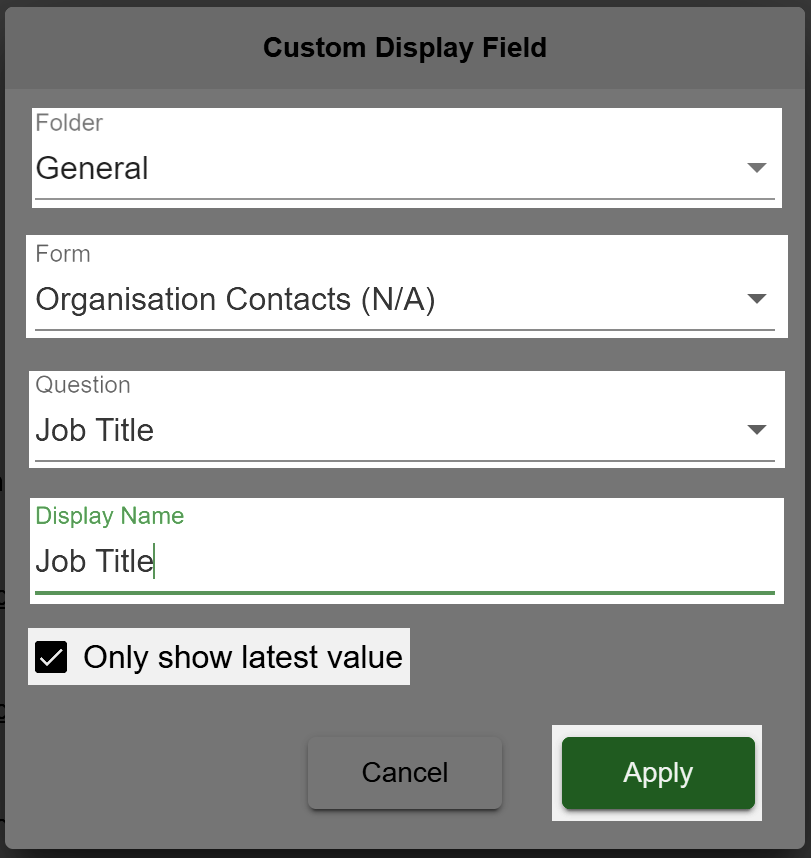 Click Save to apply your changes.
Tags (People and Organisations)
Add a Tag
To add a new tag, click on +Add Tag, type in the name of the tag, and click on the save (floppy disk) icon. You can create as many tags as you want to.


Edit a Tag
Edit the name of a tag by clicking the edit pencil, then clicking the save icon when you have made your changes.

A modal will come up to confirm the changes you have made. Click on Confirm.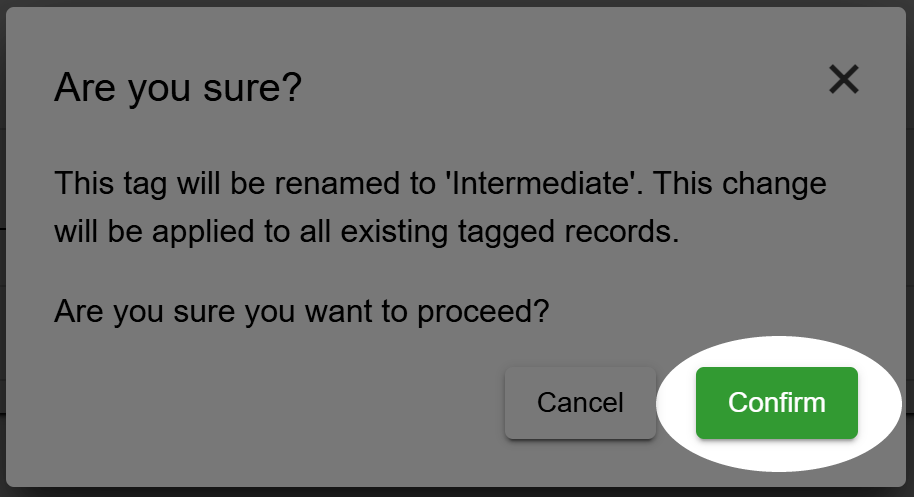 Once you have added your tags and edited them as needed, click on Save.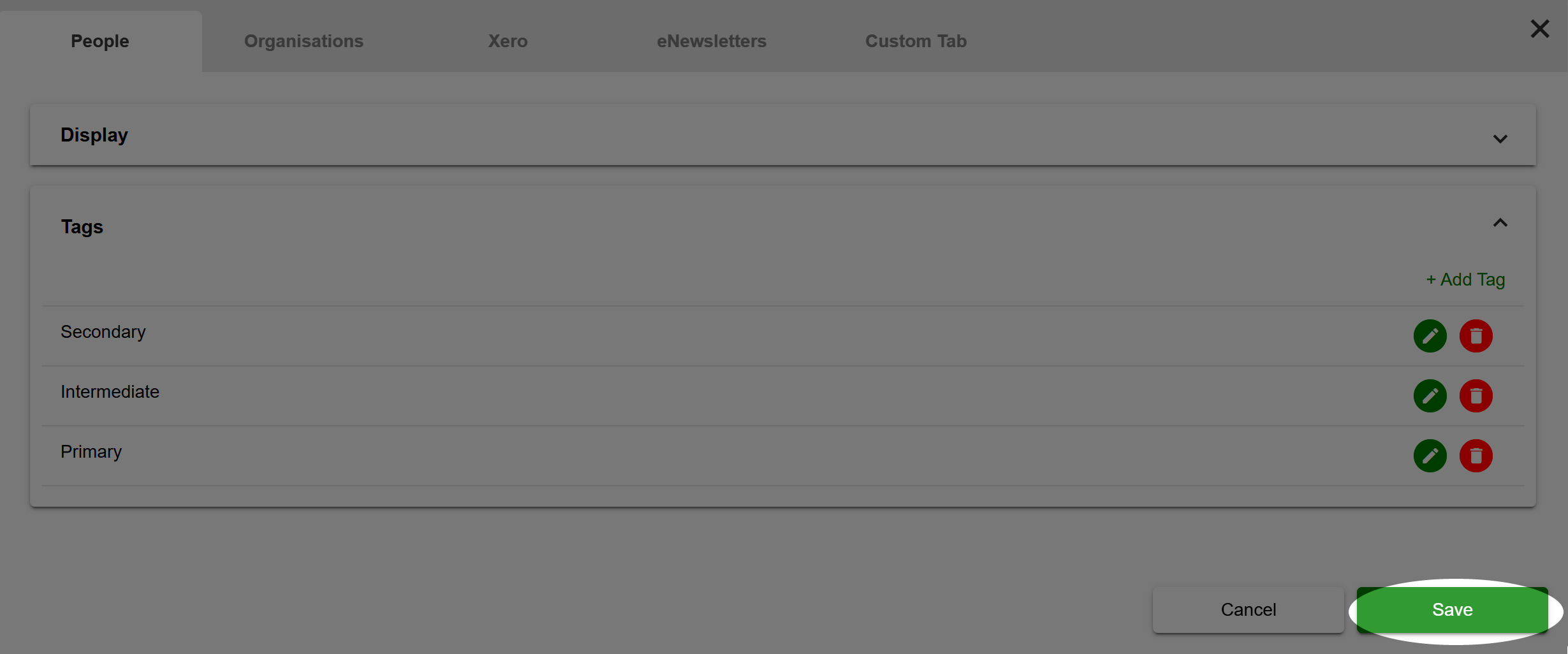 Delete a Tag
Delete a tag by clicking the rubbish bin icon.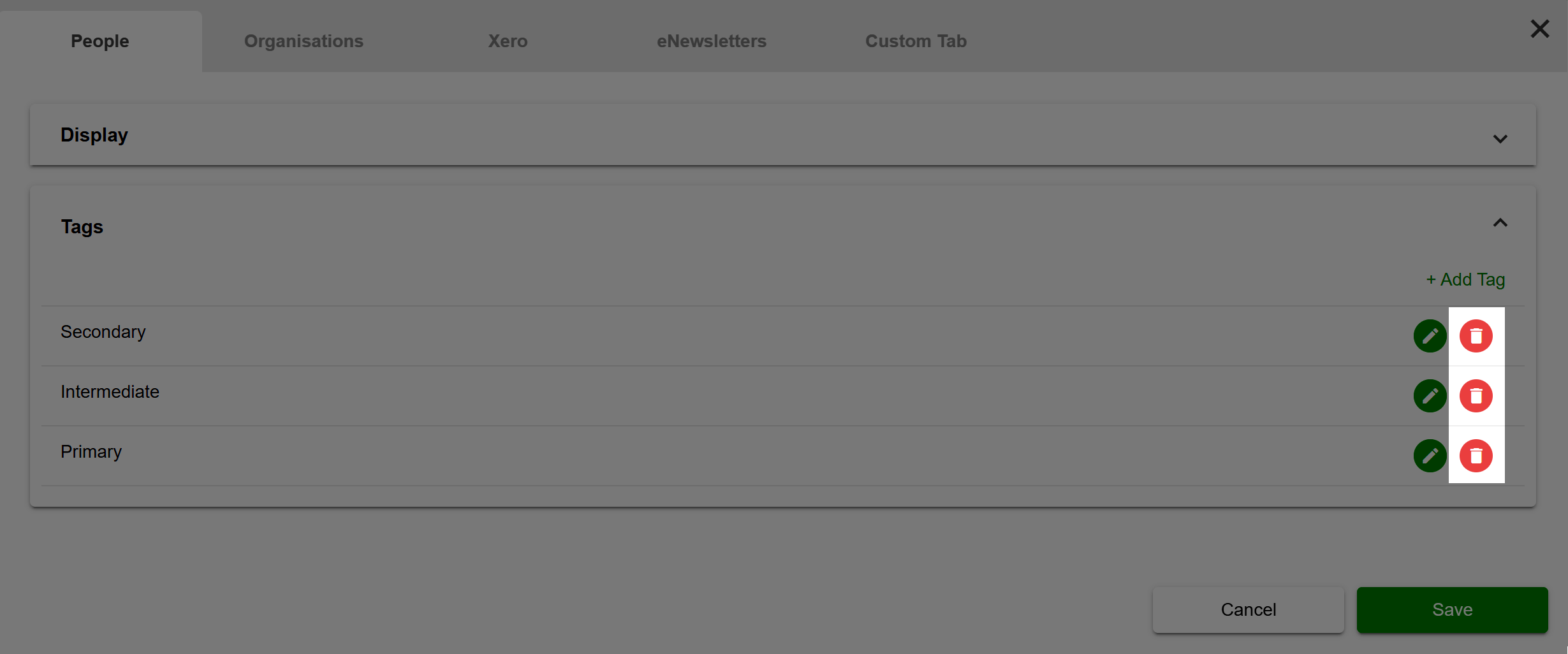 You will receive a confirmation message asking if you want to proceed with deleting the tag on all existing records. Click Delete to proceed.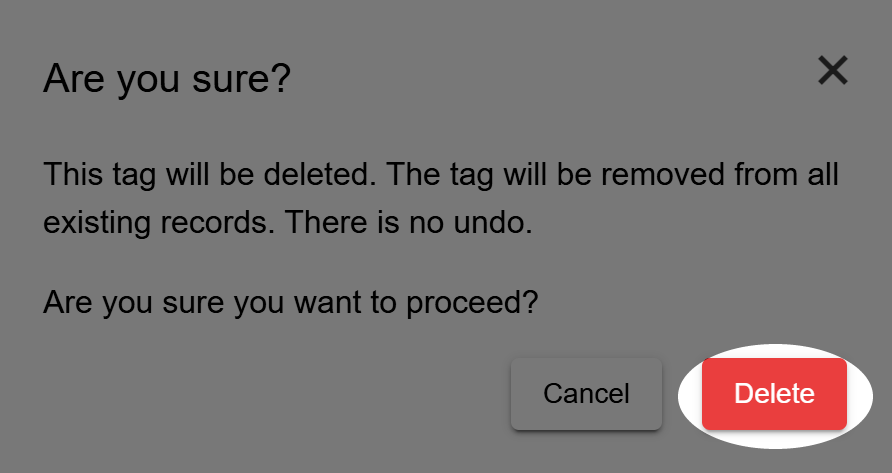 Organisation Types
You can set Organisation Types and filter by these to further categorise organisations. By default, these organisation types have already been added: Club, EducationProvider, Market, Rso, and CRM. You can add your own ones or edit these existing ones to suit.
To do this, click on the Organisations tab.

Then click on + Add Type and once done, click on the save icon.


To edit the name of an organisation type, click on the Edit icon and once done, click on the save icon.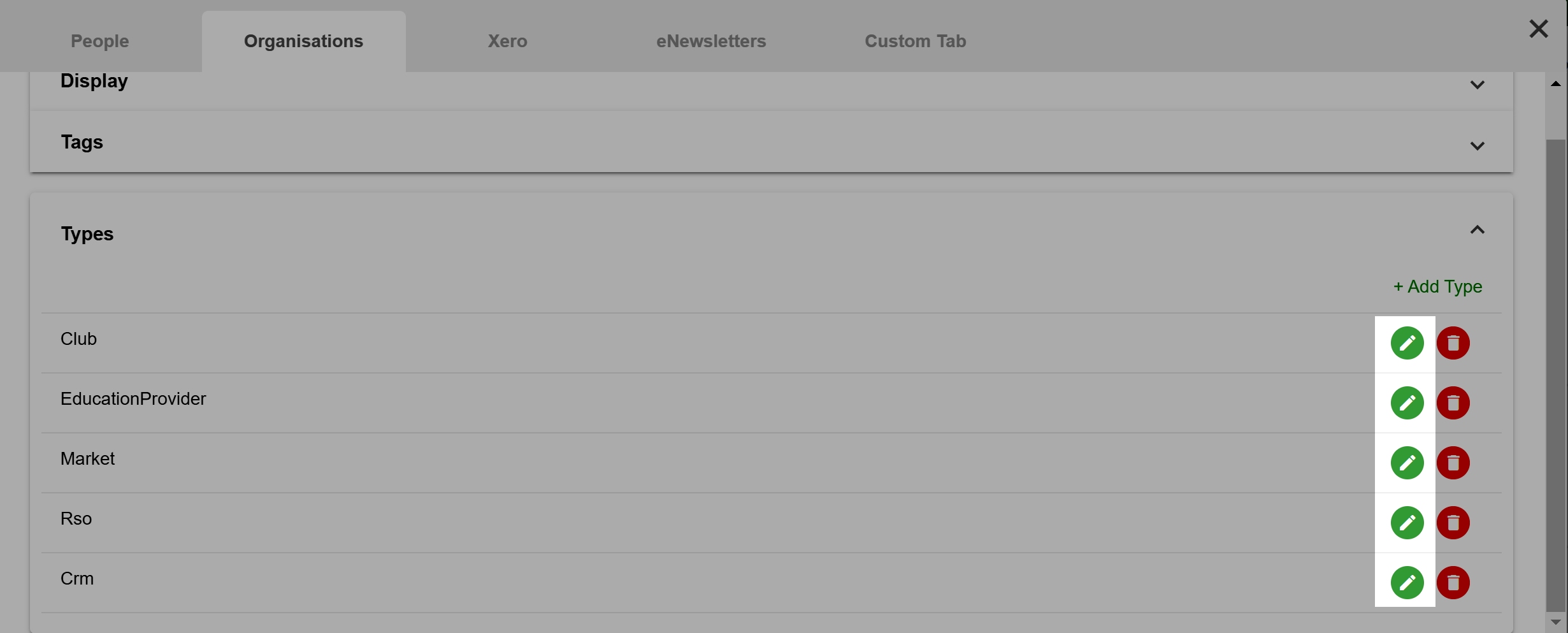 You can now choose to assign the new organisation type you have created to new organisations or edit existing ones by adding a new organisation or edit an existing organisation.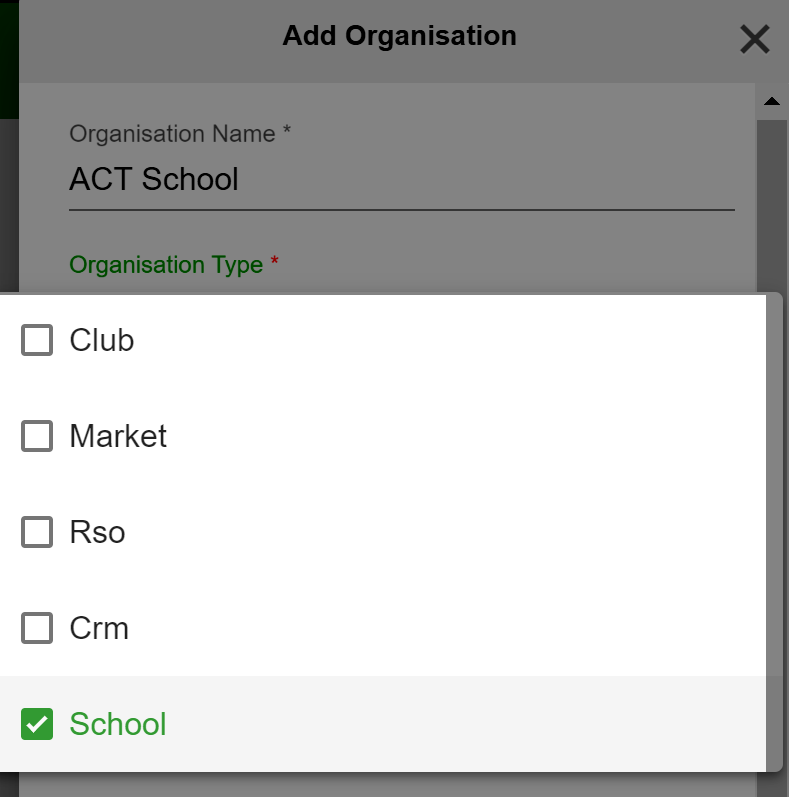 Once applied, the Organisation Type will display on the Organisations tab.

Xero
Set the New Invoice Status, Xero Revenue Account and Xero tax rate that levies will be raised against. These are inherited from your Xero settings.
These can be changed for individual levies in Xero as required before the invoice is confirmed.
Click Save.

Click here for more information about integrating with Xero.
eNewsletters
The eNewsletter tab allows you to create blank eNewsletters, edit existing ones, and modify the exclusion list without having to select recipients first.

For more instructions on how to create an eNewsletter, please refer to this support article.
Exclusion List
This is where you add the email addresses of people who want to be excluded from receiving eNewsletters. Those who click on the link to unsubscribe (this is found at the bottom of every eNewsletter email) will also have their email address automatically added to this list.
To add an email address to the list, click on the Exclusion List tile.

Click on New Exclusion.

Type in the email address on the text box and click on the save icon.

Type in the email address on the text box and click on the save icon.
Note: When a person is added to the exclusion list, they will be excluded from all eNewsletters sent from your organisation. The person will still receive other correspondences like email invitations to re-register, emails sent directly to the person via the CRM and user access emails sent from Teambuilder unless they specifically requested to unsubscribe from an invitation to re-register.
To exclude a person from receiving invitations to re-register, please use the "Do not email" checkbox on the person's profile or next to their name in the registration database view.


Custom Tab
The Custom tab area allows for greater flexibility to view a unique and customised set of data that is most important to your organisation. With it, you can pick specific questions from different forms and have them all laid out in this tab for your quick reference. Each person's profile will then have the custom tab and, if they have completed those forms, their answers to those questions will be prepopulated in this view. You can also update their answers/information, and it will update the form that it corresponds to.
For more information on how it works an how to set it up, please refer to this support article.