If you are having a problem with the App that is not covered by the FAQ's below, please contact support@sportground.com​​​​​​​
FAQs
I am not receiving Push Notifications for all groups
By default, when you install the app, you will be automatically subscribed to receive general push notifications.
Organisations can also distribute push notifications to specific groups, and you need to subscribe to receive these notifications.
To subscribe, click the Alerts icon, then click the Settings Cog to view additional groups you can subscribe to. Toggle notifications to on.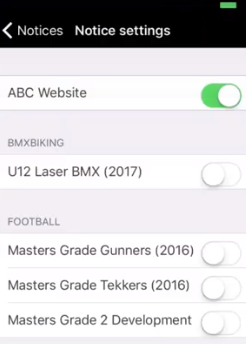 I have a problem with the Game Day App/Accessing the "Officials" icon.
Please visit your governing bodies website that runs the competition - thier site will display a FAQ page for thier Game Day App.
How do I access my PhotoCard Digital ID Card