This article explains how to create a group where people can opt-in to receive notices specific to that group.
Create the group by creating a sub-site
The steps to create a sub-site are below or see our support article https://support.sportsground.com/hc/en-us/articles/215464308-How-to-Create-a-Subsite
Login > go to Dashboard > Manage websites > Update sub-sites
Change Display Subsites For: to None, then click CREATE NEW SUB-SITE

Enter a sub-site name eg. Coaches and click Submit

By default, the subsite is not visible in the mobile app so you need to enable this. To do this, tick the box that says "Show in Mobile App".
Check to confirm the group is visible in the mobile app. To do this, open the app on your phone, click on Alerts icon, then click on the settings cog

This displays the Coaches group (sub-site).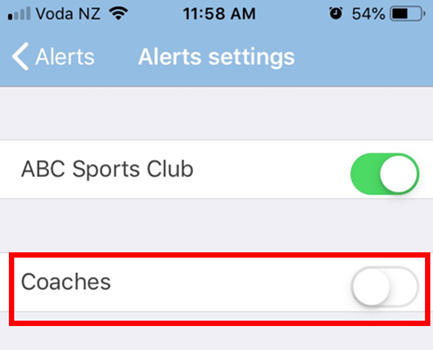 For people to receive alerts from the Coaches group, tell them to go into their Alerts settings and turn on this group.
You can set up as many groups (sub-sites) as you want, then let people know they can opt-in to groups to receive additional notifications specific to that group only.
This creates a shell subsite called Coaches. Delete any of the placeholder text then click +ADD CONTENT and add the Notices (with opt-in emails) widget.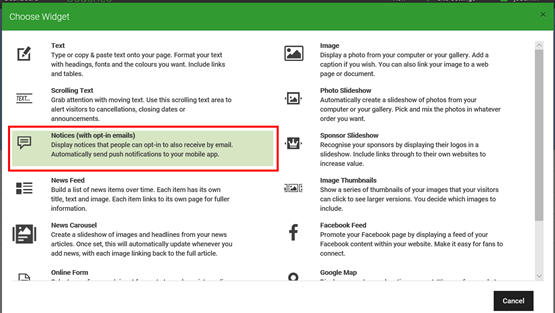 Note: You can use the subsite as a web page if you wish. For more info on how to manage a subsite see https://support.sportsground.com/hc/en-us/articles/218957507-How-to-Manage-a-Team-Subsite-for-Coaches-and-Managers
Your subsite called Coaches will look like this...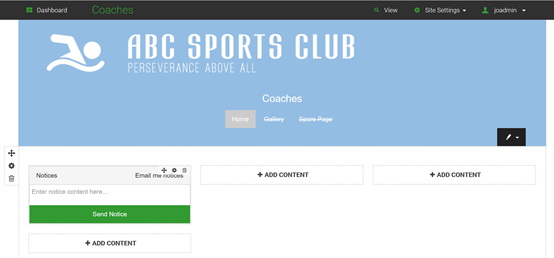 Sending alerts to a group
To send an alert to your group, login to the group sub-site, type the alert you wish to send and click Send or Manage Notice. You will get a pop-up with your notice details > click Send.
This will send the alert only to people who have opted in to that group.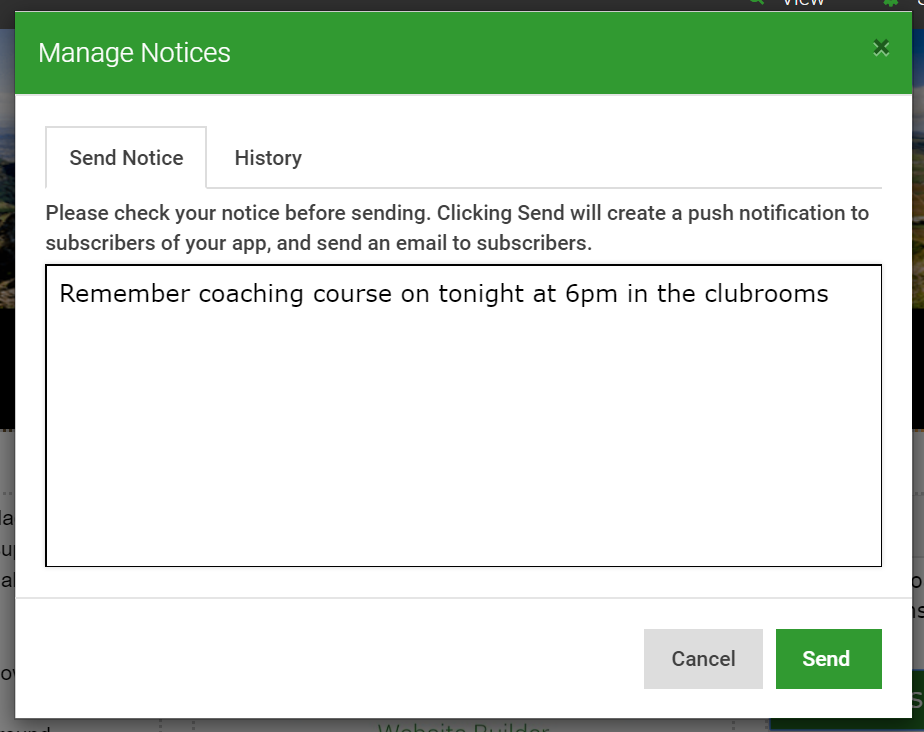 You can also communicate via email with a group. People can browse to your group subsite and opt in to receive the notices via email by clicking on the Email me notices link. Or you can manually add their email address to the notices list.
Then when you send the notice it will;
send an alert to the app
send an email notice to all emails listed