It is easy to your database back to re-register for a new season. When you do this each person is sent an email with a link to their registration details. They simply click on the link it opens the new seasons form pre-populated with their last known details. All they need to do is update any details then click Submit and they are registered for the new season.
NOTE this is not for official registration forms for NZ Rugby or netball centres (SuperForms). If you are unsure if your club/school is using a Superform please contact support@sporty.co.nz. 
Step 1 - Copy the form for the new season
Create a new form for the new season by copying the last season's form and assigning it to the following season.
Click on the copy button for the Form (see image below).

A pop up will appear, with a checkbox saying "Assign copied form to following season?"  Leave this checked as it will link last seasons form to this season > click Confirm.
A new form will have been created, exactly the same, but in the next season.
Step 2 - Update the new form
Update this new form with the new season's details eg. season start date, fees etc. (see How to edit a form).
Be sure that the form's start date and end date are correct so that it is available at the right time.
Step 3 - Invite the database to register on the new form
Next, invite the database to re-register by clicking the email icon on the OLD FORM (ie the form from last season that already has a database of registrants - not the new form for your upcoming season).

You can customise the email message that is sent to people inviting them back to re-register, then click Send email.
When people clicks on the link in the email they receive, it will open the new seasons form pre-populated with their details. All they need to do is update any details and click Submit. They will then be registered in the new season.
If you then view the previous seasons database you will see their name highlighted in green. This means they have re-registered.
You can invite your database back to re-register more than once. This will only send the email invitation to those people who have not already re-registered.
How to invite an individual person to re-register
If there is a specific person you would like to invite back to re-register you can do this without inviting the entire database. To do this, click on the name of the database to display a list of all people registered > find the person eg. Roger Black > then click the envelope icon beside their name >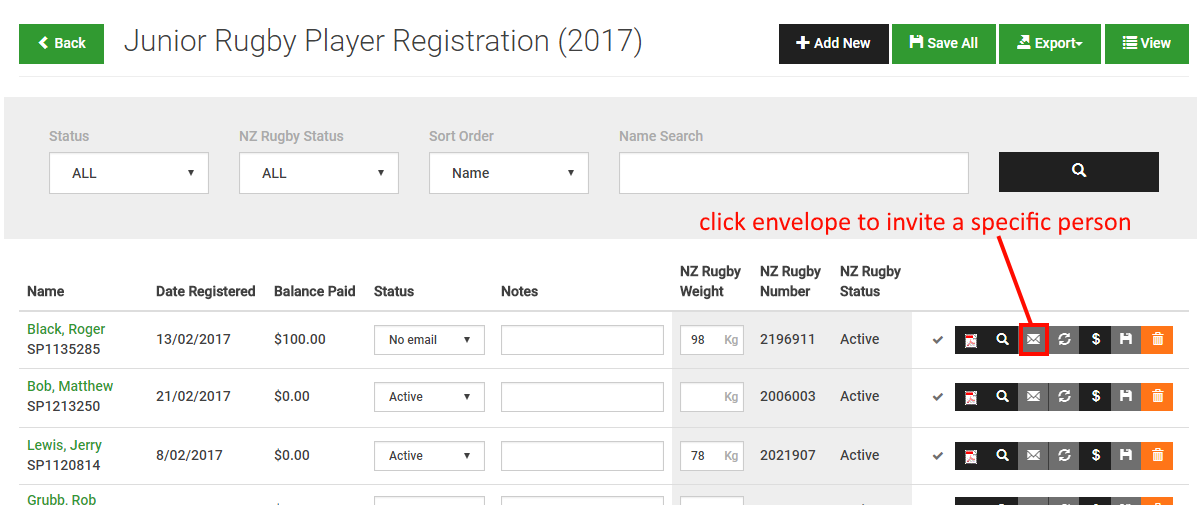 This opens up the dialogue box showing it will only email Roger Black. You can then personalise the message and click Confirm to send the email invite.