Search Engine Optimisation (SEO) is the art and science of optimising your site's visibility and rankings in search engines. In the old days, you could add a few keywords and expect your website to magically appear towards the top of rankings. Those days are long gone.
Google doesn't publish the algorithm it uses to index and rank websites. On occasions, Google will issue statements regarding things that may effect rankings, such as in 2015 Google announced mobile-friendliness as a ranking signal, and in 2018 Google announced that https could impact search rankings.
To improve your site's rankings with Google, please follow the instructions below and also on this page to ensure that Google knows your site exists. Your site will not appear in search results until after it has been crawled and indexed by Google and other search engines.
Note: If you want our support team to help you, we can do so for a one-off fee. Please complete this form to purchase SEO support.
Things you can control
There are some settings you can configure for your website that are generally believed to impact your search results with Google and other search engines, including:
Website Meta Title
Website Meta Description
Ability to add a Facebook Pixel ID
Ability to add Google Site Verification Code
Ability to set heading tags such as <h1> and <h2>
Ability to set Alt text for images
Adding descriptive meta data is generally believed to help search engines index your site and match your content against search queries. You can change your site's Meta Title and Meta Description in the Site Settings menu > SEO & Analytics.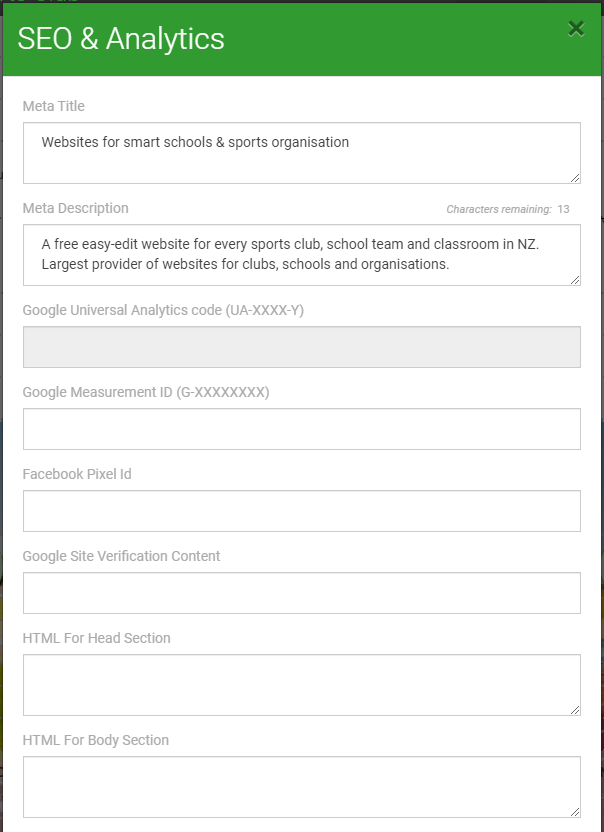 Meta Title
The Title tag is used to summarise the content found on your site. It will appear in three key places: browsers, search engine results pages, and external sites such as Facebook or Twitter. When you set a Title for your site, it will appear like this when your home page appears in the search results:
It is believed that search engines expect a Title tag to include relevant keywords and phrases that describe what your site is about. So if the Title you create is not relevant to your site, Google can choose to show a different Title instead. The Title is automatically generated as a mix of your site name and the page name for each page.
Meta Description
The Description tag is intended to be a short summary of the content found on your page. A Meta Description gives you more space to tell people what you're offering, and it's an opportunity to give them a compelling reason to click through to your site when it appears as a snippet in search results. You only have 155 - 160 characters available. Ensure you include words that you expect people to use when searching.
When you set a Meta Description it may appear as a snippet in the search results here: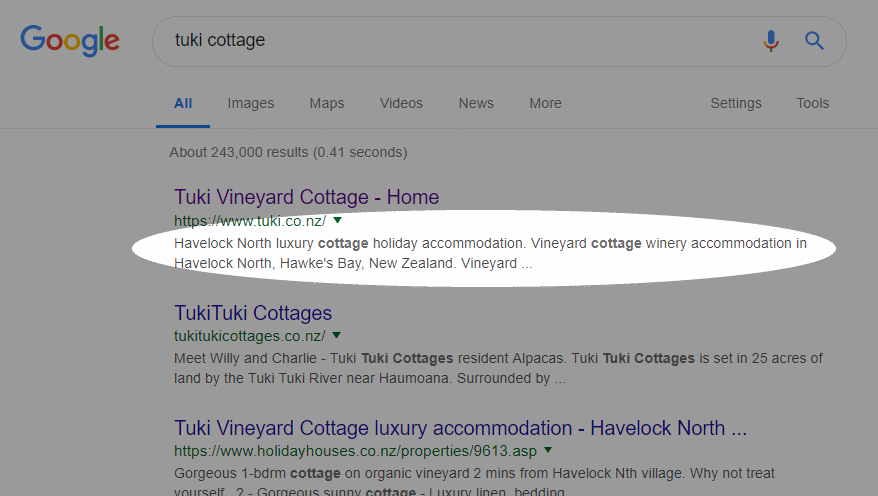 Note: It can take a few days or even weeks after you set your tags for them to be indexed by Google and appear in search results.
However, Google now generates snippets automatically from your page content. Snippets are designed to emphasise and preview the page content that best relates to a user's specific search: this means that a page might show different snippets for different searches. Google now only uses the Meta Description to generate the snippet if it thinks it gives users a more accurate description than is possible purely from the on-page content.
A Meta Description should generally inform and interest users with a short, relevant summary of what a particular page is about. They are like a pitch that convince the visitor that the page is exactly what they're looking for.
Google Tracking Code
You can obtain a tracking code from Google and then whenever people visit your website, Google will record their activity so that you can view your website statistics by logging into Google Analytics. To learn more click here.
Facebook Pixel ID
You can obtain a tracking code from Facebook (pixel code) and then whenever people visit your website, Facebook collects data that helps you track conversions from Facebook ads, optimise ads, build targeted audiences for future ads, and re-market to people who have already taken some kind of action on your website. To learn more click here.
Google site verification
Google site verification is the process of proving that you own the site that you claim to own. Google needs to confirm ownership because once you are verified for a site, then you have access to its private Google Search data, and can affect how Google Search crawls the site. To learn more click here.
Other elements that impact your search ranking
Some other things believed to effect how highly your website ranks within search results includes:
The words and sentences you use in your text
When Google crawls your website pages, it indexes the words and word combinations in your text. So if you have a page that uses the word 'beekeeping', then this should help your site be returned in the search results when people search for 'beekeeping'. Similarly, if your site has a Title of 'Auckland beekeeping supplies' in conjunction with the word 'beekeeping' in your page text, then your site would be expected to be returned when people search for say 'Beekeeping in Auckland'.
The use of headings
It is believed that Google attributes a greater weighting (importance) to text on your page that is used for headings, since headings are expected to be representative of the following text content. Therefore, it is recommended that you use headings throughout your pages, where a heading is an individual word (or short sentence of words) that has an increased font size compared to the rest of the text on your page. Your Sporty website settings allow you to define the default style for your Heading 1 <h1> and Heading 2 <h2> to make it easy for you to consistently apply these whenever you use the website text editor. This sets the heading tags automatically for you.
Page names
It is believed that Google considers the name of each of your pages and gives a greater weighting to these words. So, if you had a page in your website menu named say 'Beekeeping tips' then this would contribute towards your ranking when your site is returned in search results once people search for 'beekeeping'.
Https
In 2018 Google announced that sites lacking a security certificate may rank lower in search results. To learn more about getting a security certificate installed for your website, click here.
Geographic proximity
Google is normally able to determine your approximate geographic location from your IP address and other meta data that it can obtain as you browse. It is believed that Google now uses the knowledge of your approximate location to return relevant search results. For example, if a person happens to be located in Auckland when searching for the term 'Beekeeping' and your site uses 'Auckland' then it is more likely to be returned higher in search results even though the person didn't specifically include the term 'Auckland' in their search.
Inbound links
It is believed that Google applies greater importance to websites that are linked to from other websites. For example, if five other websites link to a page on your website as a reference resource for beekeeping, then this is expected to improve the way your site is ranked within search results when people search for the term 'beekeeping'.
It is believed that your ranking is further improved if the referring sites are official (E.g. government websites with a .govt domain name). You may wish to proactively contact the owners of other websites and ask them to provide a link from their website to your website.
The relevance of your domain name
This relates to having a web address (domain name) that is relevant to terms people search for. For example, the web address 'aucklandbeekeepingsupplies.co.nz' is expected to have a better ranking than 'abs.co.nz' for people who search for 'Beekeeping supplies in Auckland'. If you do not yet have your own web address, we can help you with this. You can either order a domain name online here or contact us using the details below.
For New Zealand Clubs and Schools:
Give us a call on 0900 777 876 (note calls cost), or email sales@sporty.co.nz.

For Australian Clubs and Schools:
Give us a call on 1902 287 780 (note calls cost), or email sales@sporty.com.au.
Also see:
Why Can't I Find my Site on Google?
How to connect your domain name (www address) to your website