How to Enable Debitsuccess
Complete the Debitsuccess application form here. Note that it normally takes approximately two business days for approval.
Debitsuccess Dashboard
Sporty will provide you with credentials to access the Debitsuccess dashboard. Use these credentials to login to the Debitsuccess dashboard.
To view your Debitsuccess Portal, go to your Dashboard, click on the Admin Settings tile, then Connections click Debitsuccess Portal button.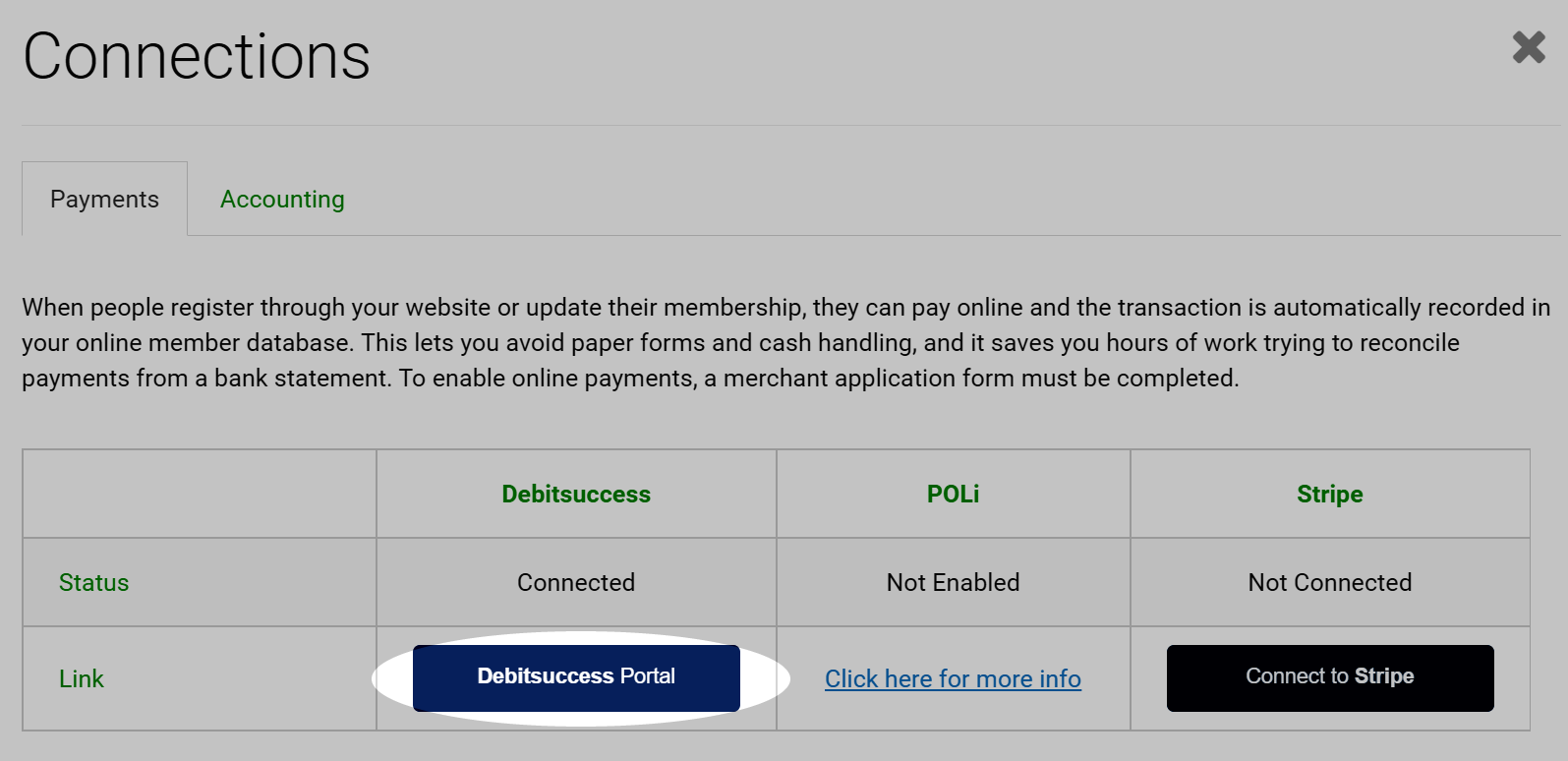 The Debitsuccess dashboard allows you to view transactions completed and run transaction reports as required. Transactions will display the unique SP reference number assigned to every registration in Sporty, which allows for easy reconciliation with Sporty. You can also search for this reference.
Fees and Payouts
The fee for Debitsuccess transactions is 4.35% + GST (5% including GST). Note that if your total annual transaction volumes are high, you may qualify for a discounted percentage rate of 2.95% + GST. Please contact support@sportsground.com.
Payments that people make to you are processed by Debitsuccess every week from Monday to Sunday and are then automatically paid directly to your bank account each following Wednesday, minus the processing fees applicable.
A detailed transaction summary is also emailed to you.
Disputes, Chargebacks, and Insufficient Funds
Disputes and Chargebacks
Your customers may not recognise a charge on their credit card statement and may dispute this charge with the bank. If this occurs, Debitsuccess will contact Sporty to provide evidence of proof of purchase. If the dispute is successful, payment will be refunded to the registrant, and you will be notified.
The Debitsuccess processing fees are still applicable for that transaction and will be withheld.
You will need to follow up with the person directly to facilitate payment.
Insufficient Funds
The payer's bank will treat this the same as if the person bounced a cheque and are likely to charge the person a dishonour fee. We will NOT attempt to retry to process the transaction. The failure will appear on your weekly payout report. Note that in such instances the amount will appear as 'paid' in your online database and you may be unaware that funds have not been received until you get your cleared payment report each Wednesday. Therefore, if you are delivering expensive products, it is recommended that you wait until payment has cleared before releasing the goods.
Payment Reports and Reconciling Payouts
How to run Payment Reports
Each instance of payment is recorded automatically against the person's record in your online registrations database. So you can see the payment balance for each person at a glance in your database overview screen (when you click into the database associated with a web form). You can export a database to Excel with just one click, and this file also shows the payment balance along with columns for each product you've added to your web form. You can also run a payment report by going into your Dashboard, click on the Online Registrations tile then the Payment Report button. For more information, please view this article.
You can also login to the Debitsuccess admin dashboard to view details of any transaction. Lastly, a detailed transaction summary is automatically emailed to you each Wednesday that includes payments made within the last transaction week.
Reconciling Bulk Payouts from Debitsuccess with Xero
Sporty will raise invoices automatically in Xero, and each week you'll receive the bulk payout into your bank account relating to all transactions from the previous payment period. The payout will be 'net' meaning that the Sport$pay fees will have automatically been deducted for you. For example, if there were 10 payments of $100 then ten invoices totalling $1,000 would appear in Xero and these transactions would result in a payout of $950 into your bank account (being 4.35% + GST = 5% off the total value processed).
Xero publishes a support article here regarding the best way to manage reconciliations when you receive bulk payouts from online transactions.
Essentially, Xero recommends that you simply create a separate current asset account for these transactions that acts as a clearing account. That is, you'll credit the bulk receipt of funds from Debitsuccess to this account, and debit the individual invoices from this account. These debits and credits cancel each other out, with the exception of the merchant fees. So when the pay-out from Debitsuccess appears on your bank reconciliation in Xero, code it to this clearing account (you can set up a bank rule to do this for you).

To handle the merchant fees, you simply take the fees total from your Debitsuccess pay-out report and create a manual journal that credits your clearing account and debits the total to an expense account for fees. Note that the merchant fees from Debitsuccess attract GST, so don't use your normal 'Bank fees' expense account since it will probably be set to 'No GST'. You can simply create a new expense account in Xero called say 'Merchant fees' and set its tax to be '15% GST on expenses'. You only need to do this once.
So, your journal entry would then look like this: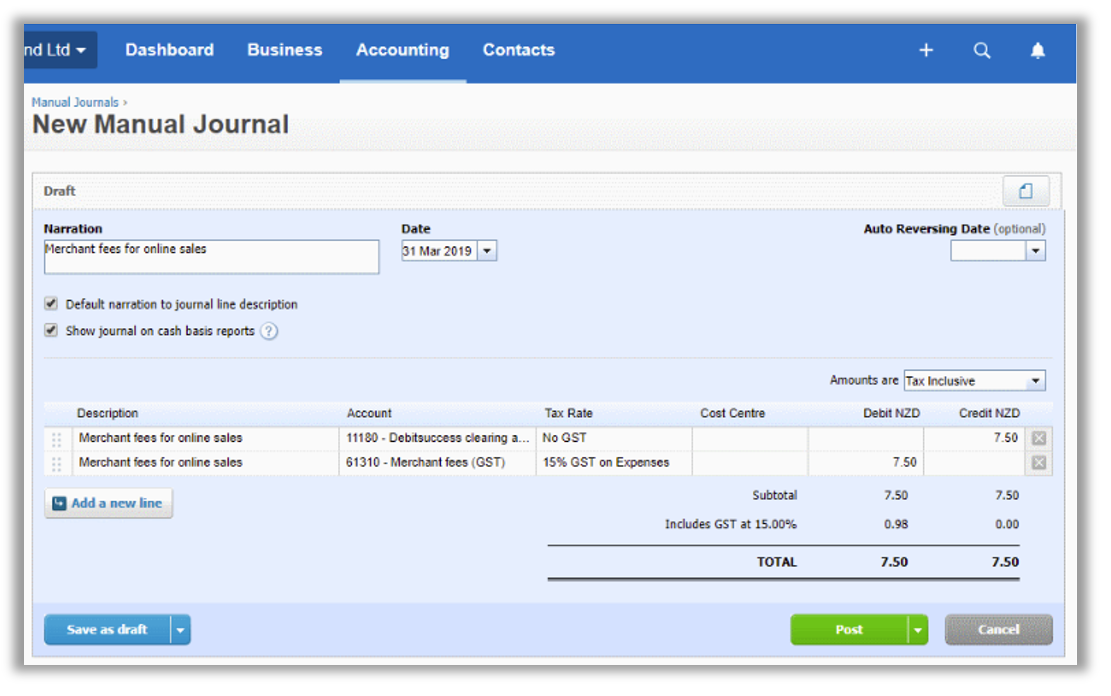 If you need help accounting for online revenue or merchant fees in Xero, please seek assistance from your accountant or directly from Xero.com.