Payment Report for POLi Transactions
How to Apply for POLi
Complete the POLi application form here to enable POLi to be linked to your Sporty site. You will receive an email from Sporty support when POLi has been turned on, ready for you to connect.
Connecting an Existing POLi Account
If you already have a POLi merchant account and authentication code, this can be used in Sporty. Please notify support@sportsground.co.nz so that POLi can link your account to the Sporty platform and to enable us to assist you with any future queries.
The full POLi application and integration process can be found on this page.
POLi Console
To view your POLi Console, go to your Dashboard, click on the Admin Settings tile, then Connections click Connect to POLi button.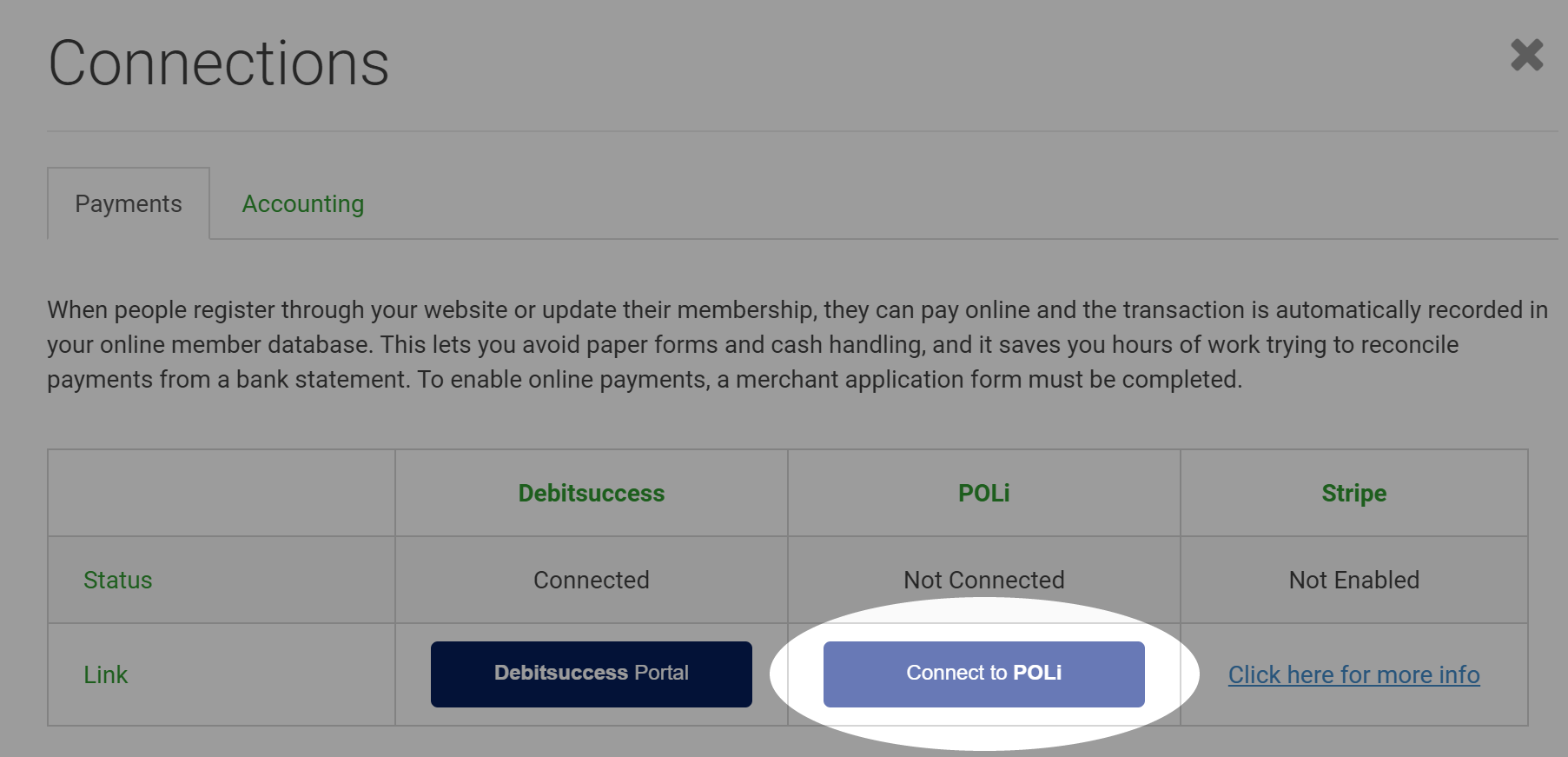 You will need to input your username and password set as part of the application process. If you do not know these details, please follow the steps detailed here.
The POLi Console allows you to manage your account information, view transactions completed, and run transaction reports as required. Transactions will display the unique SP reference number assigned to every registration in Sporty, which allows for easy reconciliation with Sporty.
For more information on the POLi Console, please refer to POLi support.
Fees and Payouts
The standard charge for POLi transactions is 1% + GST, capped at $1 per transaction.
POLi facilitates an Internet Banking Bill Payment to transfer funds from your customer's bank account directly to your bank account. Funds will be available in your settlement account in the same time frame that internet banking settles. This normally is either the same day or no later than Tuesday morning if a transaction happens between Friday, Saturday or Sunday.
POLi will direct debit your bank account monthly for processing fees incurred for transactions processed using POLi. An invoice will be sent to you early in the month from POLi, and the direct debit occurs on/around the 20th of each month.
For more information on POLi billing, please refer to POLi support.
Payment Report for POLi Transactions
Select Payment Report from Online Registrations to view a transaction log for period of your choice. This report will detail the total value of each transaction and the method used to process the transaction.
For more information, please view this article.