Sporty makes it easy to view the entries in your database, and export them as an Excel (CSV) file or similar spreadsheet program.
How to view your database:
Dashboard > Online Registrations to see a list of your forms/databases.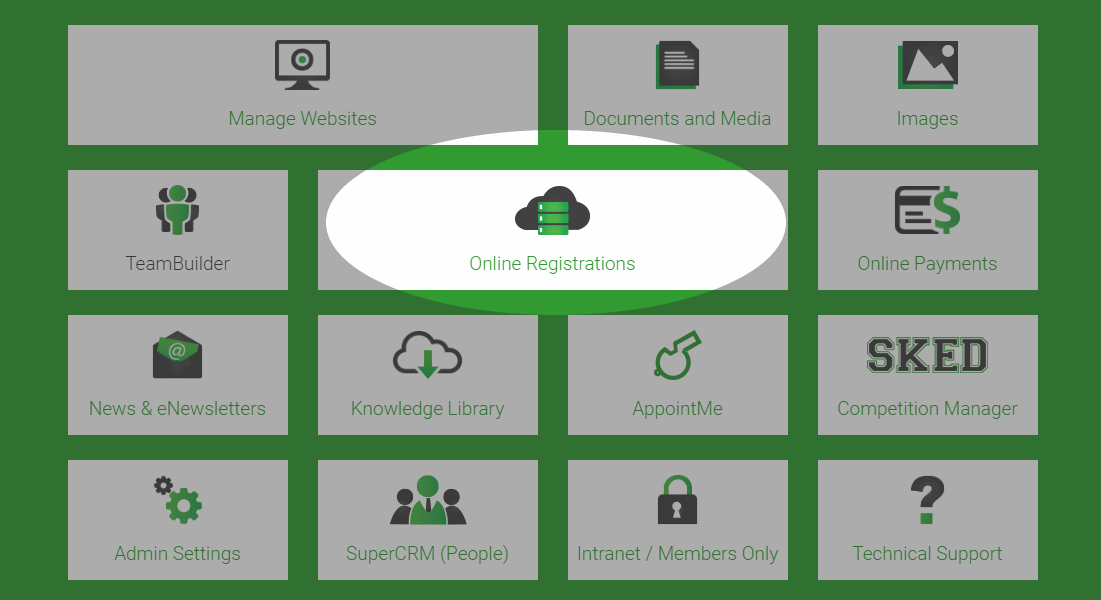 Click on the name of a form/database to view all records submitted for that form. To edit a persons record and view their details click onto their name.
You can also click View to view all registrants details and form fields in one view.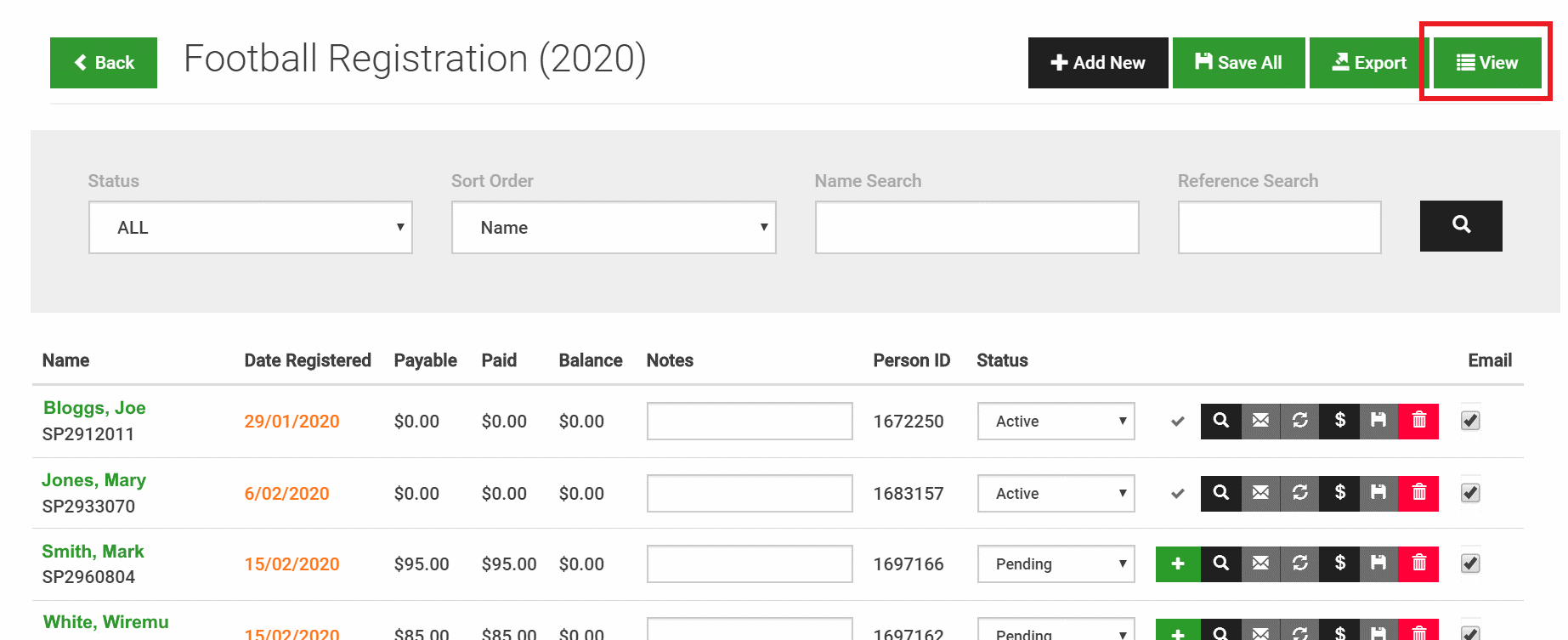 How to export your database:
You can export your database as a downloadable file that you can open in Microsoft Excel and other spreadsheet programs (e.g. Mac Numbers, Google Sheets).
To download a database, click the green Export button from the top right of your database view.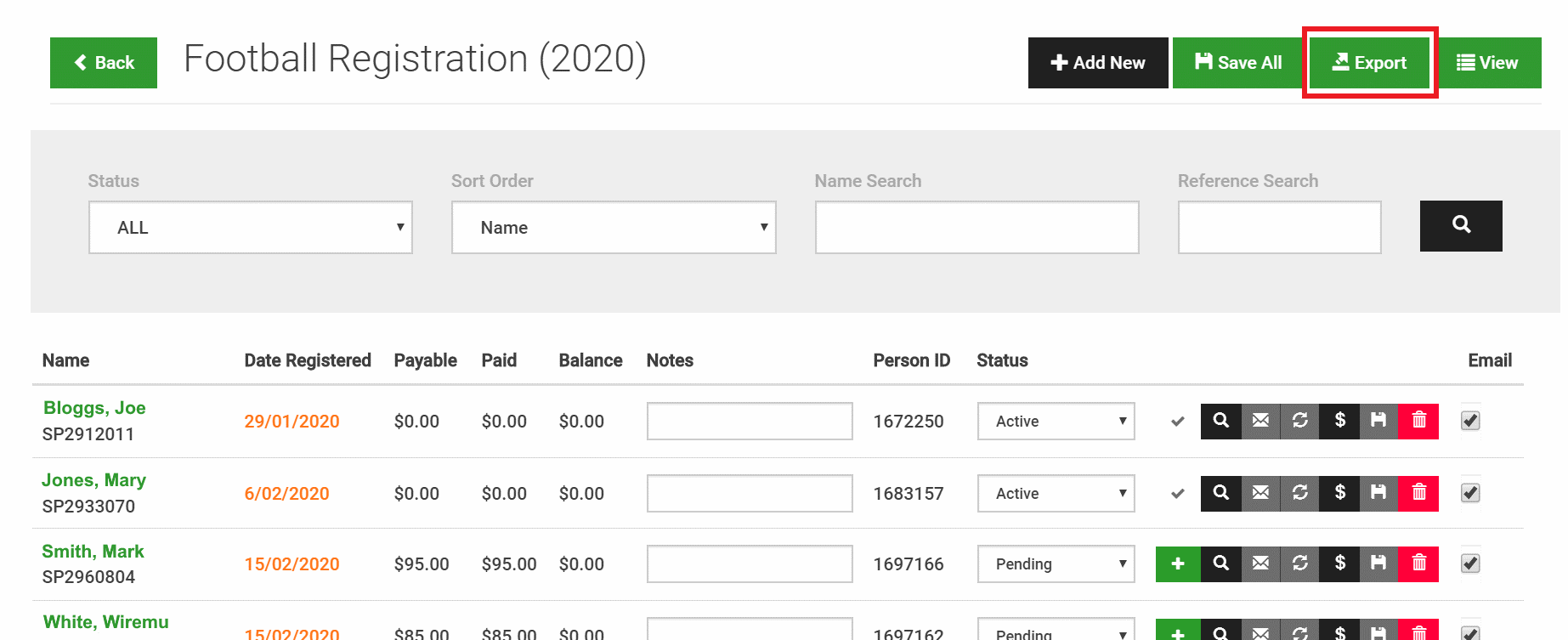 The database will automatically download to your computer as a CSV file. 'CSV' stands for Comma Separated Variable. It is simply a text file where each field from your database neatly appears in columns separated by commas. The CSV file will open in Microsoft Excel or another program on your computer, depending upon whatever default application your computer has set for opening this file type.
If your database is quite large, a message will pop up to let you know that the it will be sent to you by email instead of downloading immediately to your computer. It also gives you the opportunity to update the email address the file is sent to. IMPORTANT: If your database is emailed to you, it may take many minutes for it to reach you, so please be patient and do NOT repeat the email process while you're waiting.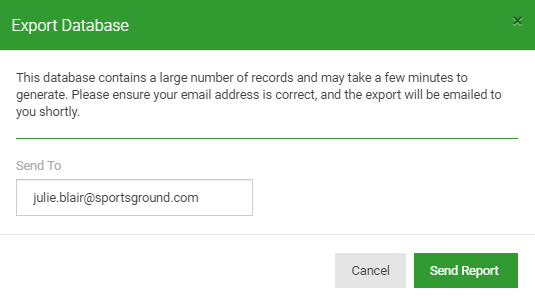 NOTE: The Sporty platform can also support the export of Documents and Photos that were uploaded when people completed your online registration form. This is enabled upon request. Once enabled, this introduces additional export options for you. For example, if your site has been enabled to export Documents, it appears like this:

This downloads a Zip file containing all Documents that automatically opens on your computer. The filename for each Document in the Zip file is automatically set to be the name entered on the registration form in combination with the unique registration number, so it is easy to marry each Document in the Zip file with the associated registration record, like this:

To enable the export of Documents and/or Photos, please contact support@sportsground.com.