All entries require you to have a profile login to complete the registration form. The event calendar can be found in your profile and also maybe displayed on the clubs website. When accessing from the website you will be prompted to log into your profile to complete the registration.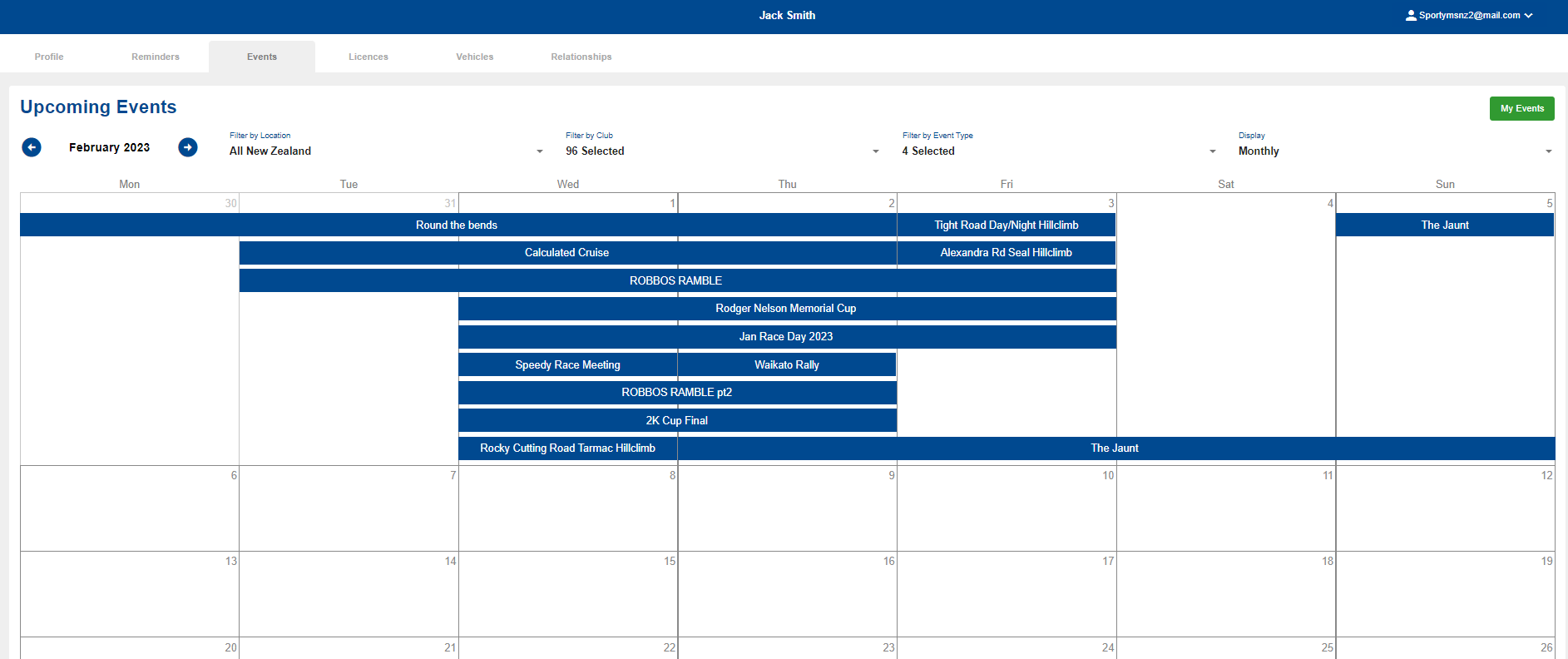 When an event is created it will display on the calendar with the option to Express Interest. Once the event is open and approved, then the Enter and Volunteer buttons will be displayed. If the event is cancelled then it will no longer display on the calendar.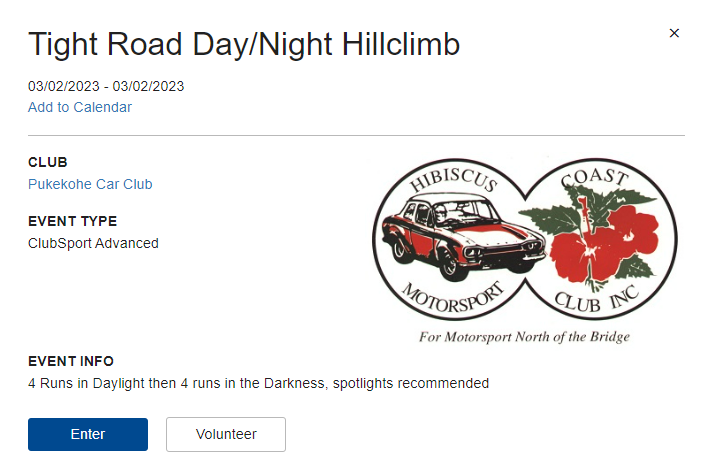 Event Expression of Interest
Click the Express Interest button, all your details will prefill and will just need to click submit. When the event is open for registrations an email maybe sent to you with a link to officially register to the event.

Event Registration
Click the Enter button to open the event registration form. Complete the form and submit.
Registration Type
The type of registration (I.e. Entrant, Primary Driver, Co-Driver etc.).

Competitor Details
This detail will be prefilled from your profile.

Vehicle Details
This section only displays for primary drivers. As a primary driver, select a vehicle from a list of your owned/linked vehicles and then type in your transponder number. If you cannot find your vehicle in the list then ensure it is linked to your profile.

Entry Fees
Only primary drivers will be charged the event entry fee. Although, other products maybe set up to collect money from other entrants.
Eligibility
You will require a current competition licence or day licence to register to an event, if your licence grades do not meet the event's permitted grades then you will not be able to register.

Event Officials Registration
Click the Volunteer button to open the official registration form.
Official Details
This detail will be prefilled from your profile.

Position
List of positions that you can volunteer for.

Once Registered
After registering to an event the event will be displayed green in the profiles calendar and the registration form will be displayed in my events. The event registration will be sent to the event organisers to review and approve.

My events will display all event registration forms and the status. You will have the ability to edit the registration to update details or withdraw from an event.
Note: any changes to a registration form will email the event organiser.