Sporty is an approved partner app for Xero online accounting software. If you connect your Sporty website to Xero the following becomes possible:
You can set your online registration forms to automatically create a Contact in Xero
You can raise Xero invoices from www.SuperCRM.co.nz member management system
Sporty can automatically raise draft invoices for you in Xero whenever someone submits your online form (E.g. registrations, renewals, product sales)
You can set tracking codes in Sporty so that different line items become automatically coded to your different cost centres in Xero. Click here to learn more about Xero tracking codes

When a person pays online as part of the registration process, the invoice can be marked as Paid automatically in Xero. Conversely, marking an invoice as paid in Xero updates the Sporty balance paid to show payment received
If your Sporty site is not yet connected to Xero, there is a one-time process to get this set up. Please click here to learn how to connect Sporty with your Xero the first time.
OPTIONAL: You may also wish to let people pay you online by credit card, electronic direct debit (bank to bank), or bank transfer via POLi. For more information regarding enabling online payments, please click here.
Using Sporty with Xero
Once you have connected Sporty with Xero, you can add your own products and pricing to your forms, and nominate which account in Xero each item gets coded to.
Go to your Dashboard and click on Online Registrations.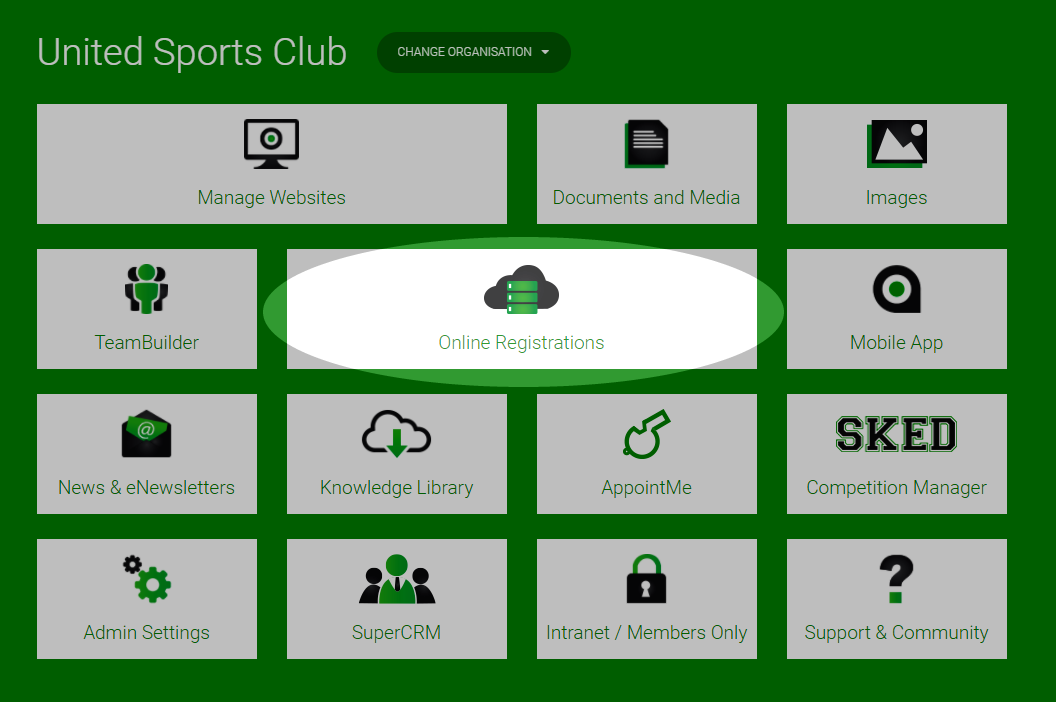 Click the pencil button to the right of the form/database name that you wish to edit.

This opens the Form Builder utility and lets you edit your form. Scroll to the bottom of the page to the Products section. There, you will see the "Xero Settings" option. Selecting this will open the Xero Settings modal.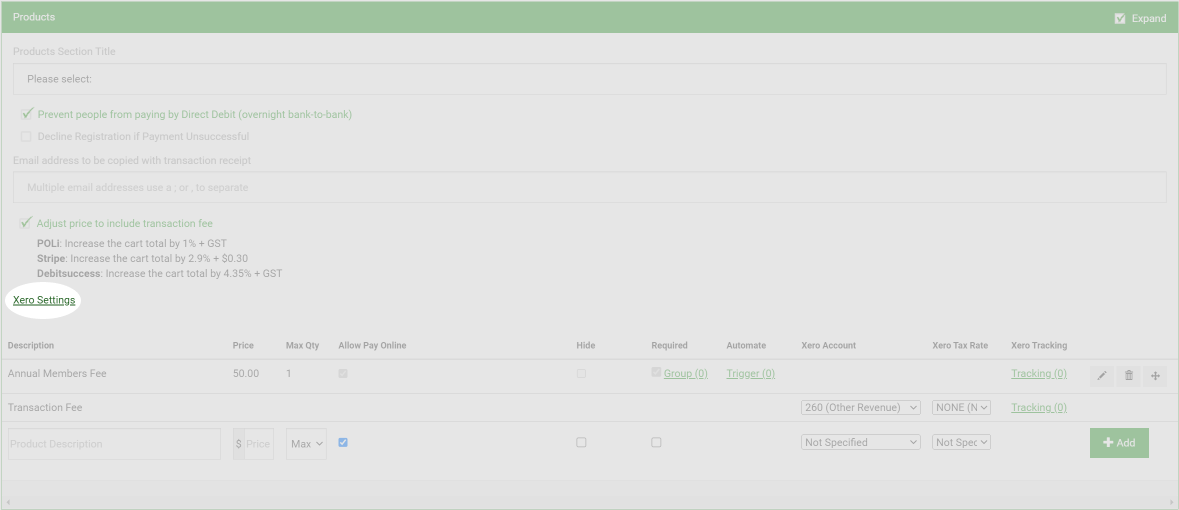 The modal will open onto the "Invoice" tab. This will default to using your organisation settings.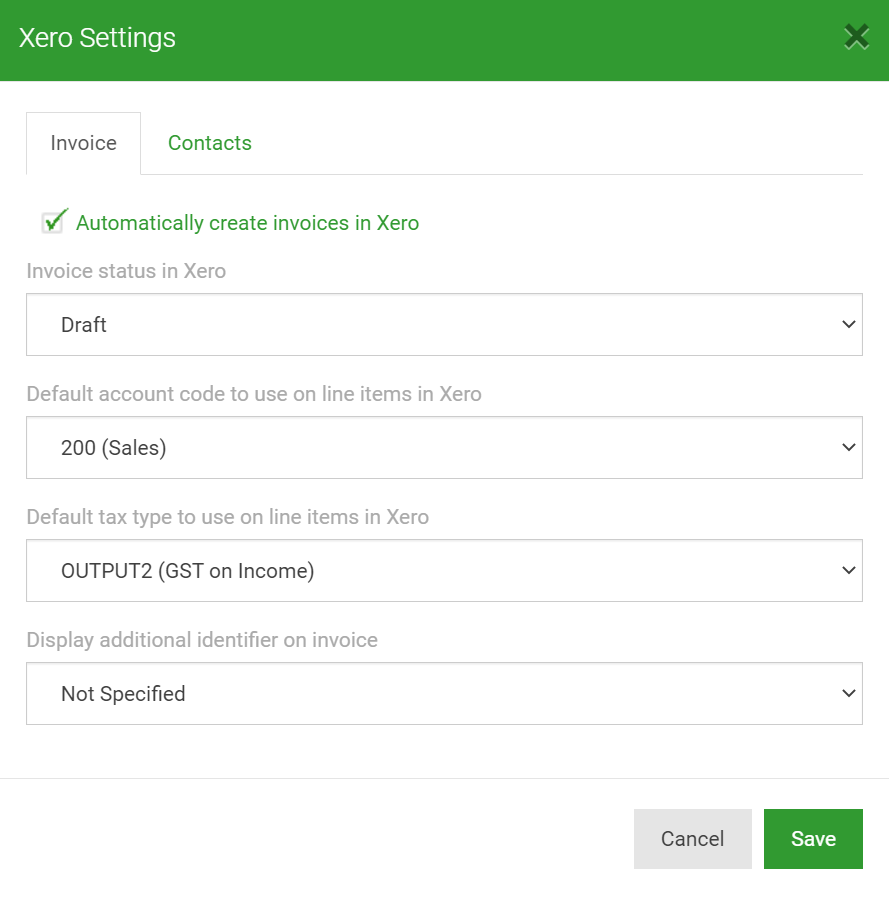 Invoice status in Xero:
An invoice status set to Draft means, when a registration is submitted, a draft invoice is created in Xero where you can make your final changes. If you would like to bypass this step and set the Xero invoice to display in Awaiting Payment as soon as the registration is submitted, you can set the invoice status to Authorised.

Default account code & Default tax type:
You should choose a default Xero account code and tax type for the Income arising from each item.

Note: The account codes come directly from your chart of accounts in your Xero to make selection easy for you. You can override this default for individual items later if you wish.
Display additional identifier:
The final option for this tab allows you to choose any field used on your form as a unique identifier. This will be added to your Xero invoice as a $0 line item.


Setting the unique identifier to the Region field on the form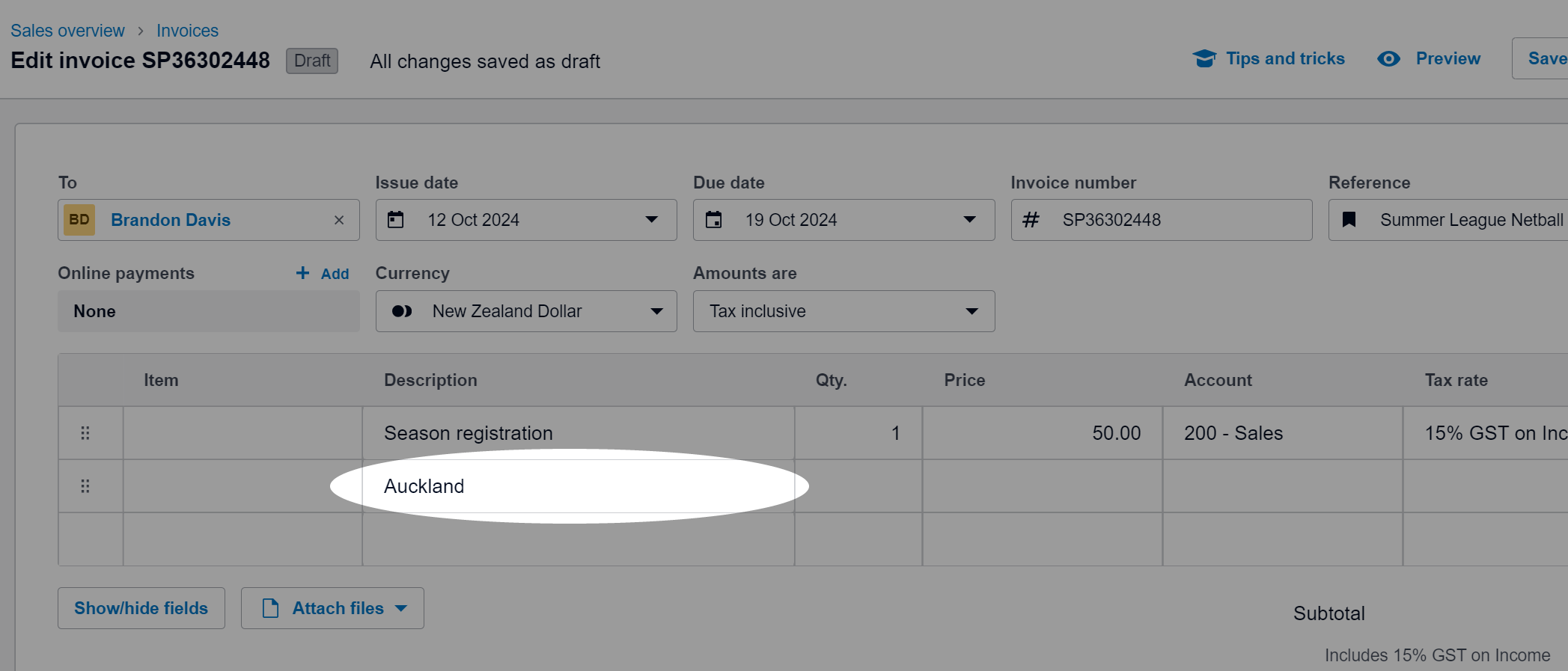 We can now identify Brandon Davis is applying in relation to the Auckland Region in Xero's invoice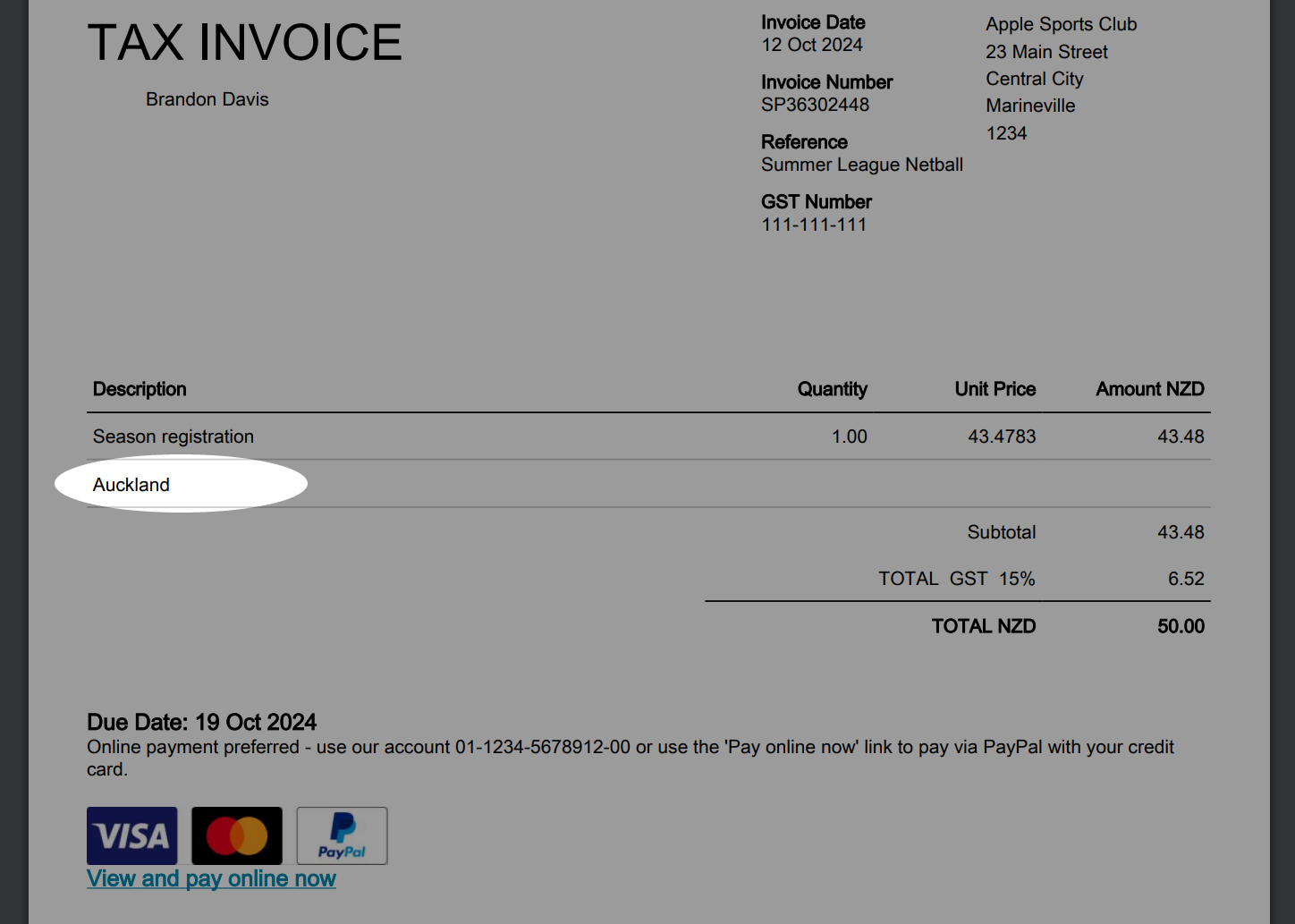 Still allowing us to create a tidy invoice
Contacts:
The second tab we can use is "Contacts". This will allow you to customise how your Xero contacts will be set up.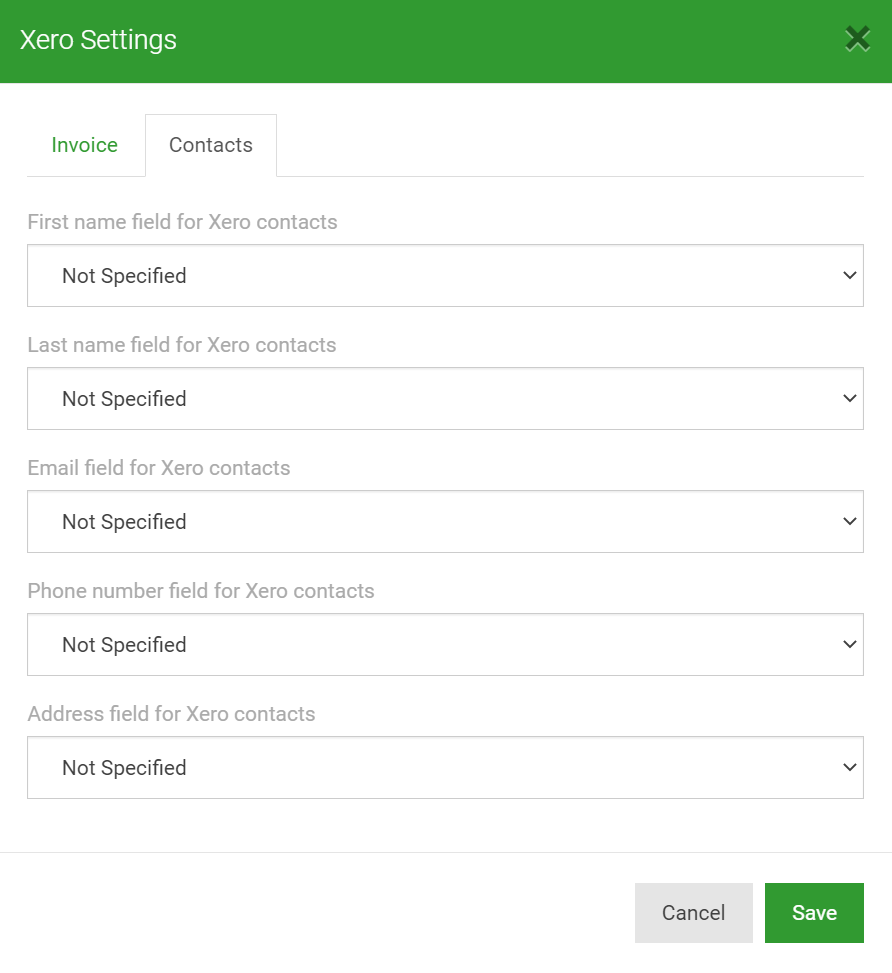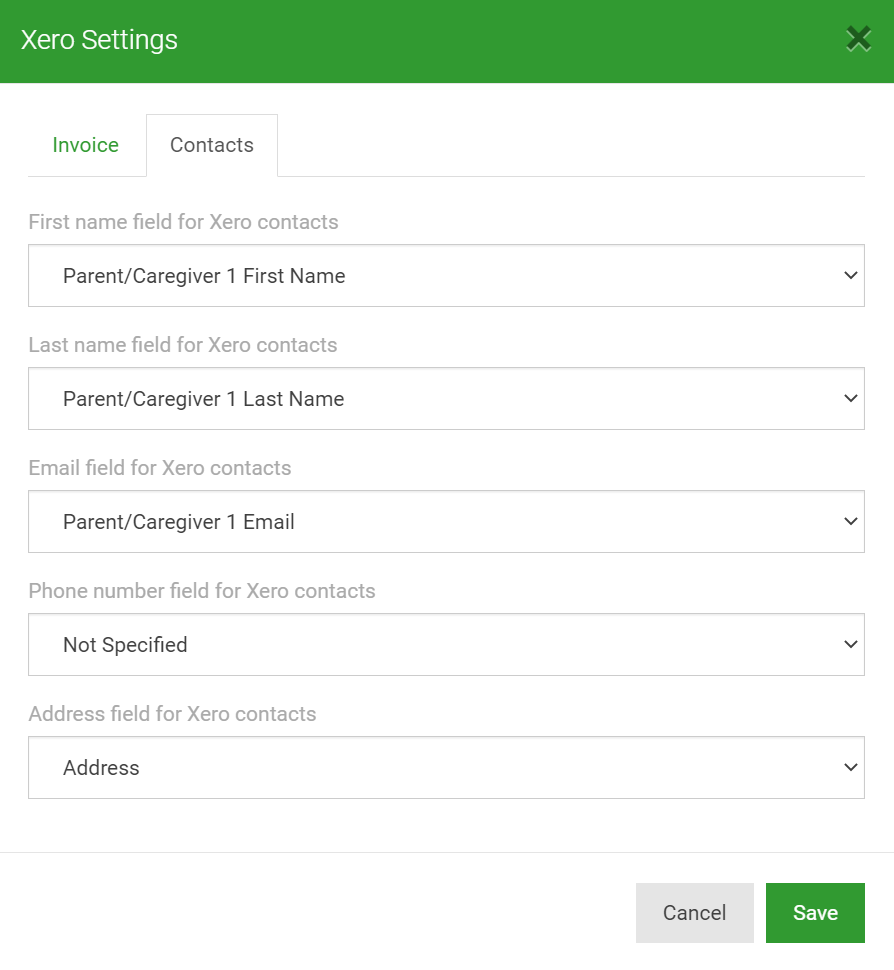 By default (left image), the Contact First/Last name, Email, Phone number, & Address will each read from the default Sporty fields (e.g. First Name will read the "First Name" field on the form). Should you wish for these to be mapped to a different field, such as the Parent/Caregiver fields on a junior form, these can be selected from a dropdown menu for each (right image). To prevent any confusion, the Email, Phone, & Address fields are restricted to appropriate fields on your form (e.g. your address mapping cannot read an email field).
Caution: If you do modify the contact mappings, be sure to map all details you need. Any mappings left as "Not Specified" will no longer use defaults. (Using the right image, no phone number will be saved).
At the bottom of your form you can add/edit 'products'. A product can be any item that you wish to receive payment for, such as subs, fees, team photos or merchandise. These items will appear to the public at the bottom of the public version of your form.
To add a product, enter a name for the item along with its price and the maximum quantity that can be purchased (if any).

Other settings you can set here include:
Allow Pay Online (optional) - If you have enabled merchant facilities to allow people to pay by credit card or electronic direct debit (bank-to-bank) you can decide whether each product should be allowed to be paid online. This will be ticked by default. An example of where you may not wish to allow this is for very high value items where you prefer to avoid the merchant transaction fee.
Required (optional) - This lets you set whether an item MUST be selected by whoever is completing the form. For example, if you have a sign-up form that includes Subs (member fees) that are mandatory for payment as well as optional items such as Socks, you might wish to tick the Subs item as being Required.
Required Groups (optional) - Lets you link related items where the person is required to select at least one of the items. For example, if you have a sign-up form that includes different items and pricing for Subs - Junior and Subs - Senior, where you require people to select at least one of these items, you can click the Group link and tick the items where at least one of them is Required.
Account (optional) - Lets you specify an account code from Xero if you wish to code the item within Xero to an account that is different to the default Account set for this online form.
Note: This setting will be disabled if both Automatically create contacts/invoices are not ticked.
Tax Rate (optional) - Lets you specify a Tax Rate for Xero if you wish to code the item within Xero to use a Tax rate that is different to the default Tax Rate set for this online form.
Note: This setting will be disabled if both Automatically create contacts/invoices are not ticked.
Name 1, Option 1, Name 2, Option 2 (optional) - Lets you set Tracking Codes and Options so that sales of the item gets set in Xero against your different cost centres.
Once you have set your settings for the product item, click the green + Add button to at the item to your form. Note that you can edit the settings for your item later if you wish.
Note: This setting will be disabled if both Automatically create contacts/invoices are not ticked.
Tips for bookkeepers:
For more information, please visit www.sporty.co.nz/xero or download the full Xero User Guide.