The Organisations List area displays a list of the clubs and schools affiliated to your organisation. Go to the Organisation Settings area and click the Organisations List tab.

Abbreviations of organisation names
Many clubs/schools have their full legal name set as their organisation name in Sporty. This can be lengthy and may not be ideal for display within a published draw. Therefore, it can be set with an abbreviated name containing 1-20 characters. For example, Eastern Heights Club might be abbreviated to EHC. Type the abbreviation in the text box and Save.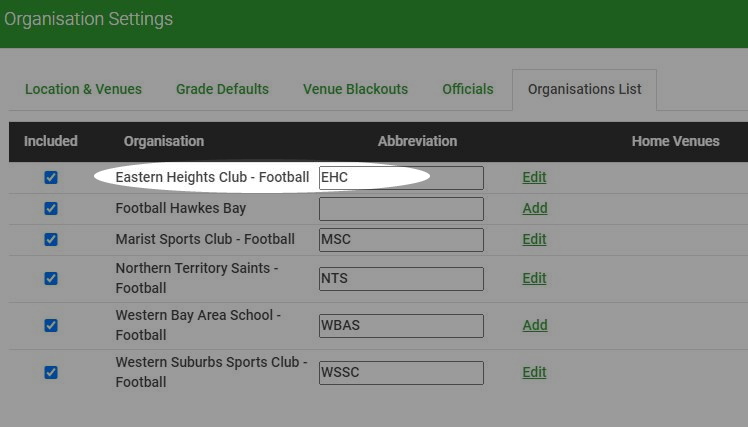 Setting Home Venues for Organisations
If a competition involves organisations hosting games at their home grounds, Grade Default Preferred Venues can be set to Home/Away.

To set the preferred home ground locations and venues for an organisation, click the Add link beside the organisation name in the organisations list area.

1. By default the preferred location and venues will be applied across all grades but can be customised to individual grade preferences.
2. Select which preferred location and venues are to be applied to an organisation.
3. The selected preferred venues will appear on the right where the preferred order of use can be set using the drag handles alongside each venue.


4. Click Save.
Setting Home Venues for specific grades
1. Select the grade to be modified from the dropdown menu
2. Select the preferred location and venue for the grade and re-order if necessary
3. Click Save.


Note: If grade or team specific settings have been saved for an organisation, a warning message will display when making changes to preferred locations with the All Grades dropdown selected.

Setting Home Venues for specific teams
If venue preferences are required for specific teams within a grade. For example, teams within the same grade and from the same organisation may prefer different venues based on the geographic locations of players, you can set venue preferences for individual teams in the Comp Builder area. Refer to: Managing Teams - Setting Home Venues for specific teams (Home/Away Draws only).