SKED allows you to add default settings for each of your grades, such as the duration of a game and the size of a venue. For grades that share the same setting, they can be added in bulk with Bulk Edit option. Whenever you create a new competition, these settings will automatically be used by default, but you can change them locally within the competition if you wish.
Note: Ensure changes to Grade Defaults are saved before navigating away from this area.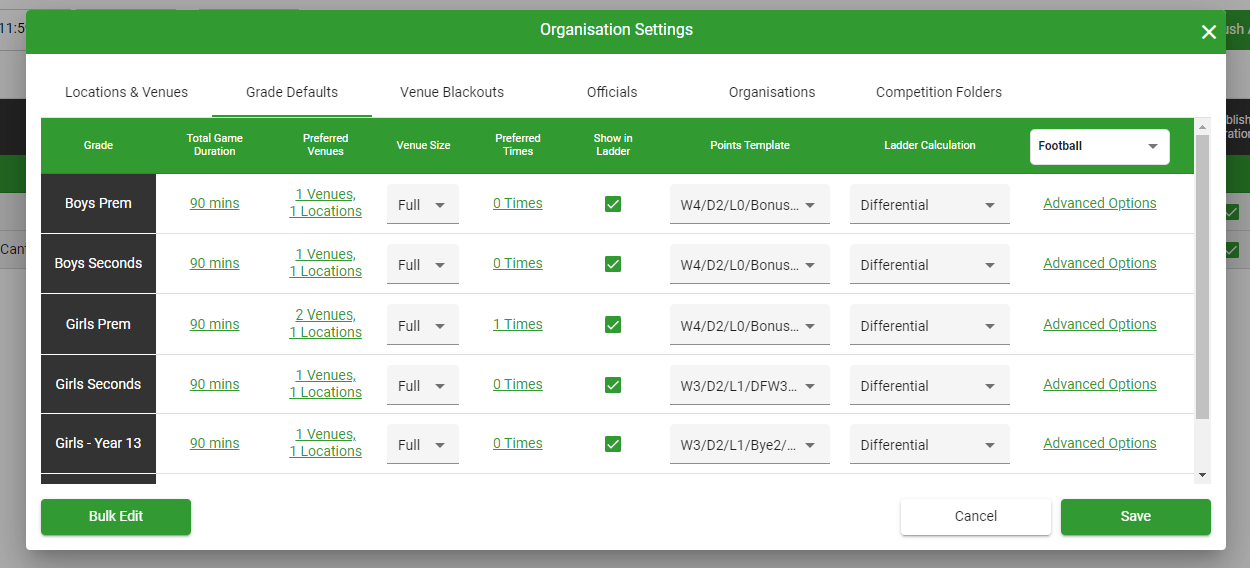 Settings include:
Grade
The grade names cannot be changed within SKED™. They are inherited automatically from the grades added to forms used for creating competitions.
Total Game duration
Set the usual total playing time of a game for each grade. Game duration can be broken down into 1, 2 or 4 periods of any number of minutes. Having the number of periods set to be included in the total game duration will enable scores submitted via a Scoring App to be recorded in periods e.g., a half time and fulltime score.
Set the normal change-over time or down-time expected between games or during a game. Time between games will include the ¼, ½ and ¾ time breaks if the game is set to contain more than one period.
For a fixture to be created in SKED™, there must be a game duration added to either Grade Defaults or Phase Settings.
Note: The total time that a game occupies a venue equals the Game duration plus the Time between games
Preferred venues
Some competition organisers want certain grades to play at set venues. Alternatively, games may be played on a home/away basis, where teams play at their 'home ground'. For each grade, either nominate which locations or venues are preferred or set as Home/Away.
Venue size
For grades that play on a reduced size venue, these can be set as half, third, or quarter. SKED™ will auto-assign the number of fixtures as set to a full sized venue. Refer to: Small Size Games
Preferred times
Select the preferred start time(s) of games for each grade. (e.g., 10th grade games all start at 9am).
Show in ladder
Some competition organisers do not wish to display a standings table. For example, for junior grades where the focus is on participation rather than results. For each grade, nominate whether teams should appear with points in a standings table.
Points template
The points template determines how points will be allocated for games per win/draw/loss for the purpose of calculating the standings table. There are several templates available to choose from. See the list available in Organisation Settings > Grade Defaults > Points Template. If you require a different template, please contact Sportsground.
When a points template is changed mid-way through a draw, the new template will be applied to all fixtures including games that have already been played.
Ladder Calculation
Ladder calculation will determine how teams are ranked in SKED™ standings. Options are Differential, Percentage and Differential (H2H).
Advanced Options
Score for Defaults
When a status of a fixture is recorded as defaulted, a score can be applied to the winning and losing team which will automatically update the standings for/against/differential or percentage.
The score will automatically populate against the fixture and will not assign game events to players.
Refer to: Set a final score to automatically populate against defaulted fixtures.
Teams per draw
Often there are too many teams in a grade for every team to be able to play each other within the playing dates available in the competition. This can be managed by splitting the teams into sections within a grade. For each grade, set the maximum number of teams to play within a draw, for example if this is set to six, each section will require five rounds to complete a round robin.
Teamsheet required in App
A setting for organisations using the Game Day Scoring App. If ticked on, a team scorer must submit the team sheet before the game can be started/scored.