Subsites are 'mini sites' that you can create as small standalone websites that do not appear within your main website menu. They are typically used for events or special purposes such as information pages, members' only pages, or blogs. Each subsite has its own URL and includes a home page, a spare page, and a gallery page. There is no limit to the number of the subsites you can create. Here's how to set one up:
To get started, log in to your website and click on Site Settings. Then under Organisation, click on Manage subsites.

You will then take you to the subsite page. Click on CREATE NEW SUBSITE.

Here you can name the site, and give it an easy web address such as myfirstsubsite or a name relevant to you. It will then immediately become reachable at e.g. sporty.co.nz/myfirstsubsite (in NZ) or sporty.com.au/myfirstsubsite (in AU).
Note: If you have your own web address set, such as www.abc.com and you give the subsite an address of e.g. myfirstsubsite, it will automatically become reachable at www.abc.com/myfirstsubsite after a few hours (after web caching has cleared).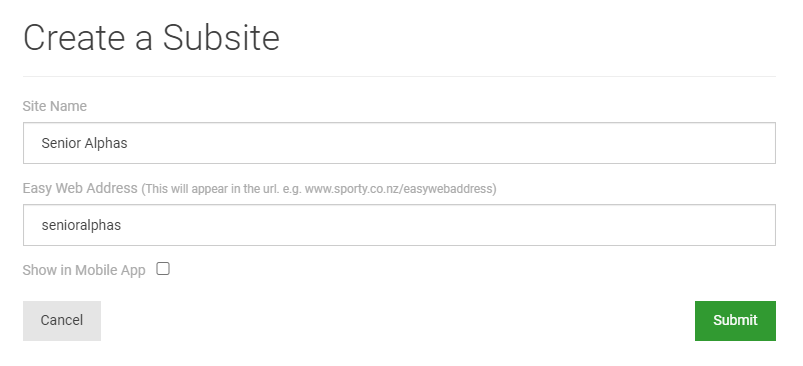 Click Submit when finished.
Your subsite has now been created. It will inherit the background and header from the main site for consistency, but you can change these elements locally on the subsite if you wish and these changes will not impact your main website.