The 'Notices' widget appears outwardly similar to the Text widget. However, the Notices widget has special functionality that allows:
People to opt in to receive emails sent from this widget and/or your eNewsletter facility.
You to add or delete email addresses from the list of people who have opted in to receive emails.
You to send short messages via email to people who opt in through the widget.
You to send push notifications to people who have installed your mobile app.
The Notices widget is most commonly displayed on the home page of your website. Visitors to your site can opt-in to be emailed whenever you send a Notice. They do this by clicking the Email me notices link and entering their email address:

When you are logged into your site, you can update the text in the Notices area and then click the green button to send your notice:

This lets you check and update the text that will be sent (a) as an email to people who have opted in with their email address, and (b) as a push notification alert to people who have downloaded your mobile app. To send the notice, click the Send button: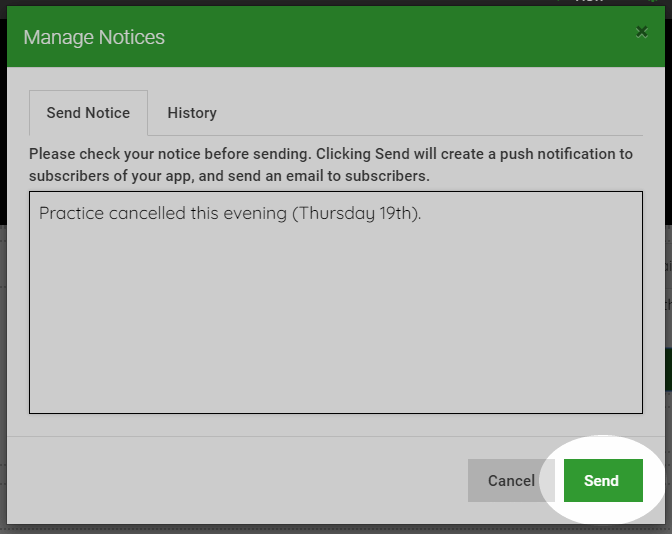 When you are logged into your site, you can click the settings cog for the Notices widget to see the list of people who have opted in to be emailed your notices. You can add new email addresses to this group, or delete existing ones if you wish to remove them. This group relates solely to people being emailed your notices: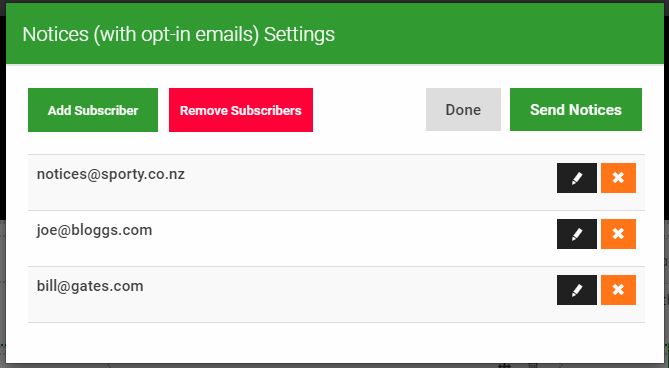 Note that there is only one Notices widget per website, so if you display the Notices widget on more than one page of your site, everyone who opts in to be emailed notices will join the same single database, regardless of which page they happen to opt in through. However, if you have sub-sites for teams, classes or events, each sub-site can have its own unique Notices widget with its own recipient database since sub-sites are deemed to be separate sites.
The list of people who have opted in to receive your notices is also automatically available as a recipient group for your eNewsletter. If you wish this database of people to receive your eNewsletter, simply tick the checkbox for 'Subscribers to notices' when choosing the groups that will receive your eNewsletter. See: How to create and send an eNewsletter. You can decide whether you wish your eNewsletter to be sent to Subscribers to notices from your main website or Subscribers to notices from your sub-sites (or both).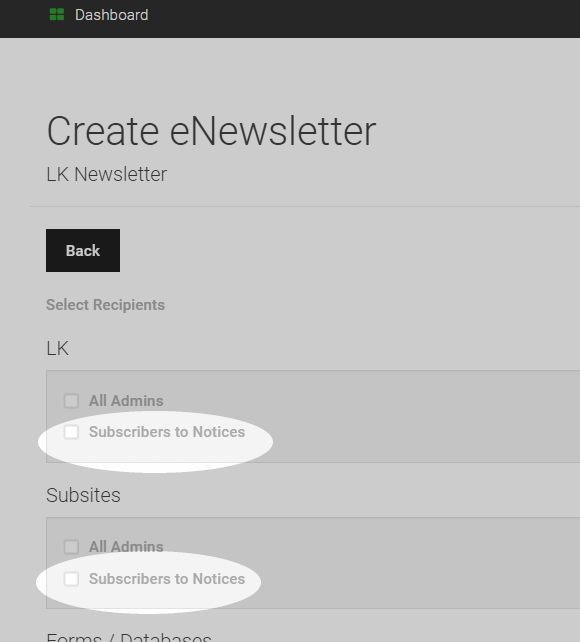 Differences between notices and news articles:
Notices are placed in a single text area - you delete your last notice when you're ready to send a new one, whereas News Articles are archived forever.
Notices are emailed to people who have opted in via your Notices widget, whereas news articles are not emailed out unless you send an eNewsletter.
Notices are also sent as Push Notifications to anyone who has your Mobile App as described in this support article.