Up to 100 characters can be entered as a public note that will be displayed when draws/results are published/exported. In SKED™ Draws & Results, to view and edit all public notes in the current view, click on the Public Notes hyperlink in the black header. Alternatively, you can view public notes for each fixture individually by clicking on the note icon. If a fixture has a public note entered, the note icon will display as solid green.

Public notes can be enhanced to provide greater visibility by selecting coloured or bold text from the formatting toolbar.

Enhancements will appear on all views of the draw and exports.
SKED draws and Results view.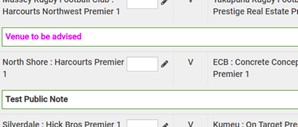 Website Draws and Results widget view.
SKED and Website widget export view.