If a person completed an online form incorrectly, they may be able to update their own details. However, there are some question fields that people are unable to change directly, such as if they submitted an incorrect First Name, Last Name or Date of Birth.
IMPORTANT: Administrators at organisations can update a person's record in Sporty SuperCRM unless the online form is the official registration form from a governing body such as NZ Rugby or Netball NZ (in which case these fields are locked to prevent fraud and can only be updated by the governing body or by contacting Sporty Support at support@sportsground.com).
How to update a person's details in SuperCRM
Login to Sporty and go to the Dashboard, then click the SuperCRM tile. If the tile is greyed out, your login doesn't have access to SuperCRM and you'll firstly need to obtain access or you'll need to find another administrator for your organisation that already has access and ask them to do this for you.
From SuperCRM, find the person whose details need updating, then click the person's name to open the profile view. Then click on the Edit button.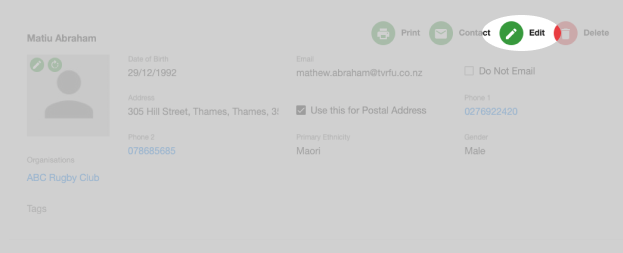 You can then proceed to edit the information and once done, click on Save.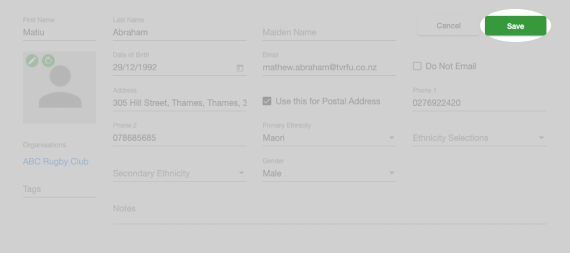 Please note that if your organisation is using official forms from a governing organisation (such as a Netball Centre or a Provincial Union), some fields are locked and cannot be edited. If you find this, you either need to ask your governing body to update the details for you or you can contact Sporty support on support@sportsground.com.
NOTE: If a person's details are updated in a way that matches the details of another person, this should trigger matching rules so that Sporty automatically merges or links the records for you.