How to Enable Stripe
Complete the Stripe application form here and refer to the process as shown on this page. Note that it normally takes approximately two business days for approval and you may receive additional requests from Stripe to provide additional verification documents (E.g., proof of address, verified proof of bank account, proof of representative ID). Your pay-outs will be paused until this occurs but generally you are still able to process transactions through Sporty whilst this authentication process is being completed.
For more information, please refer to Stripe Support for Verification.
Connecting an Existing Stripe Account
If you already have a Stripe account, you can link this to your Sporty site. If your organisation has more than one Sporty site, you can link these multiple sites to the same Stripe account, or you can create multiple Stripe accounts.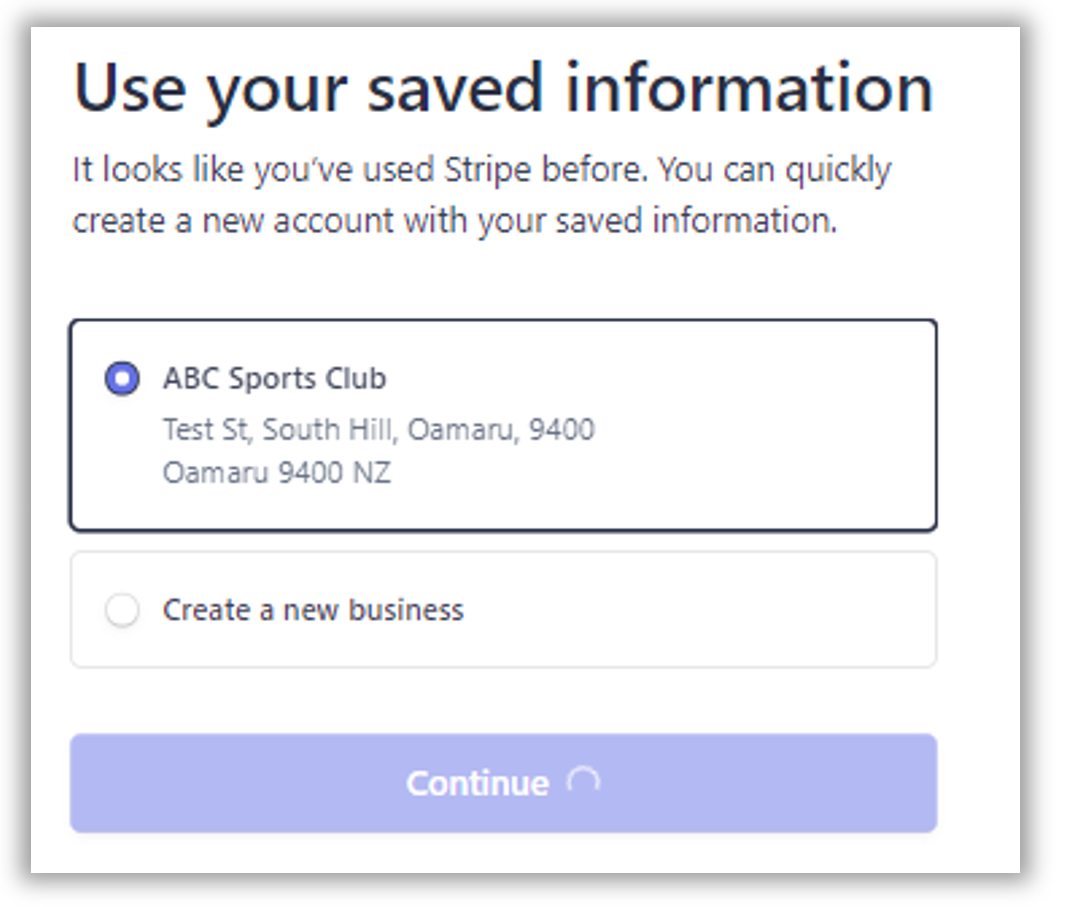 When you access Stripe, you can navigate between the two Sporty sites by using the account switch option in the top left.
Stripe Dashboard
To view your Stripe Console, go to your Dashboard, click on the Admin Settings tile, then Connections click Connect to Stripe button.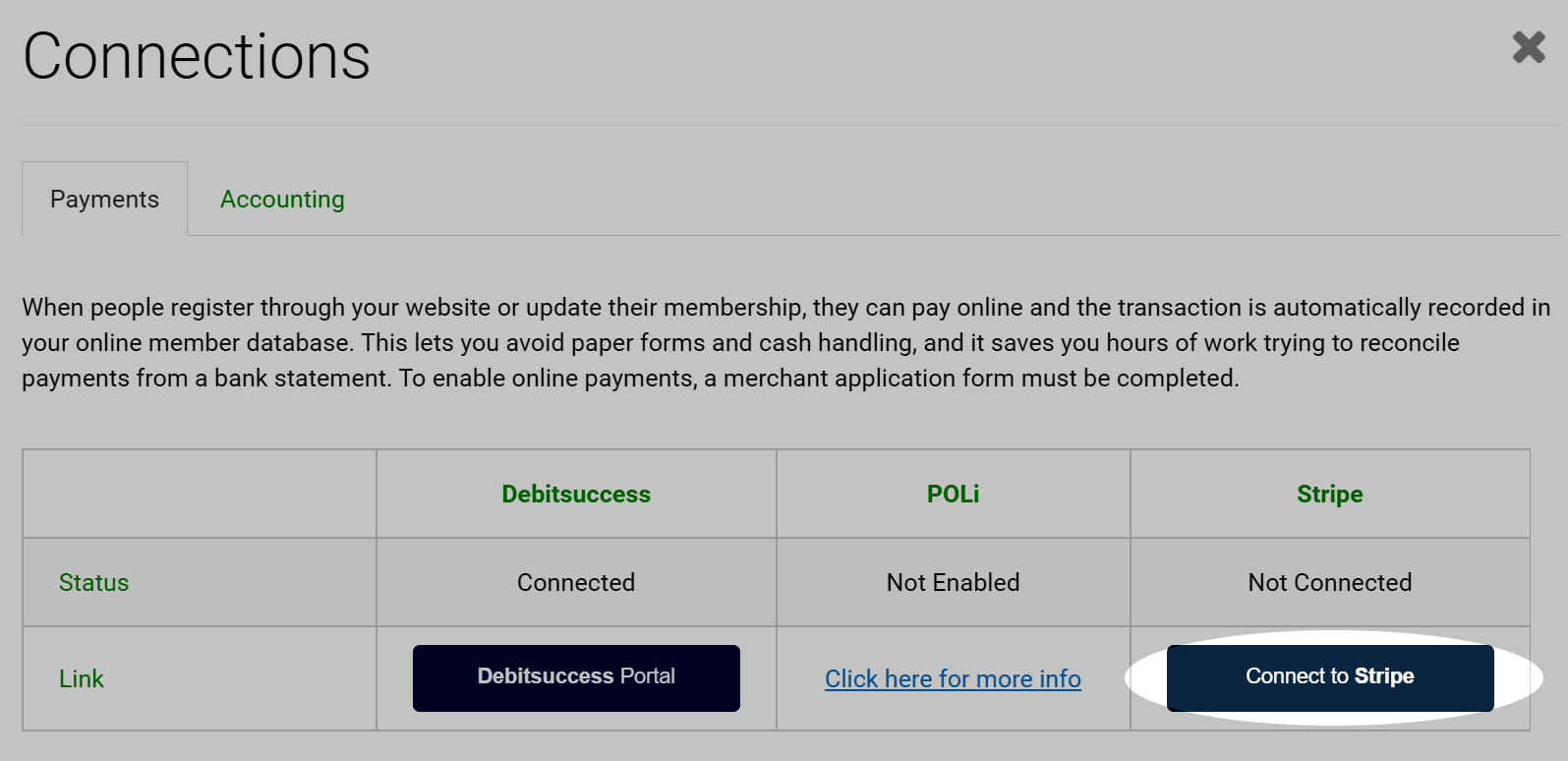 As transactions start occurring, you will see these appear in your Stripe dashboard.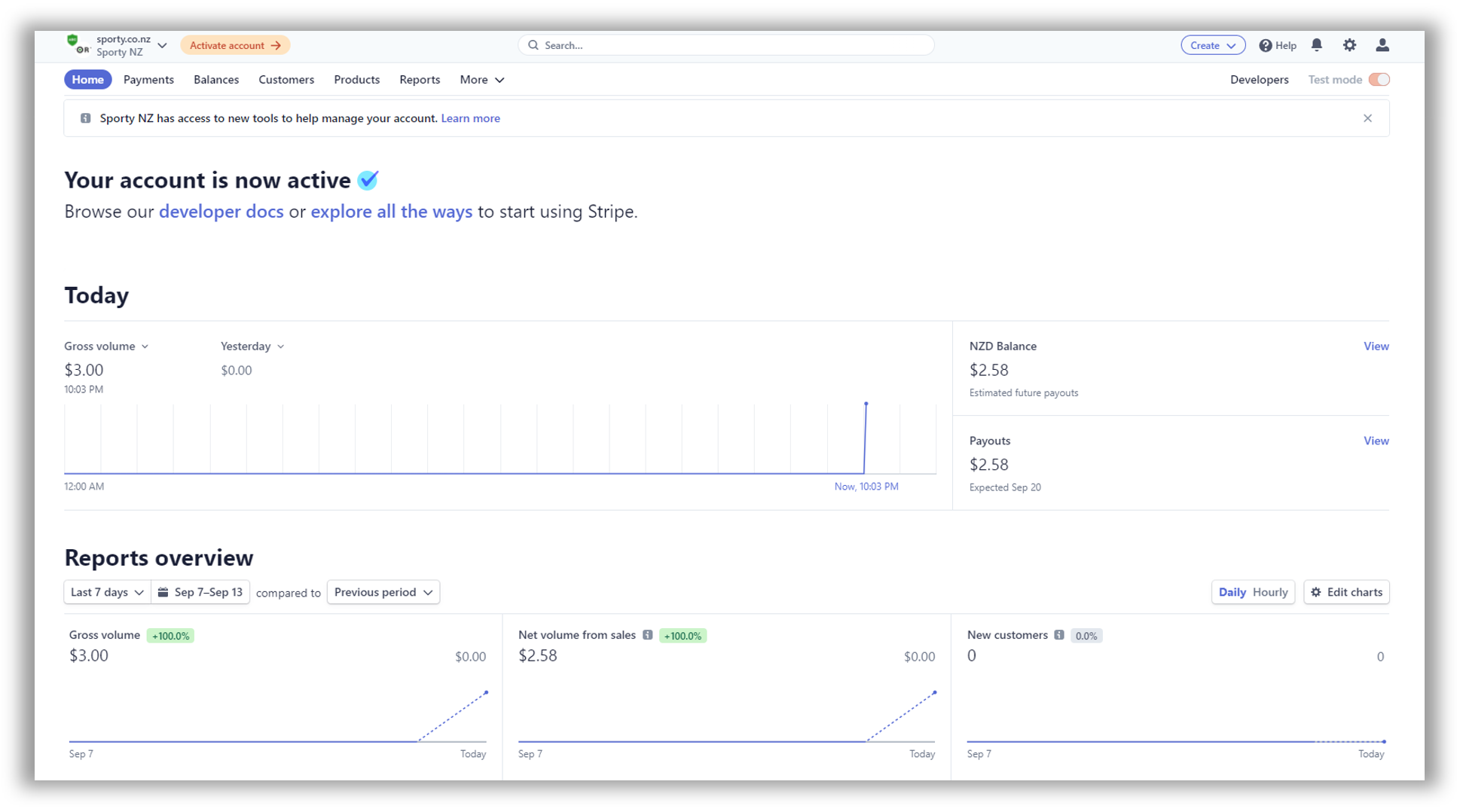 If you drill into your transactions by clicking on them, the transaction description will display a unique SP reference number assigned to every registration in Sporty, which allows for easy reconciliation with Sporty.

For more information on your Account and Dashboard settings, please refer to Stripe Support for Dashboard.
Fees and Payouts
The standard charge for Stripe transactions is $0.30c + 2.7%.
When you first connect to Stripe, you won't receive your first payout until 7-14 days after receiving your first successful payment.
All subsequent pay-outs will be made according to your Stripe payout schedule, which defaults to a daily distribution. It is important to note that whilst your payout schedule is daily, funds paid out each day will be for transactions completed 3 business days preceding.
You can manage your payout schedule from the Stripe Dashboard under Business Settings, Bank accounts and scheduling. You may opt for automatic payout scheduling daily, weekly, or monthly.
Payouts will exclude processing and application fees charged by Sporty and Stripe.
For more information on payouts, please refer to Stripe Support for Payouts.
​

Disputes, Chargebacks, and Refunds
Disputes and Chargebacks
Your customers may not recognise a charge on their credit card statement and may dispute this charge with the bank. If this occurs, Stripe will send you an email, and the dispute will appear in your dashboard. You are responsible for responding to the dispute within a defined time period and providing proof of purchase. If the dispute is successful, payment will be refunded to the registrant, but Stripe processing fees are still applicable for that transaction and will be with-held. Your Stripe account balance may go into negative until you have sufficient funds to cover the refund processed.
You will need to follow up with the person directly to facilitate payment.
To provide evidence of the transaction, you can send Stripe a screenshot of the transaction confirmation email. To obtain this:
If a copy of the confirmation email was sent to your organisation because this was enabled in Advanced Options, you will have this email in your inbox.
If this option was not enabled for the form the dispute pertains to, please contact support@sportsground.com and ensure you include the transaction reference (SPXXXXX) in the email.
It is very important to set a Statement Descriptor that people will associate with your organisation to reduce the chances of disputes occurring. These can be modified from the Stripe dashboard. For more help on this please refer to this article.
For further information on disputes, please see Stripe Support for Disputes.
Processing Refunds
Stripe offers the option to refund a payment by drilling into an individual transaction and selecting the Refund button in the top right. Any refunds processed in Stripe will not update Sporty. You will need to manually update the payment amount in Sporty to reflect this.

For further information on refunds, please see Stripe Support for Refunds.

Payment Reports
Select Payment Report from Online Registrations to view a transaction log for period of your choice. This report will detail the total value of each transaction and the method used to process the transaction.
For more information, please view this article.
Switching to Stripe
If you are wanting to switch over to Stripe, please fill out this form.