We have been listening to your feedback, and have recently introduced some changes to the Sporty and Xero integration to make reconciling your invoices from Xero to Sporty even easier.
New Features
1. Invoices marked as Paid in Xero are now also shown as Paid in Sporty
If a registration invoice is marked as paid in Xero, the amount payable will now update to also show as paid in Sporty. This update will apply to any invoice marked as paid in full* in Xero that is linked to a Sporty registration after 8th July 2021. (see section Invoices Marked as Paid in Xero are now also Paid in Sporty below for a brief overview of the process).
Note: Manually marking an amount payable as paid in Sporty will not update the invoice in Xero to mark it as paid.
Note: *Marking an invoice as paid in increments in Xero will only update Sporty with the first increment submitted. For example, if this invoice in Xero was $100 and you receipted 5 amounts of $20 against the Xero invoice. Only the first amount of $20 would be updated in Sporty against the record.
2. Set Account for Paid Transactions
If a person pays for a product as part of their registration process, the invoice can now be automatically raised as a Paid invoice in Xero (see section Set Account for Paid Transactions to enable this feature).
3. Invoice Status
You can now set registration invoices to be automatically approved and displayed as "Awaiting Payment" in Xero when they are raised, instead of needing to manually approve them from a Draft invoice state (see section Invoice Status to enable this feature).
1. Invoices Marked as Paid in Xero are now also Paid in Sporty
Here is a brief sample of how an unpaid invoice, when subsequently marked as paid in Xero, is updated as paid across the Sporty platform.
The image below shows an unpaid registration (Dashboard > Online Registrations > click on form name). Note the Balance amount appears in red.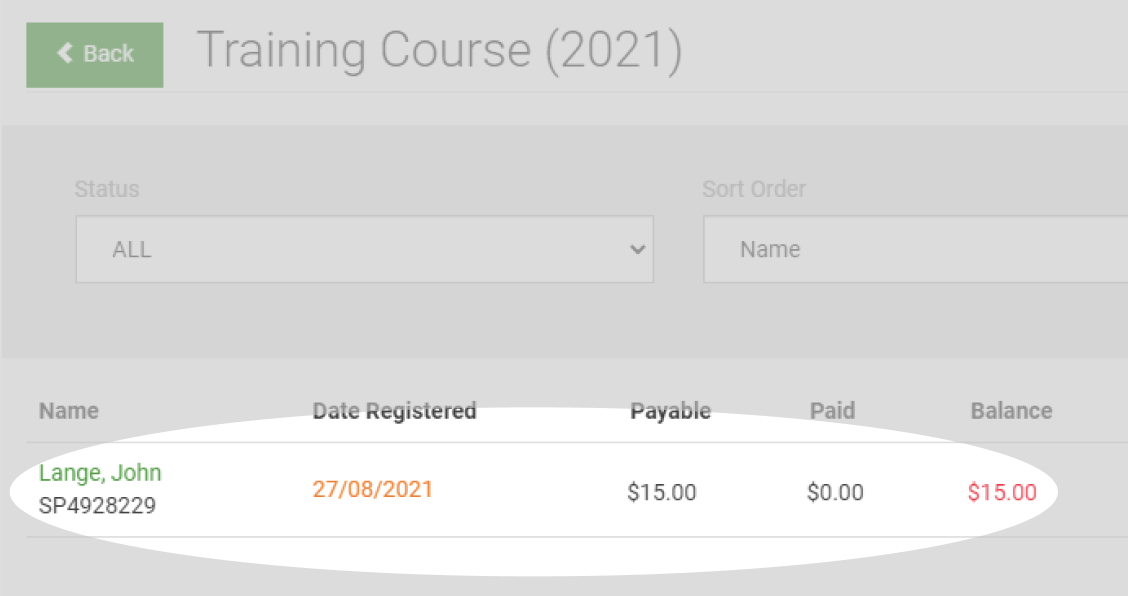 To mark it as paid in Xero, you'd first approve the invoice in Xero then receipt the payment.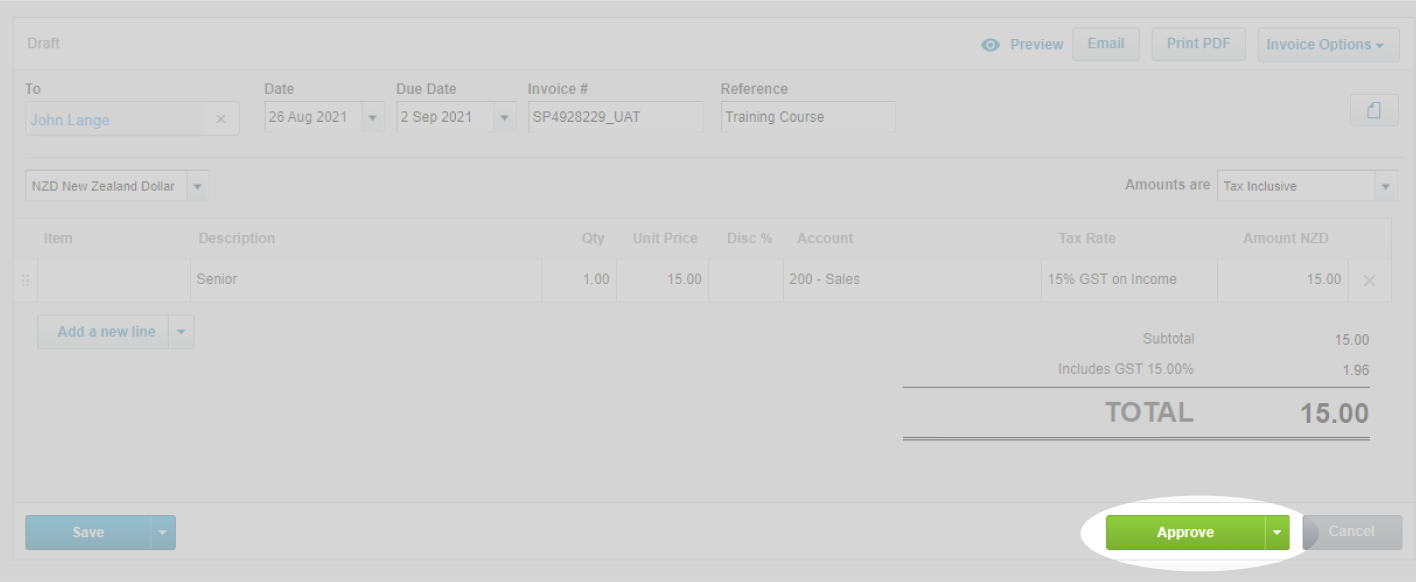 This will then update the registration record in Sporty Online Registrations to show as Paid. The Balance changes to $0.

If your organisation had subscribed to the SuperCRM module, you will also see the registration record showing as paid. For more information on SuperCRM please contact support@sportsground.com.

2. Set Account for Paid Transactions
When someone registers and and pays online, at the time of registration there is now the ability generate this invoice in Xero marked as Paid. To enable this you must first specify the account that the payments have been processed into.
Navigate to your Sporty Dashboard, and click Online Payments.
Sporty will display that your Xero connection is enabled, and will display the Xero organisation your Sporty account is linked to.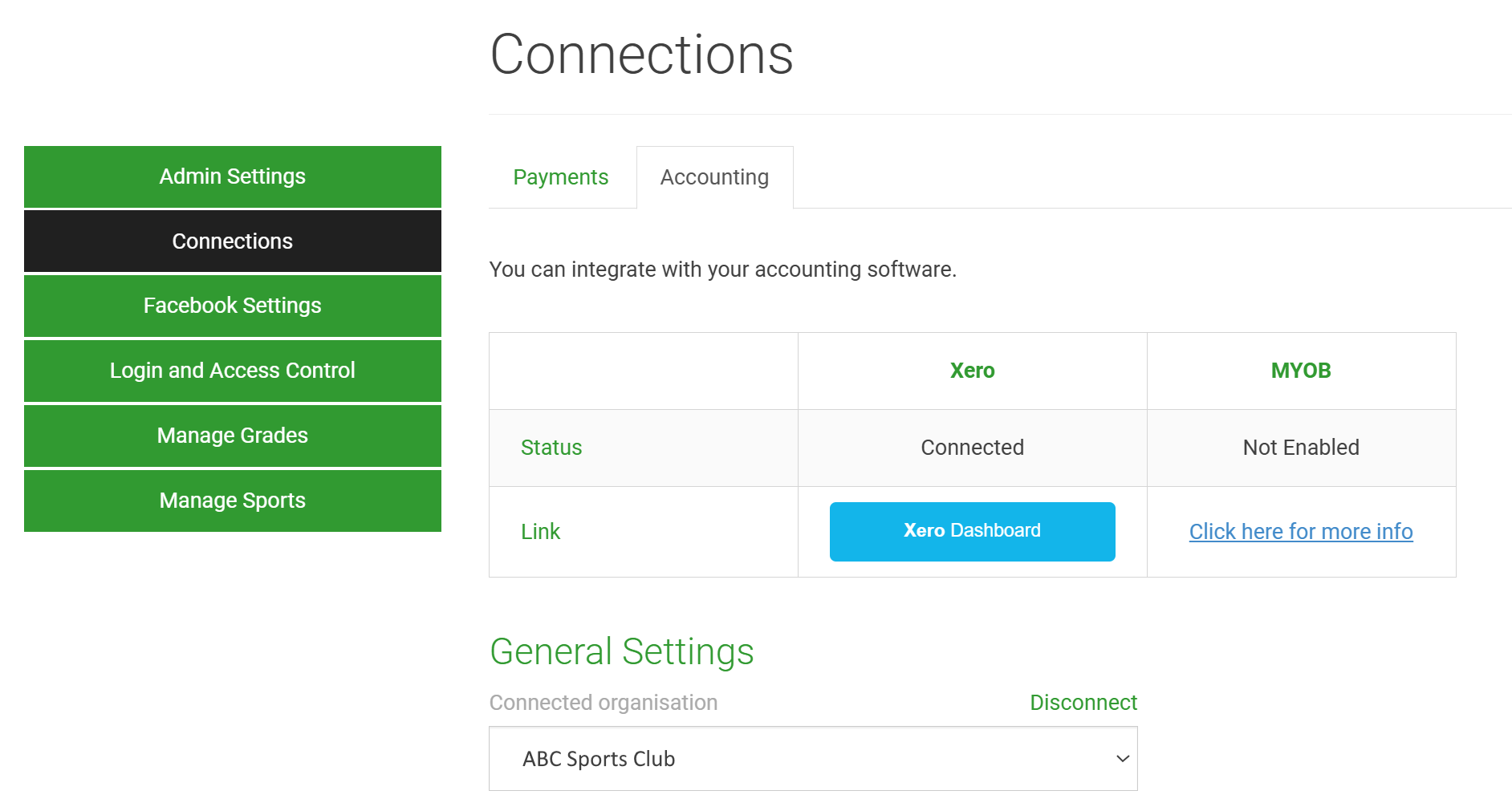 Select the account to credit the payment against and then click Save Account.
The dropdown list will only display your bank accounts (or similar accounts) from your Xero.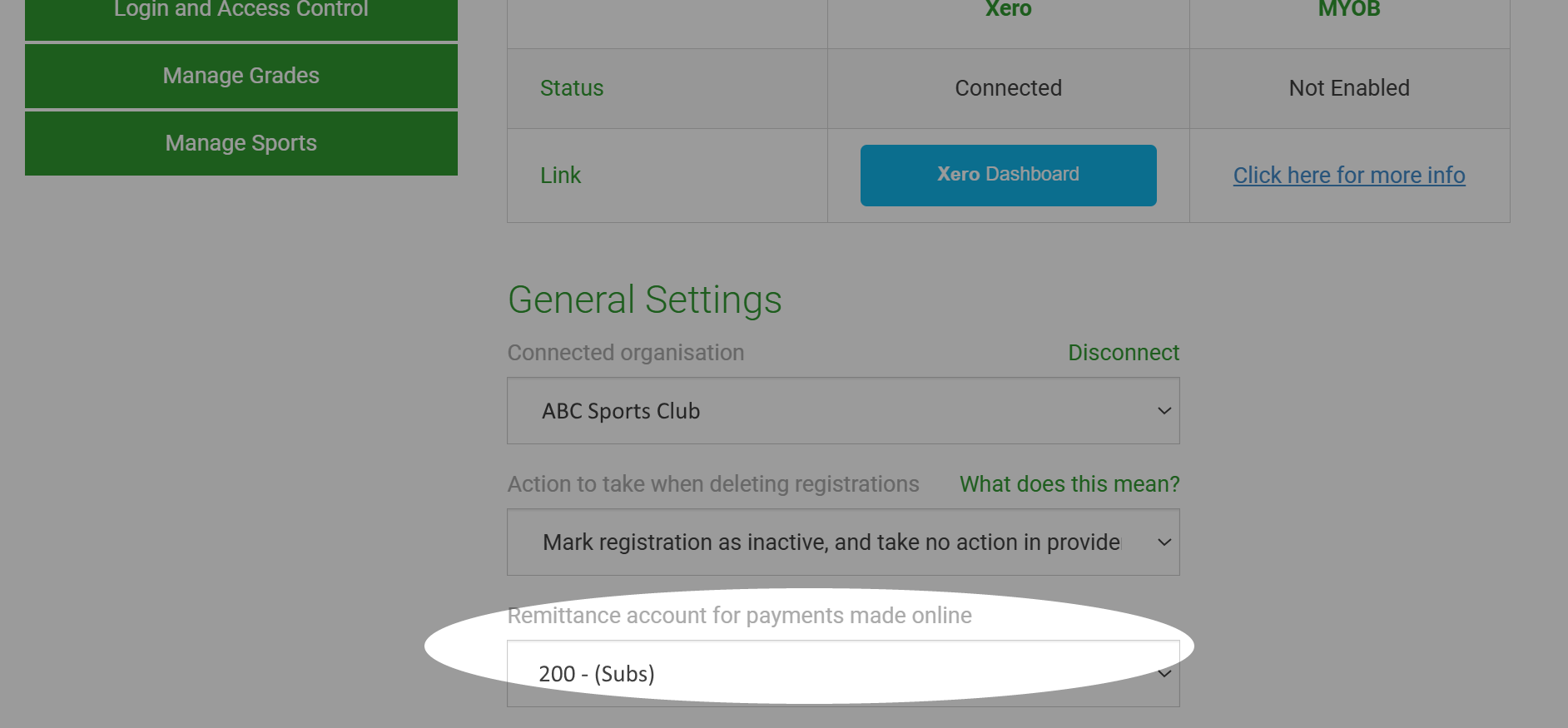 To add a new bank account to this list you will need to add/edit your Xero chart of accounts to ensure "Enable payments to this account" is enabled.
(Xero>Accounting>Chart of Accounts)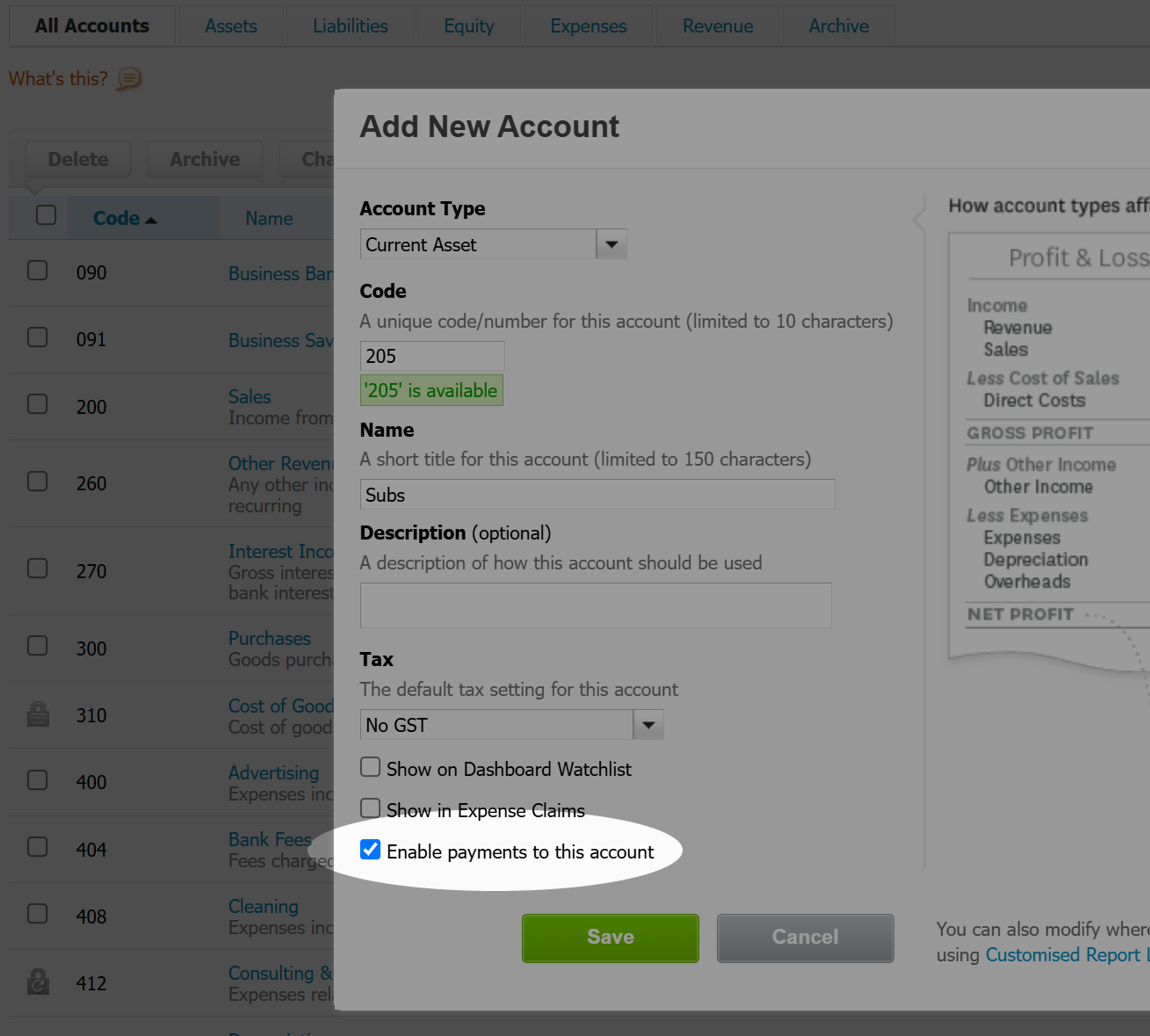 If you do add a new bank account, there may be up to two hours delay for this new account to appear in Sporty.
note: If you do not connect a Xero Account for Paid Transactions in Sporty, your Sporty balance will not be updated when the invoice is receipted in Xero.
If you do not connect a Xero Account for Paid Transactions in Sporty the status of invoices in Xero will continue to be listed as Awaiting Payment even if the registration products have been paid for online as part of the Sporty registration process.
3. Invoice Status
By default, the invoice status in Xero is set to 'Draft' which means when a registration is submitted, a draft invoice is created in Xero.
If you would like to bypass this step and set the invoice to display in 'Awaiting Payment' as soon as the registration is submitted, you can choose to set the invoice status to Authorised.
Note: You will still need to manually send invoices from Xero that have been automatically authorised by Sporty if you email invoices to registrants. To send email invoices, go to Xero, click Awaiting Payment, then check Unsent only to filter by unsent invoices. You can then easily Send All.
Setting the invoice status to 'Draft' or 'Authorised' can be set per form.
To set this, edit the form (click the pencil icon beside the form name).
Scroll down to the Products section.
Click on 'Draft' under Invoice status in Xero. Change this to 'Authorised' and click on Save Form.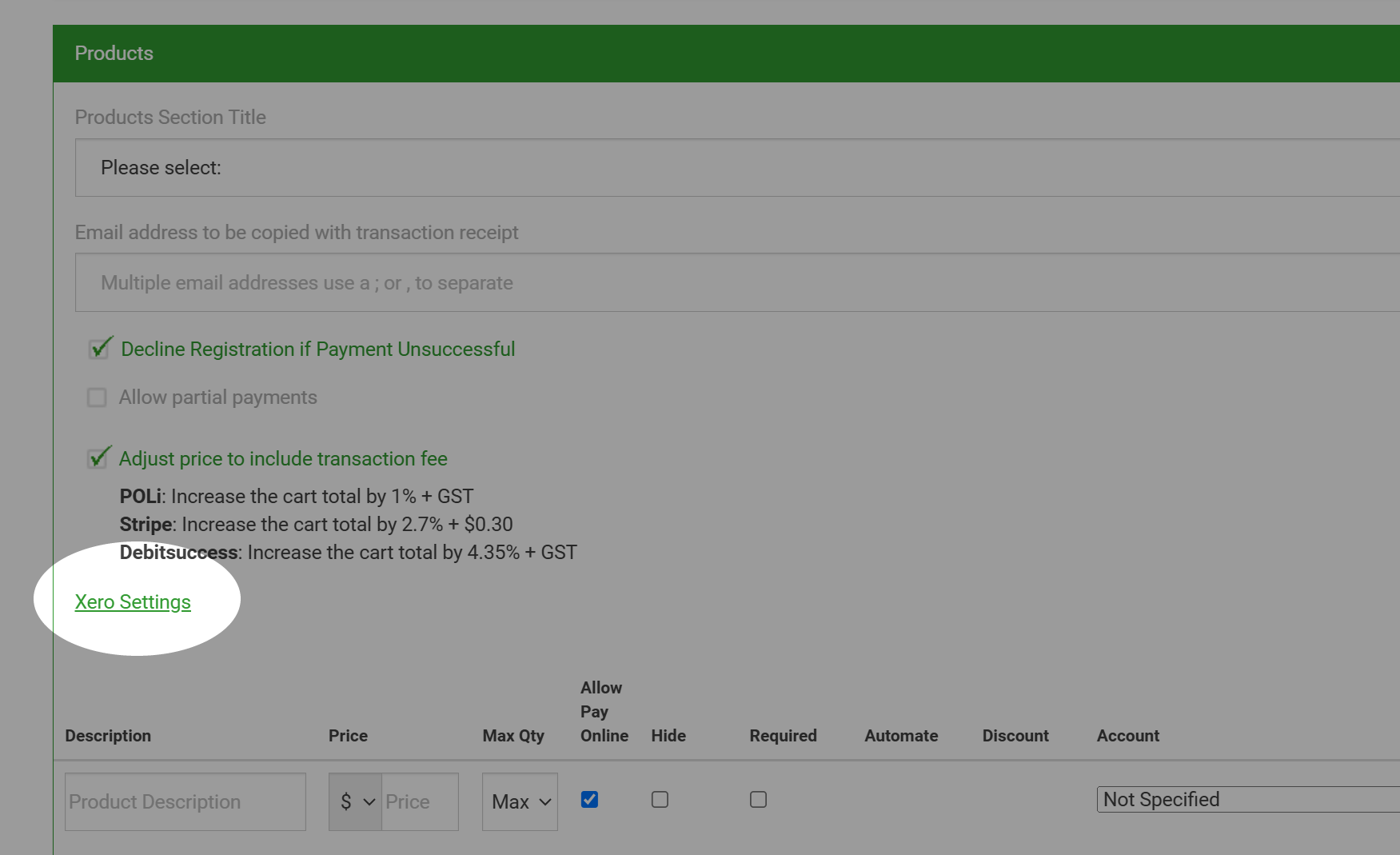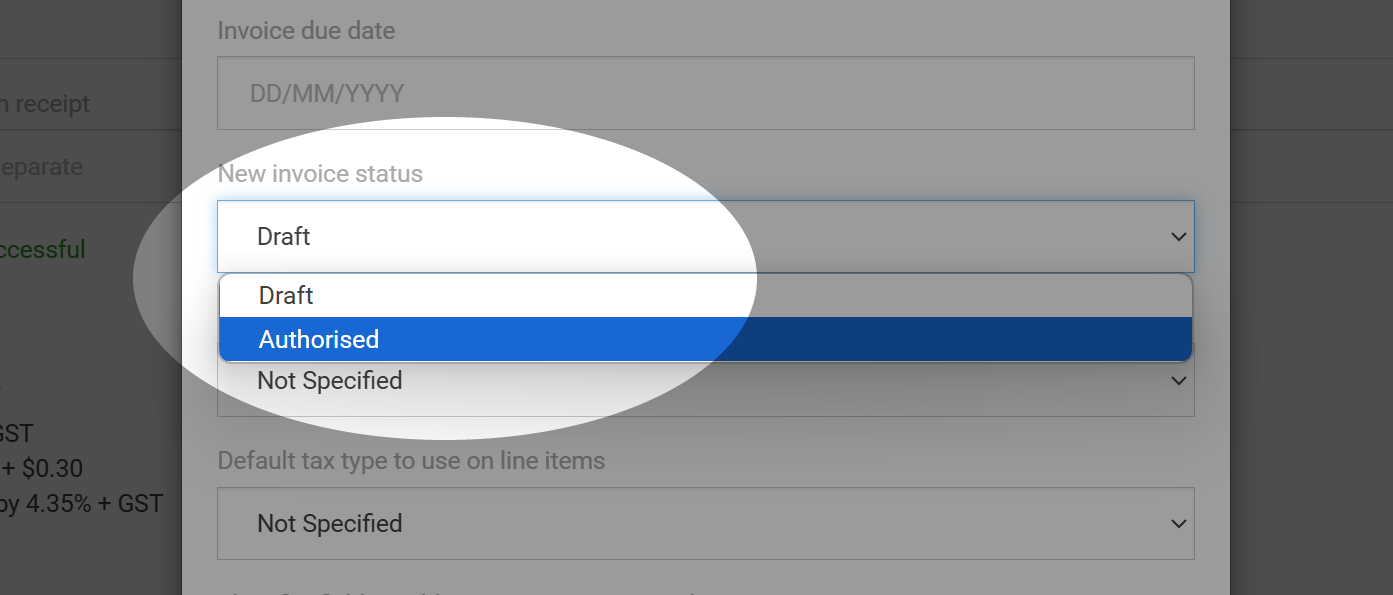 For more information, please visit www.sporty.co.nz/xero or download the full Xero User Guide.