The Notice widget has two functions:
i) Users can subscribe via email to receive notices you add into the Notices widget.
ii) Anyone who has downloaded your mobile app will receive the notices as an alert on their phone.
Send a Notice
To send a notice, first you must add the Notices widget to a page on your website. To do this, go to a page on your website >  click + ADD CONTENT > then select the Notices widget from the widget list.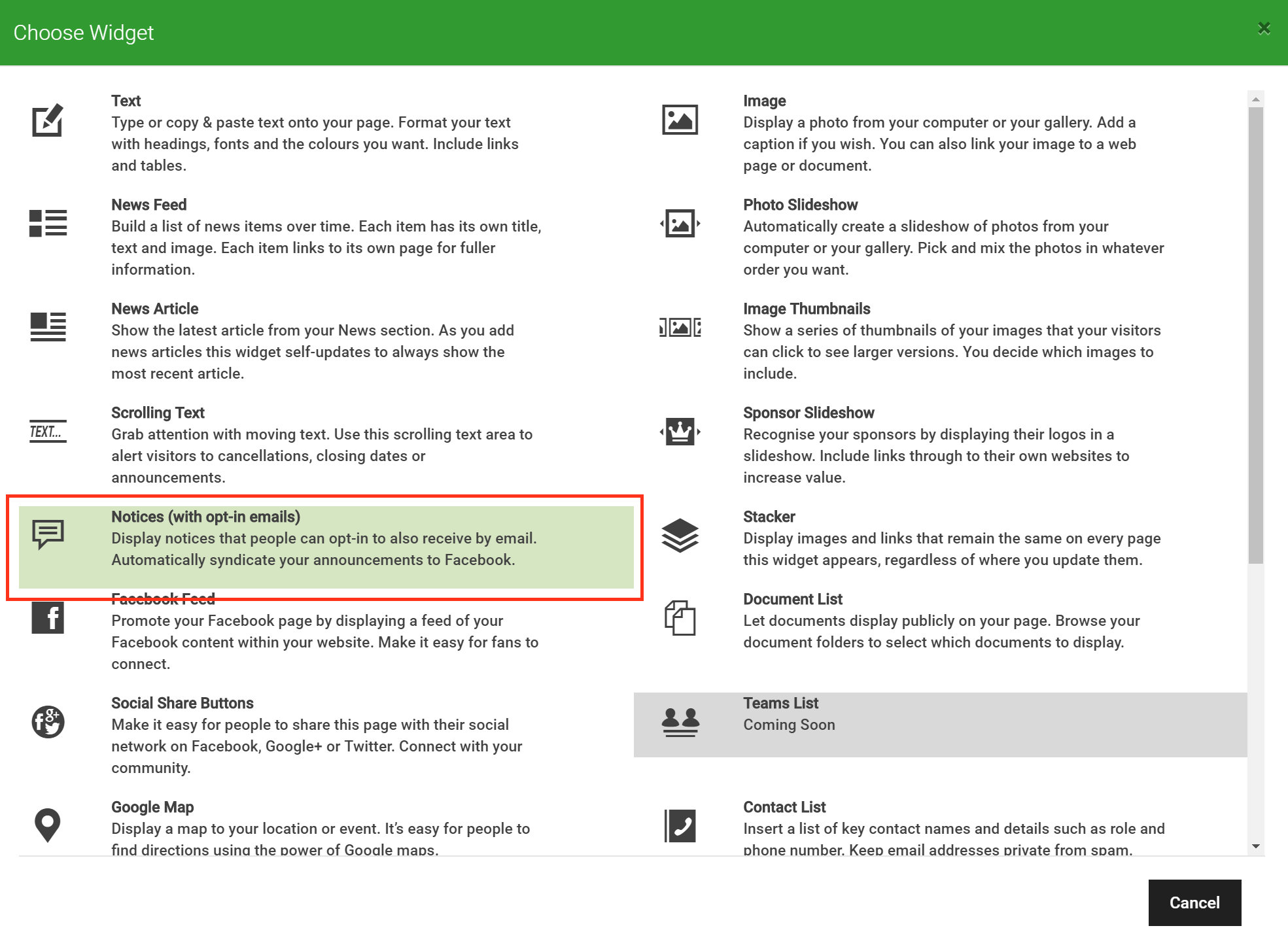 To send a notice:
1 Type in the information you wish to send as a notice. Save the changes. Note: this does not send the notice. You must actively follow the next steps to send the notice.
2 Click Send or Manage Notices
3 This will bring up a "Mange Notices" popup display with the two tabs Send Notice and History.
Send Notice 
Within this tab the content of the notice will be displayed as a preview. As the user you can click "Cancel" to discard the notice or "Send". 
When you click "Send" a message will be displayed "Your Notice has been successfully sent". This does two things:
i) it will send your notices to people who have subscribed via email, and,
ii) it will send as a push notification to anyone who has downloaded your mobile app. They will receive an alert.
When you are happy to send the notice, click "Ok"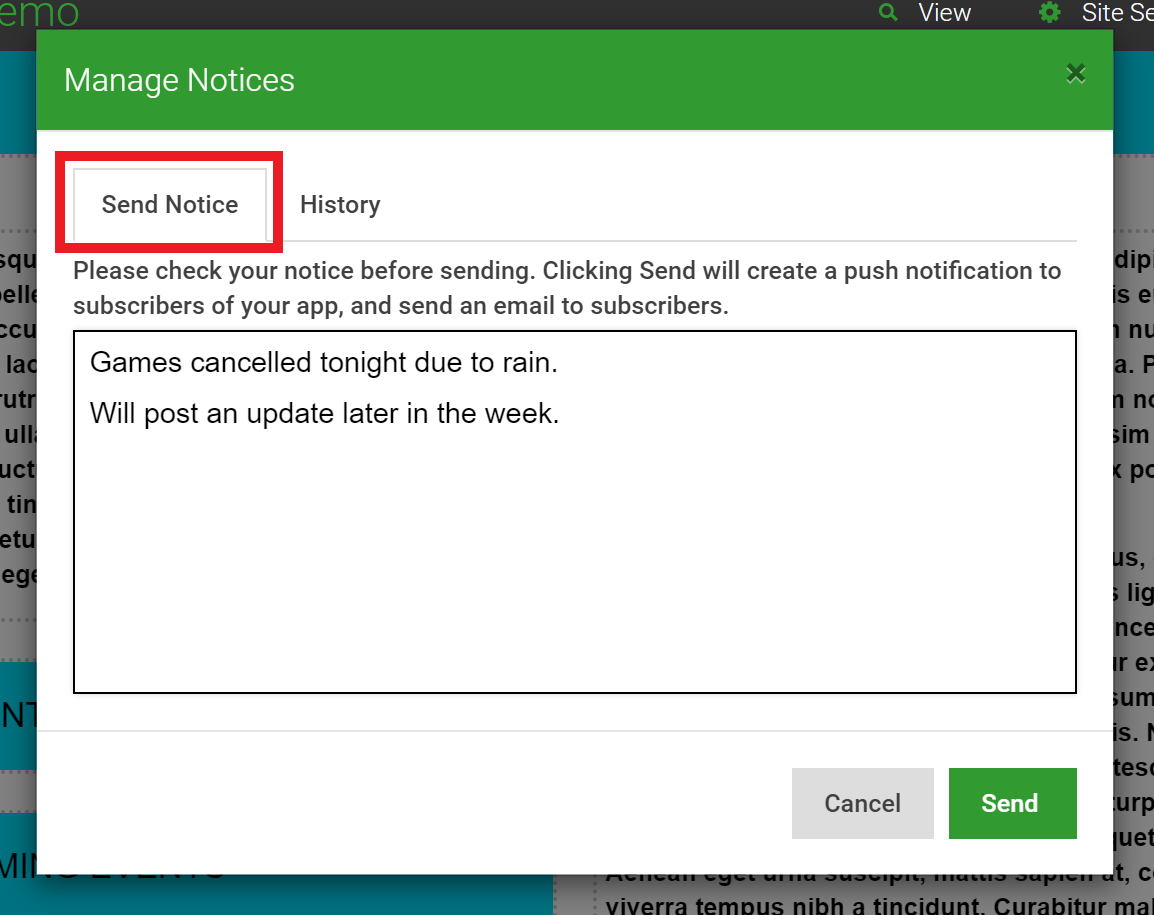 History 
Here you can manage the history of all notices sent from your club/organisation.
On this tab you can see the date/time of the notice(s) sent and the content it displayed.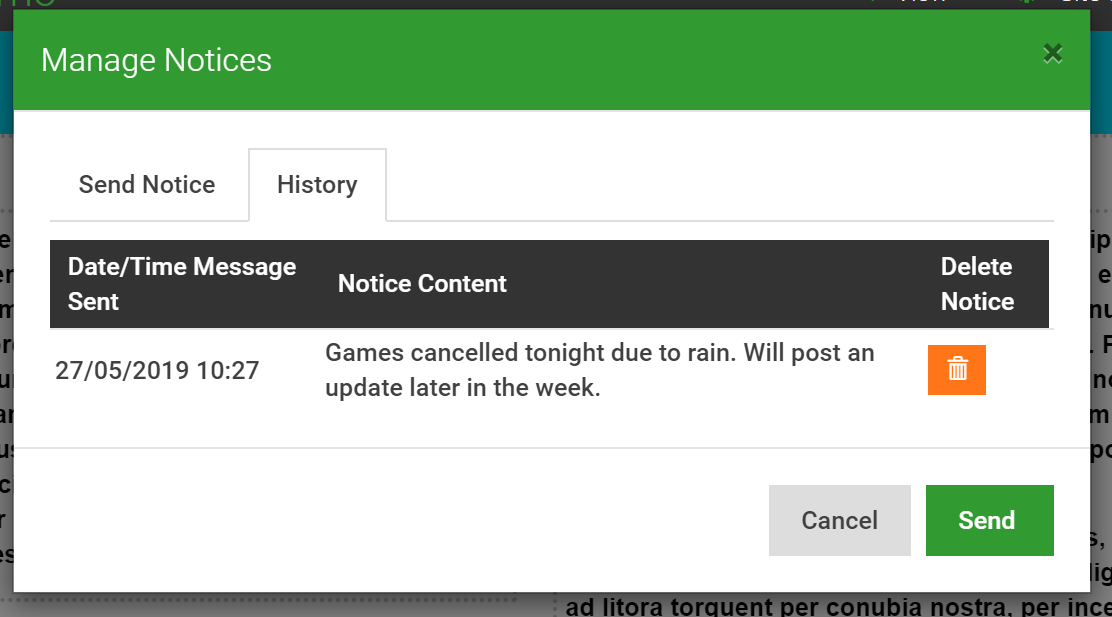 Furthermore, if you decide you would like to delete a notice, simply click the bin icon (right-side of tab).
When this icon is clicked, a message will be displayed asking you to confirm deletion. To confirm deletion type the word "DELETE" into the input field. 
Once this is done, click the "delete" button to delete the notice.
View your Notice subscribers
If you want to check and see who has subscribed to receive your Notices by email, click the Settings (cog) icon in the top right of the Notices widget.

This will display your Notice subscribers.