Using Google Calendars is one of the easiest ways to create calendars to share with your viewers.
If you do not currently use Google Calendars and would like to learn how, view the following tutorials from Google:
If you currently have a Google Calendar and would like to embed it on your site, follow these steps:
Go to www.google.com/calendar and sign in with your Google account. If you have multiple calendars, make sure you have the right one selected. (They will be listed to the left side-bar under My calendars.  Click the appropriate calendar to select it.)
To embed a Google Calendar we will need to do three things:
Make the Google Calendar public
Get the share link for the calendar
Embed the calendar in a Sporty website
Making the Google Calendar Public
First, we will need to make our calendar public so that other people can view it.
Click on the cog icon near the top-right corner of the page, and click on Settings, as shown in figure 1.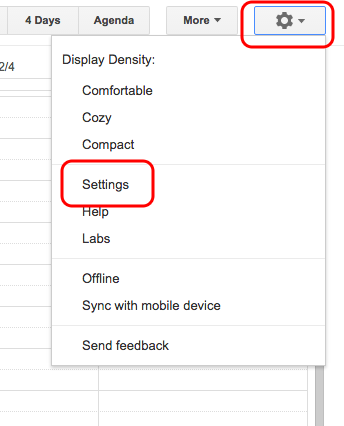 Figure 1
At the top of the page, under Calendar Settings, click on Calendars, as shown in figure 2.

Figure 2
This tab will list your calendars.  Click on the title of the calendar you wish to embed.
Next click on the Share this Calendar tab, and check the Make this calendar public checkbox.  Then click the Save button (see figure 3).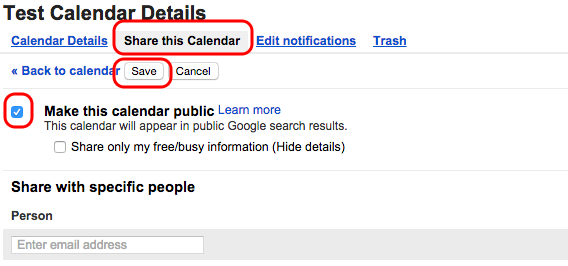 Figure 3
After saving, you will likely be redirected back to your calendar.
Getting the Google Calendar Share Link
Now we need to get the calendar address so we can share/embed it on our website.
Go back into the settings as before (figure 1), click on the Calendars tab (figure 2), and click on your calendar.
Scroll down the page to the Calendar Address section.  There will be two buttons, ICAL and HTML.  Click on the HTML button (figure 4).

Figure 4
You will be presented with a link to your calendar.  You can share this link with your viewers, and use it to embed your calendar to a website.
Embedding Your Calendar
Copy the share link to your calendar you have just been presented with (right click it and select Copy).
Go to the page on your Sporty website where you would like to embed your calendar.  Click on +ADD Content in the position you would like to place it (it is recommended to use one of the larger column section layouts) and click on the Embed (iFrame) widget.
Paste your link into Address field (figure 5).  Google Calendars display best using the Large iFrame Size.  You can select this from the drop-down list.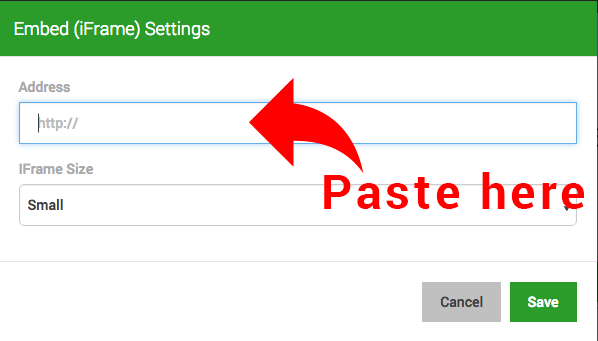 Figure 5
Click Save.  Your calendar is now embedded.