You are able to set up Google Analytics for your Sporty website to be able to view site traffic.
Go to Google Analytics
Click Sign In (top right), and select Google Analytics. You will need to have a Google Account to set up Google Analytics (Create a Google Account)
Follow the instructions outlined in this support article to set up your Google Analytics
In Google Analytics, click Admin from the menu at the top of the page
Previously you would add your tracking ID number which would start with UA-XXXXXXX-X. Google Analytics has introduced a new measurement tool called Google Analytics 4 (GA4). This will replace the Universal Analytics UA code. See this support article to understand the difference between Google Analytics 4 and Universal Analytics. To set up your GA4 code, under the middle column Property Sections click GS4 Setup Assistant. Follow the steps to create your GA4 code.
Copy this code (highlight it and right-click > Copy)
Log in to your Sporty website, go to Site Settings > under the heading Browser Settings click SEO & Analysis
Add the measurement ID G-XXXXXXXX

Paste the codes in the Google Tracking code text field, and click Save.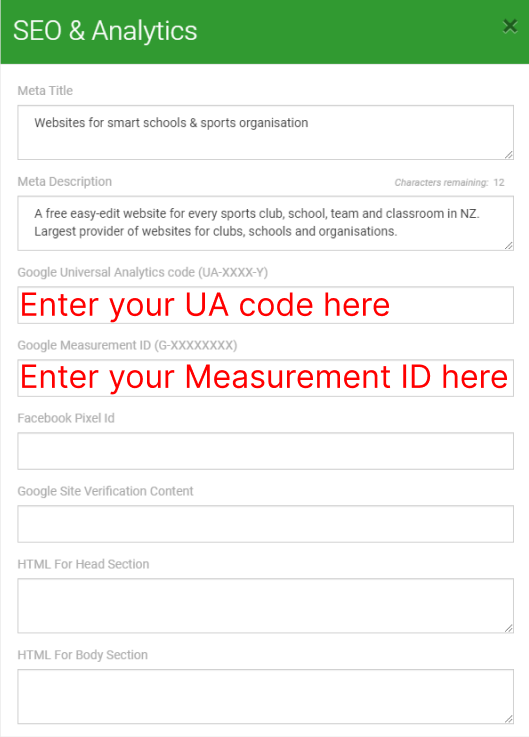 For additional help, please see https://help.format.com/en/articles/4655196-adding-google-analytics-using-measurement-id.