Search Engine Optimisation (SEO) is the art and science of optimising your site's visibility and rankings in search engines. In the old days, you could add a few keywords and expect your website to magically appear towards the top of rankings. Those days are long gone.
With a Sporty website you are already on track for better rankings due to Sporty's responsive web design.  Having a responsive website means that it adapts to whatever screen size it is being displayed in.  A responsive site looks great from smart-phones all the way to HD TV's.
How this affects your rankings is that beginning in April 2015, Google announced mobile-friendliness as a ranking signal in search results.  Is your website mobile-friendly? Take the test!
In addition, Sporty offers the the following:
Ability to add a Meta Title
Ability to add a Meta Description
Ability to add a Facebook Pixel Id
Ability to add Google Site Verification Content
Adding descriptive meta data helps search engines index your site and match your content against search queries.  You can change your site's Meta Title and Meta Description in the Site Settings menu > SEO & Analytics.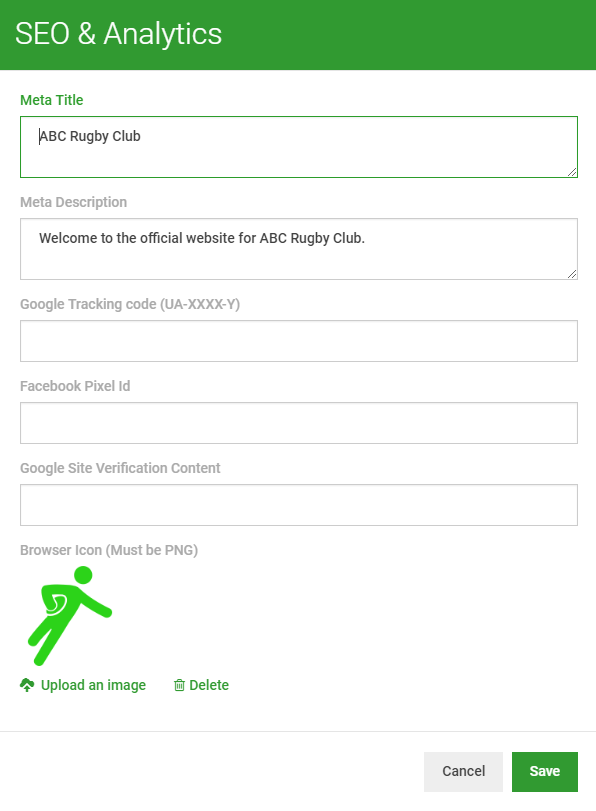 You can also increase your search rankings by using your own web address (domain name) for your website.  A domain name is your URL - e.g. www.yourwebsite.co.nz.  Having a memorable domain name will mean people looking for your site will search for this name, and the increased traffic from people clicking on your site in search results can help improve your search rankings.
If you would like to add a custom domain name to your site, we can help you with this.  
For New Zealand Clubs and Schools:
Give us a call on 0900 777 876 (note calls cost), or email sales@sporty.co.nz.

For Australian Clubs and Schools:
Give us a call on 1902 287 780 (note calls cost), or email sales@sporty.com.au
Also see:
Why Can't I Find my Site on Google?
How to connect your domain name (www address) to your website