A valid MotorSport Club Membership is required to race in an event. You can complete this application from your profile.
You can register to as many clubs as you want but you must have at least one club membership to race in an event.
Add a new Licence
To add a new licence, click '+ Licence'.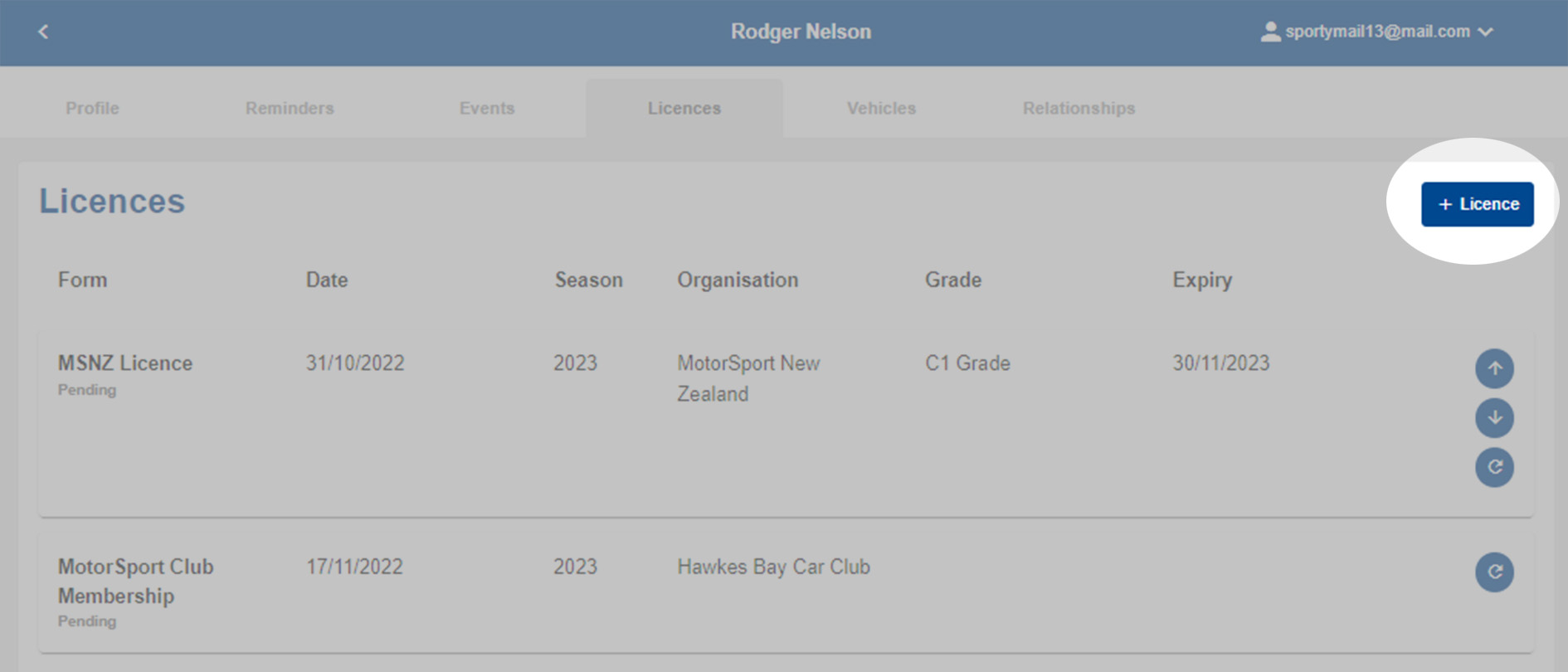 You will then be prompted to select the licence you want to apply for, and the club that you want to register to. Click Add.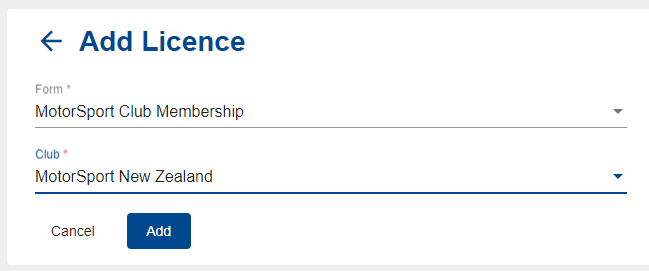 The Club's specific club membership form will be displayed for completion.
Completing the Form
Read this article for more information on adding/renewing a licence.
All of your personal details from your profile will auto-complete the application form. Any personal information you complete on your licence will update into your profile.
Complete all other fields, check the terms and conditions then click Submit. A payment cart will appear for you to pay any fees. The club will then review and approve your membership.
More Details of the Licencing Process
New, Renew, Upgrade, and Downgrade
A new licence can be applied for at any time.
You can renew a licence if the previous licence is not older than 24 months. Renewing a licence will copy all fields from the original licence.
Application Status
Approved - The club has reviewed the licence and all conditions are satisfied.
Declined – The club has reviewed and declined the application.
Expiry Date
The expiry date will be manually set by the club.
MSNZ Club Membership Applications - for Club Administrators
Membership Processing
The club membership form can be found in the Sporty Dashboard in Online Registrations or against the person in your SuperCRM. You only have access to drivers that have registered directly with your club. You will need to review, approve and set an expiry date on any applications.
Customising the Registration Form
The standard MotorSport Club Membership form can be edited to add additional questions and membership fees. To do this check out these links.
https://support.sportsground.com/hc/en-us/articles/217747808-Edit-a-form
https://support.sportsground.com/hc/en-us/articles/4423580391949-Add-products-to-a-form