If your organisation uses Superforms, there is an easy way to send a group email that gives each person their own unique link to re-register for the new season. This remembers their details from the previous season so they are not required to re-enter their details.
Go to Dashboard > Online Registrations > email icon beside the PREVIOUS seasons registration form i.e. in 2019 you will want to invite the 2018 database to re-register.

This displays the group email page. You can alter the text that gets sent with each email. For example, you may wish to include information about your season start dates, registration fees, or contact information. When you are ready, click Send email and each person from last season will receive the email, including their own unique link to your online registration form for the new season, already populated with their details from last season.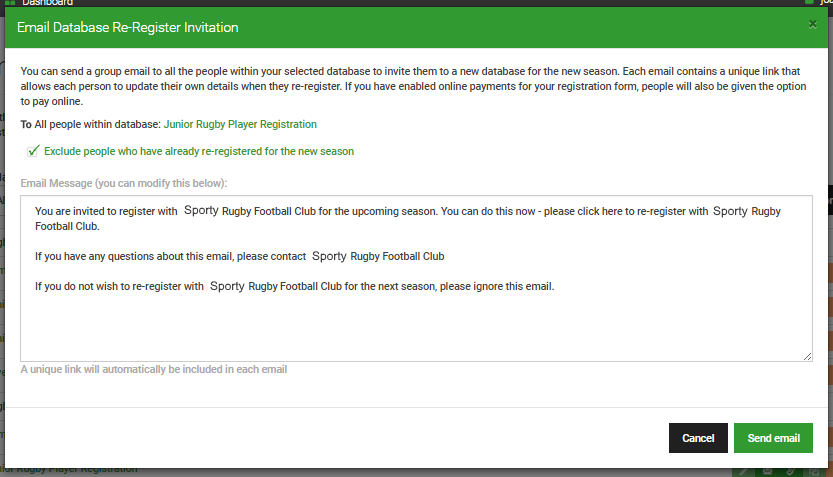 When people click the link in their email, it opens the new season registration form, pre-populated with their previous seasons' information. They can update their details, make payment (if you have enabled this option) and submit their registration online. They will automatically be emailed a copy of the details they submitted. Importantly, they will now appear in your member database for the new season. View them by clicking on your database for the new season.
When you view your last seasons' database, people that have re-registered into the new season will be highlighted in green (see image below). If there is a person you do not want to invite back to re-register, uncheck Email box (see image below). This will prevent a re-register email being sent to them.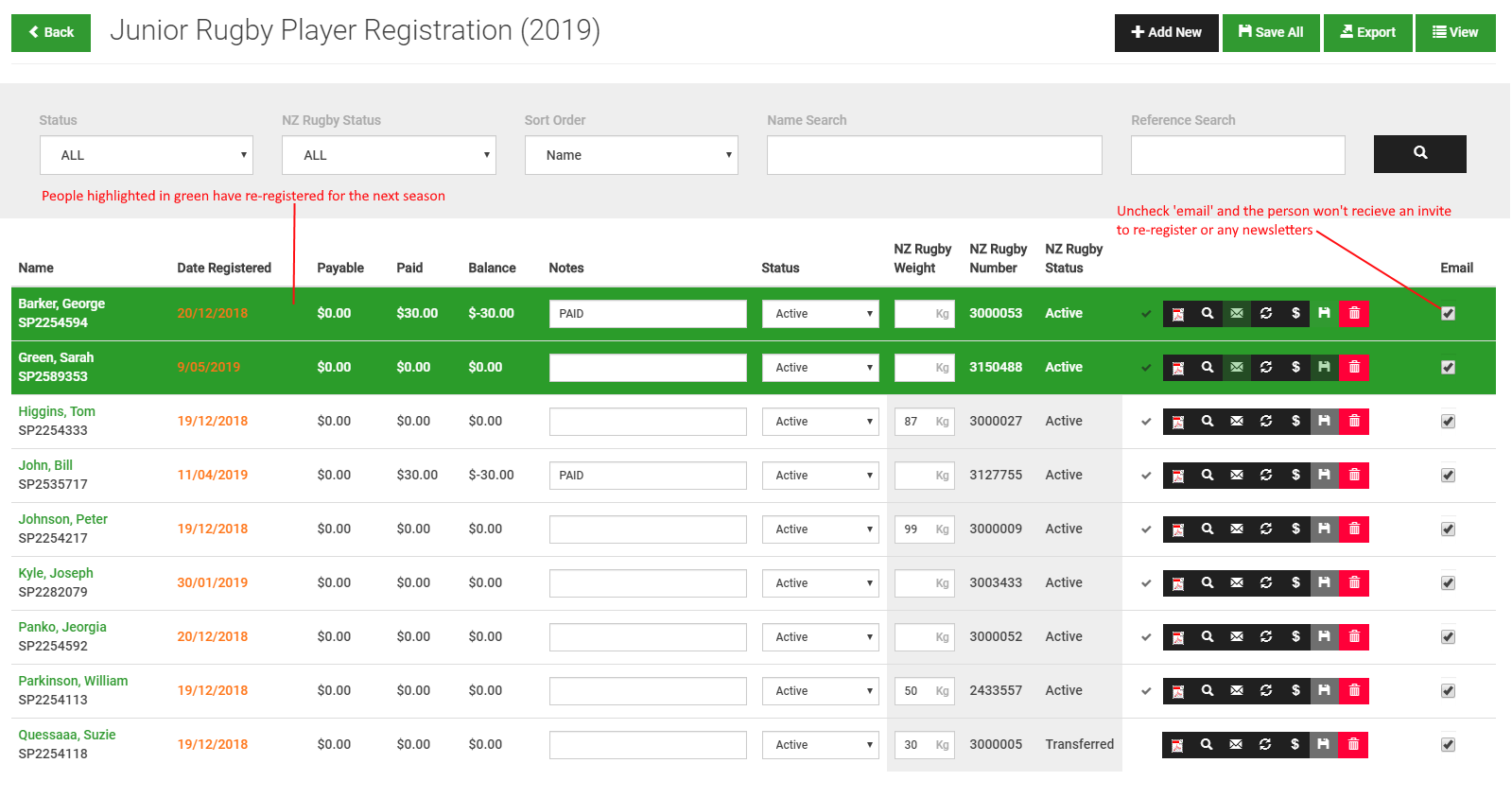 The great thing is you are able to invite your database to re-register as many times as you wish. If people have already re-registered they will not be sent the email to re-register. It is only sent to those who have not registered for the new season.
How to invite an individual person to re-register
If there is a specific person you would like to invite back to re-register you can do this without inviting the entire database. To do this, click on the name of the database to display a list of all people registered > find the person eg. Roger Black > then click the envelope icon beside their name >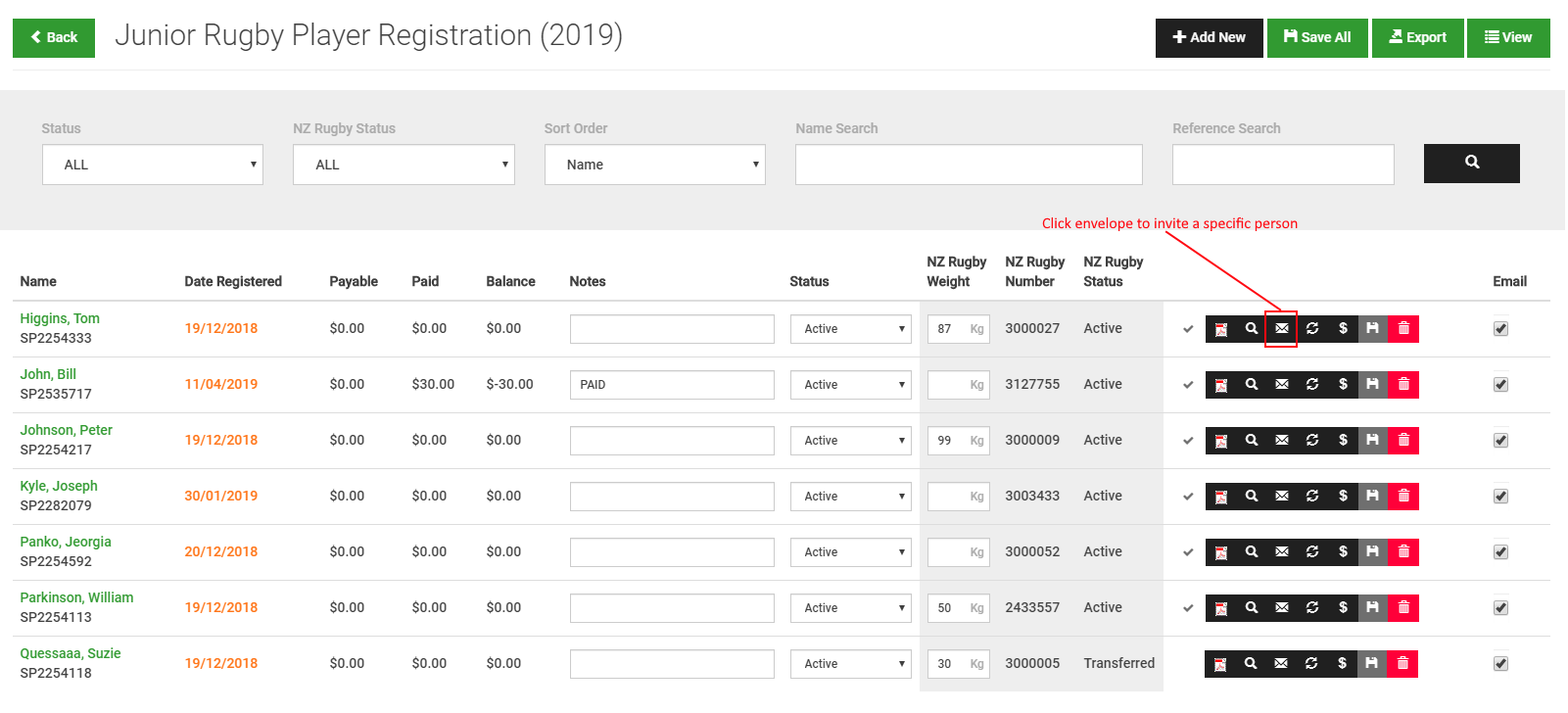 This opens up the dialogue box showing it will only email Roger Black. You can then personalise the message and click Confirm to send the email invite.

How to unsubscribe from re-registering to a new season
When an organisation invites a database back to re-register, an email is sent to existing members. If a member no longer wishes to re-register with the organisation, they are able to unsubscribe by clicking on the unsubscribe link at the bottom of the email. They will no longer receive emails from the organisation.